Florida's Ron DeSantis Sees Approval Ratings Jump as His Star Rises Among Republicans Over COVID Orders
Florida Governor Ron DeSantis saw his approval rating jump on Wednesday, as his support among Republicans has increased over his recent COVID-19 orders.
In a poll released by the Florida Chamber of Commerce and conducted by Cherry Communications, 55 percent of Floridians said they approve of the job DeSantis is doing as governor, compared to 40 percent who said they disapproved.
Among political party affiliations, 88 percent of Republicans in the state approved of DeSantis while 73 percent of Democrats said the opposite. About 57 percent of independents said they approved of the work DeSantis has done as governor, while 37 percent disapproved.
The 55 percent approval rating is an increase from polls conducted in previous months. According to surveys conducted by Mason-Dixon polling, DeSantis received a 53 percent approval rating in in March, and a 45 percent rating in July. Despite the increase over the past few months, his approval rating is still below the 62 percent rating he received in 2019.
The poll also found that 70 percent of residents in the state approved of DeSantis' handling of COVID-19 vaccine distribution in the state. About 48 percent of Democrats, 92 percent of Republicans and 74 percent of independents also approved of his vaccine distribution.
"As I've said for over a year, under the leadership of Gov. DeSantis, Florida continues moving in the right direction and serving as the national model for COVID-19 recovery while other states chose fear over facts," Mark Wilson, CEO and president of the Florida Chamber of Commerce said regarding the poll, according to Florida Politics. "Gov. DeSantis' strong approval ratings show Florida's voters and Florida's business community are united around his leadership in protecting Floridians and Florida's economy."
The poll surveyed 602 Floridians from April 30 to May 8. Its findings come shortly after DeSantis suspended all local COVID-19 orders. On May 3, he signed Senate Bill 2006, which allows him to deem a local emergency order invalid if "unnecessarily restricts individual rights or liberties." The legislation, which goes into effect on July 1, also prohibits localities and businesses from requiring a vaccine passport in the state.
"SB 2006 will ensure that neither the state nor local governments can close businesses or keep students out of in-person instruction at Florida schools, except for hurricane emergencies, and caps all local emergency at seven-day increments," DeSantis' office said in a statement.
Additionally, DeSantis signed two executive orders that suspended local COVID-19 orders immediately.
"Over the last year we've avoided protracted lockdowns and school closures in Florida because I have refused to take the same approach as other lockdown Governors. This legislation ensures that legal safeguards are in place so that local governments cannot arbitrarily close our schools or businesses," DeSantis said in a statement on May 2.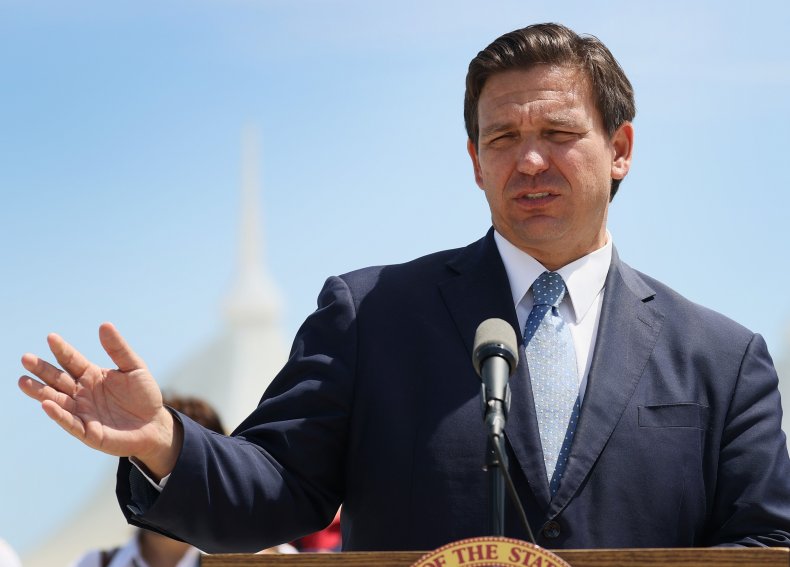 DeSantis was praised by numerous Republicans in Florida for the bill and his executive orders.
"While many states around the country are just now beginning to re-open, under the leadership of Governor DeSantis, Florida has been responsibly opening back up over the last year," Florida Senate President Wilton Simpson said in a statement.
Similarly, Florida's House Speaker Chris Sprowls said: "I applaud Governor DeSantis for doing what was necessary, despite the cries of critics and naysayers, to ensure Florida remained healthy and strong."
While DeSantis has not officially announced a run for the White House in 2024, he has remained a top choice for Republicans if former President Donald Trump doesn't make another presidential bid.
In a poll released on Wednesday, DeSantis led all possible Republican candidates for the 2024 primary if Trump is not in the race. The survey, conducted by the Trafalgar Group, 34.9 percent said they'd vote for DeSantis if the former president chooses not to run. DeSantis led all other choices by double digits while Texas GOP Senator Ted Cruz received the second most support with 15.3 percent.
Newsweek reached out to DeSantis for comment on his recent approval rating, but did not receive a response in time for publication.