Teller County Fire: New Colorado Fire Prompts Pre-Evacuation Notices for Homes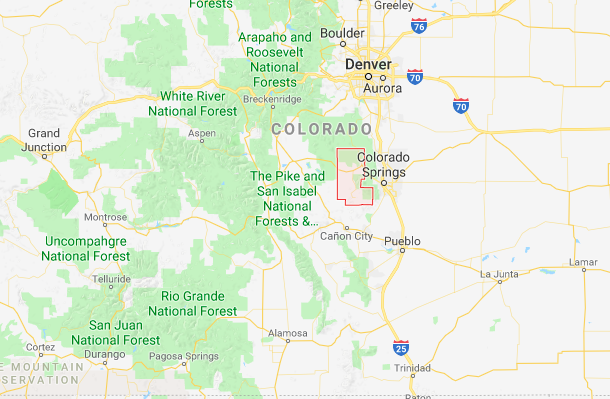 Update: 3:44 p.m. EST—Authorities initiated evacuations for those near the Florissant Fire in Teller County, Colorado, Friday afternoon.
"DO NOT WAIT, LEAVE NOW!" the Woodland Park Police Department wrote in an online notice.
Original story:
A new fire in Teller County, Colorado, has put nearby homes under pre-evacuation warnings. The Florissant Fire was burning Friday near County Road 11 in the central part of the county, KKTV reported.
Pre-evacuation orders were put in place for homes in the High Chateau subdivision. Residents were cautioned to be prepared to leave at any time.
A stage 2 fire ban was in place for the county, the Teller County Government said. The ban restricts open burning in the region due to dry conditions that have left the area "very vulnerable" to wildfires. Burning was banned on both private and public lands.
It was unclear exactly how large the fire was. The cause had not yet been released.
At least six other fires were burning in Colorado on Friday, including the rapidly spreading Spring Fire, which reached almost 24,000 acres. The fire had destroyed structures, officials confirmed, though the exact number remained unclear. The Spring Fire also prompted evacuations for homes in the Sangre de Cristo Mountains and pre-evacuation orders for the La Veta and Cuchara communities.
The Spring Fire was 0 percent contained, and weather conditions made the region ripe for the fire to spread thanks to low humidity, high temperatures and high-speed winds.
This is a developing story and will be updated as more information becomes available.