Florist Selling Anti-Coronavirus Bouquets for Valentine's Day
A florist in the Philippines is capitalizing on the new coronavirus by selling Valentine's Day bouquets containing hand sanitizer, face masks and surgical gloves.
The New York Post reported that the Manila flower shop owned by Mary Jane Villegas debuted the flower arrangement as a way to let lovers protect each other from the virus, officially named COVID-19.
In addition to colorful flowers, the bouquet has a number of items that can help prevent the spread of illness. The mask can prevent inhalation of tainted air, while soap and hand sanitizer can kill viruses clinging to your hands and other body parts.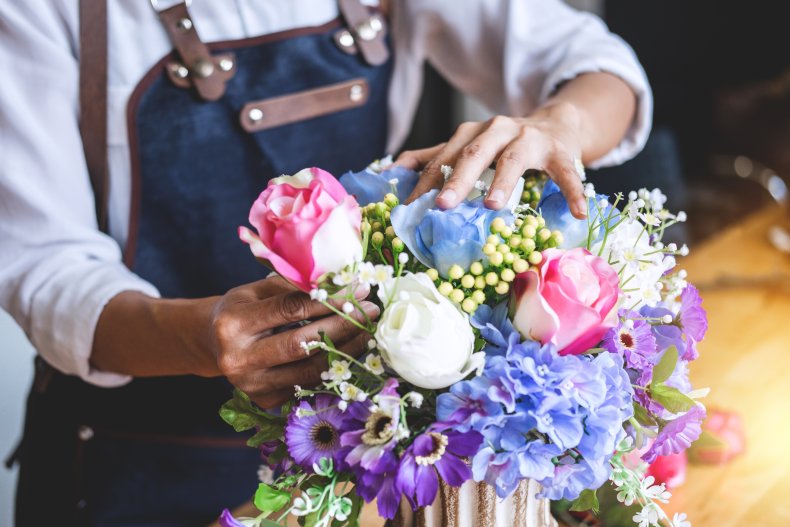 "This bouquet that I made, the anti-nCoV bouquet, I thought of this because we have this coronavirus and so that people can have an idea that flowers are not the only thing you can give during Valentine's," Villegas told The Associated Press.
While health officials are still uncertain of exactly how this strain of coronavirus spreads, recommendations from the Centers for Disease Control include washing your hands often with soap and water, or using hand sanitizer if they are unavailable. The CDC does not recommend wearing a facemask unless you are exhibiting symptoms of the virus, which includes fever, coughing and shortness of breath.
Villegas' bouquet is proving popular amongst the shop's customers. One, a man named Mark Richard Gigantone, told the AP, "I want my gift to be different, I always give flowers to my wife. This is unusual and it also provides protection from the virus."
The Philippines has seen three confirmed cases of COVID-19, with one patient being the first death from the virus outside of China. A second patient died in Hong Kong earlier this week.
The BBC reported that the fatality in The Philippines, a 44-year-old man, was a Chinese national from Wuhan who had become infected in the city before traveling abroad. His travel companion, a 38-year-old woman, also tested positive and was hospitalized.
Doctors believe the man had other pre-existing health conditions, which contributed to his death from the viral infection.
Over 60,000 confirmed coronavirus cases have been documented across 25 countries, with the majority infected near the disease's origin point of Wuhan, China. Airlines around the world have reacted to the outbreak by suspending flight service to the country to mitigate its spread.
On February 3, the Philippines announced that they would suspend all air travel from Hong Kong, Macau and mainland China with the exception of native Filipinos and holders of permanent resident visas. Foreign nationals from those countries are permitted to fly home from Manila.