A florist shared their experience of working during the Valentine's Day season in a post that has since gone viral on the subreddit r/TwoXChromosomes, receiving more than 10,000 interactions.
In their post, titled "Valentine's Day as a florist is always very...interesting," u/tapiocatsar described the range of interactions they have had with customers. This post sparked a conversation among commenters about their own personal experiences at their workplace during a busy holiday. Valentine's Day in particular is a major source of sales for many florists.
The Society of American Florists reported it is estimated that more than 250 million roses are produced for Valentine's Day.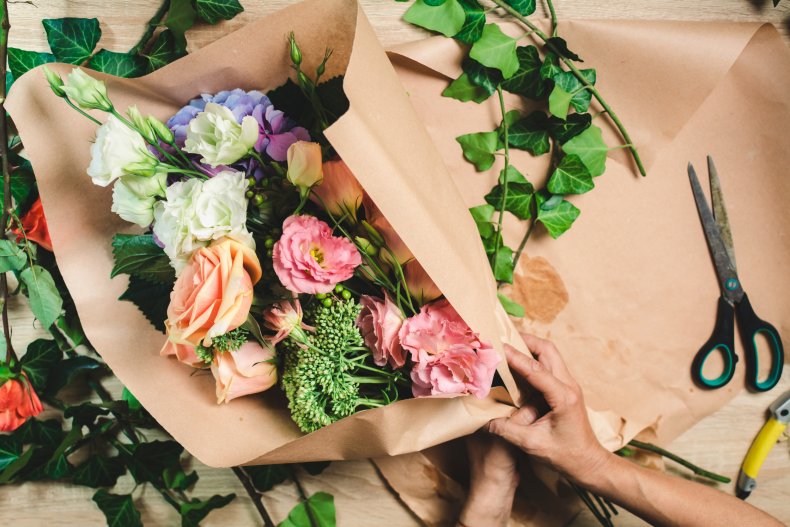 u/tapiocatsar listed a few examples of their encounters with customers in their viral post. They wrote that while some men have asked for help finding a bouquet of flowers for their wife and another bouquet for their girlfriend, they've also handled customers who have flirted with them while choosing flowers for their wives.
"A lot of men come rushing in on Valentine's Day itself, and get annoyed when I don't have anything left but yellow and white roses," u/tapiocatsar wrote. "They blame their inability to plan in advance solely on me."
While helping customers, u/tapiocatsar also noted that they receive unwanted comments.
"For some reason, the flowers being pretty means I get tons of 'wow and the person selling them is beautiful too!" they wrote. "Comments like that are unwelcome at best, creepy at most."
As they concluded their post, u/tapiocatsar urged customers to be kind to retail workers.
"Your florists are imagining mother's day business next...ask them if they're okay," they wrote.
According to the Society of American Florists, 84 percent of consumers purchase roses for Valentine's Day. The organization also reported that 41 percent of other types of flowers, like tulips, carnations and lilies are purchased for the holiday and 45 percent of customers buy mixed flowers.
In an email sent to Newsweek, the Society of American Florists reported that Christmas, Valentine's Day and Mother's Day are the top three largest holidays for florists, per the organization's CEO Kate Penn. These holidays have a similar volume in transactions and dollars, though Mother's Day is slightly smaller.
Penn said Valentine's Day is the largest and busiest day of the year because most consumers want the arrangement delivered or picked up on February 14. However, the time frame for the other two holidays is often more spread out, making it easier for florists to handle.
Some commenters who said they also worked with flowers echoed many of u/tapiocatsar's points and shared their own customer experiences. Other commenters, though in a different line of business, also shared their experiences with customers during holidays.
u/decentbrowneyes wrote that they worked as a florist and agreed with u/tapiocatsar that Valentine's Day had "little surprises."
"Luckily I always worked on the arrangements in the back and didn't have to deal with customers but the one that stuck out to me the most was like you said THE LACK OF PLANNING," they wrote.
One commenter wrote that they helped at the floral department in a grocery store during "flower holidays," and noted they received certain comments from customers as well.
"But yeah, there's the weird, veiled flirting putting flowers together," u/Doodleyduds wrote. "And interrogations of who's my Valentine."
Another commenter said they operate a small bakery from home and they have been busy all weekend.
"I just got a message, at 8:30 on Valentine's Eve, for a somewhat large order...For tomorrow," u/galaxystarmoon wrote. "Dude, this isn't DoorDash. I'm gonna pass."
Newsweek reached out to u/tapiocatsar for further comment but did not hear back in time for publication.