Two Flour Products Recalled Due to Concerns About E. coli
Flour products from companies Hodgson Mill and UNFI Wild Harvest Organic All-Purpose Flour were voluntarily recalled due to possible E. coli contamination, according to the FDA.
Hodgson Mill, based in Effingham, Illinois, announced a recall of its five-pound bags of Unbleached All-Purpose White Wheat Flour, with the best by dates of October 1 and 2, 2020, and UPC code of 0-71518-05009-2.
UNFI announced the recall of its five-pound bags of Wild Harvest Organic All-Purpose Flour, Unbleached, with a best if used by 010820, and UPC code of 711535509158.
Neither company has received any report of illness from the findings in the product. "To date, UNFI has not received any direct consumer reports of confirmed illnesses related to this product. This recall is being issued out of an abundance of care," according to the information posted on the FDA's website.
Each company also noted the dangers of E. coli in their statements. E. coli can cause serious and sometimes life-threatening infections in infants, older people, pregnant women, and people with weakened immune systems. The most common symptoms of E. coli are diarrhea, abdominal cramps, nausea and vomiting, which develop within three or four days of eating contaminated food," said the agency.
The FDA stated that "E. coli is killed by heat through baking, frying, sautéing, or boiling products made with flour." Most people usually recover from illnesses caused by E. coli within a week.
Still, the FDA noted that certain groups can still be fatally affected by E. coli. "However, children, the elderly, and immunosuppressed individuals may develop hemolytic uremic syndrome (HUS), a severe illness which may cause the kidneys to fail. Consumers are reminded to wash their hands, work surfaces, and utensils thoroughly after contact with raw dough products or flour, and to never eat raw dough or batter," it advised.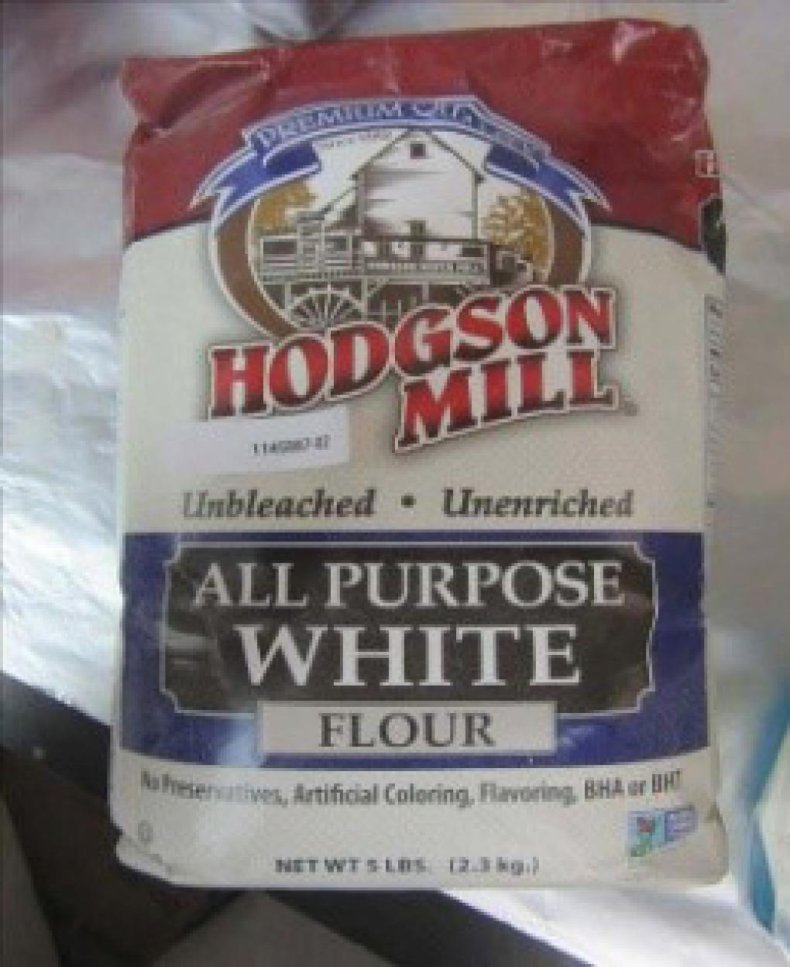 Consumers concerned about illness should contact their physicians. Those with questions for Hodgson Mill can contact them between 9 a.m. and 3 p.m., Monday through Friday at their customer service line 1-888-417-9343. Consumers can contact UNFI at 1-855-423-2630 between 8 a.m. and 8 p.m. CST, seven days a week.
This recall comes after over 75,000 pounds of romaine lettuce were recalled for a similar E. coli outbreak. As of Wednesday, there have been 67 reported incidents of food poisoning and six people have reported acute kidney failure, due to the outbreak. As Newsweek previously reported, romaine products that were affected include both heads of lettuce and pre-cut lettuce products.