Flowers For Prince Philip Laid at Buckingham Palace as U.K. in Mourning
Mourning Brits have laid flowers for Prince Philip at the gates of Buckingham Palace after a formal notice of his death was placed outside.
Crowds are gathering at the royal residence, in London, where Queen Elizabeth II and her husband spent much of their life.
The Duke of Edinburgh died peacefully this morning at Windsor Castle, where he and the queen have been staying during the coronavirus pandemic.
One card left for the prince today read: "RIP Prince Philip! Thank you for your service! Much love, Diana S + the Simpson family."
The outpouring of public emotion came after palace staff put up the official announcement of Prince Philip's death today.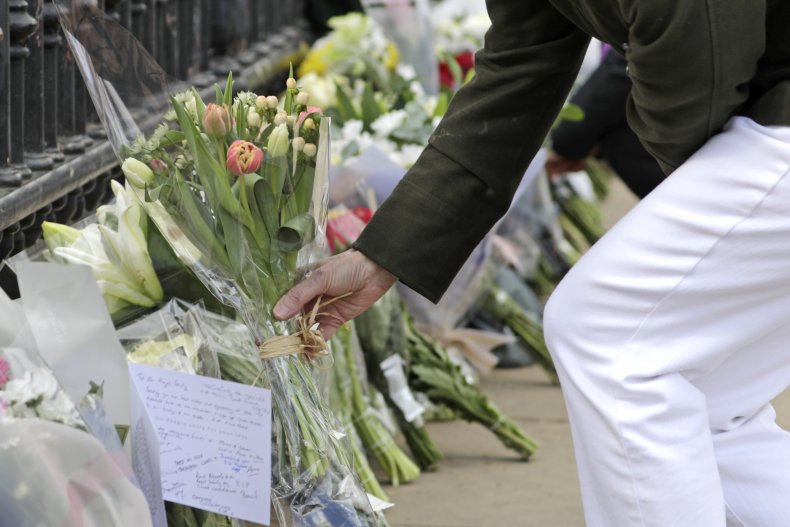 It read: "It is with deep sorrow that Her Majesty The Queen announces the death of her beloved husband, His Royal Highness The Prince Philip, Duke of Edinburgh.
"His Royal Highness passed away peacefully this morning at Windsor Castle. Further announcements will be made in due course.
"The Royal Family join with people around the world in mourning his loss."
Princess Anne, Philip's daughter, was among those to pay tribute to her father.
She told ITV: "Without him life will be completely different. But from society's perspective he was able to keep pace with the kind of technological changes that have such an impact... but above all that it's not about the technology it's about the people."
Prince Edward, Philip's son, told ITV: "My parents have been such a fantastic support to each other during all those years and all those events and all those tours and events overseas.
"To have someone that you confide in and smile about things that you perhaps could not in public. To be able to share that is immensely important."
Prince Philip will not have a state funeral but the royal family will say goodbye privately at St. George's Chapel, Windsor Castle.
A statement from the College of Arms read: "The funeral will not be a State Funeral and will not be preceded by a Lying-in-State. His Royal Highness's body will lie at rest in Windsor Castle ahead of the funeral in St George's Chapel. This is in line with custom and with His Royal Highness's wishes.
"The funeral arrangements have been revised in view of the prevailing circumstances arising from the COVID-19 pandemic and it is regretfully requested that members of the public do not attempt to attend or participate in any of the events that make up the funeral."