Is Floyd Mayweather Coming Out Of Retirement? Everything We Know About Boxer's Return To Ring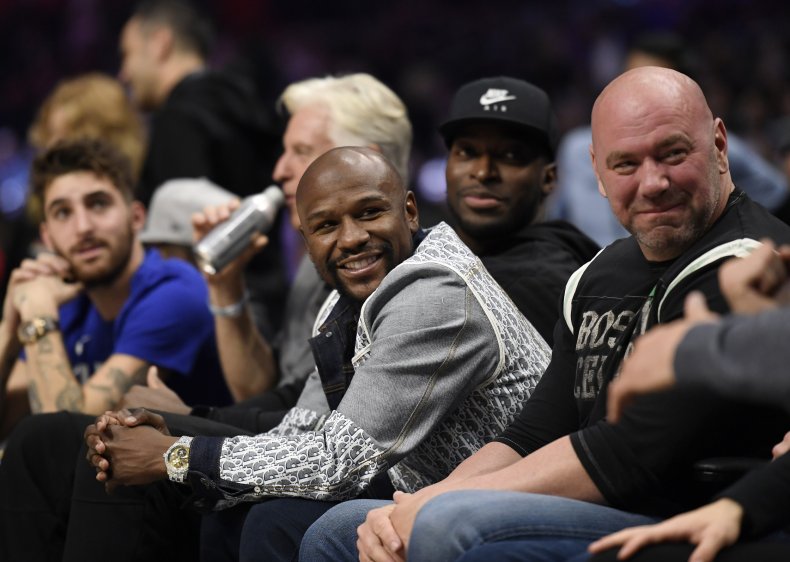 On Thursday night, professional boxer Floyd Mayweather posted a picture on Instagram announcing that he plans to come out of retirement.
"Coming out of retirement in 2020," the caption read.
Mayweather also posted another picture discussing his plans to work with Ultimate Fighting Championship (UFC) President Dana White. "@DanaWhite and I working together to bring the world another spectacular event in 2020," Mayweather wrote.
Mayweather's last professional boxing match came in 2017, when he fought UFC star Connor McGregor. Mayweather beat McGregor in the 10th round, bringing his boxing record to 50-0, which is considered by many as the greatest boxing careers of all time.
After McGregor's boxing loss, many people believed that there would be a rematch between the two in the UFC octagon, but it never occurred.
Mayweather's most recent bout was an exhibition match in 2018 against Japanese kickboxer Tenshin Nasukawa. The fight did not count to either's record, but Mayweather finished Nasukawa after about two minutes. Despite the swift finish, Mayweather reportedly still made around $9 million for the fight.
If Mayweather does hold true to his Instagram posts, who he will fight is unclear, but there are a number of different potential fighters that would like to take their stab at the undefeated boxer.
After UFC star Khabib Nurmagomedov beat McGregor in 2018, to bring his UFC record to 27-0, he went on to challenge Mayweather. Nurmagomedov was seen in an Instagram video posted by Mayweather Promotions CEO Leonard Ellerbe, and said, "Let's go Floyd. We have to fight now: 50-0 versus 27-0. We are two guys who never lose. In the jungle there is only one king. Of course, I am the king because he cannot drop McGregor but I drop him easily, let's go."
Following the challenge, Mayweather told TMZ "oh we fighting. He called me out, so he got to come to my world." He also stated that if they did fight, he would make "between $110 and $200 million" which would be nearly $100 million more than he made during his fight against McGregor.
Mayweather also told TMZ that he would be open to a rematch against McGregor saying "After me and Khabib lock up, me and McGregor we gonna lock up again."
In October of this year, Mayweather was challenged to another fight by boxer Manny Pacquaio and Alibaba founder Jack Ma.
"Floyd Mayweather, if you want a real fight, fight me," Pacquaio said in a video posted to Twitter. "If you want an exhibition fight, my guy, my friend, Jack Ma will take care of you," he added.
Pacquaio lost to Mayweather in 2017 but is seeking a rematch to Mayweather's coveted 50-0 record.
Mayweather's Instagram posts lead fans to believe that he will be fighting in the UFC, but he has yet to announce his plans for 2020.