Floyd Mayweather vs. Manny Pacquiao: Boxers Planning Rematch? Pacquiao's Trainer Says He's Ready For Another Fight With Champion
Manny Pacquiao is ready to hit the ring against Floyd Mayweather again. After losing to the undefeated boxer in 2015, Pacquiao's trainer teased chances of the boxers facing off once again, claiming Pacquiao was more than ready to bring the pain to Mayweather following his impressive win against Keith Thurman on Saturday.
Freddie Roach spoke highly of his client during an interview with TMZ Sports on Tuesday. "I really think Manny can knock [Mayweather] out," he said.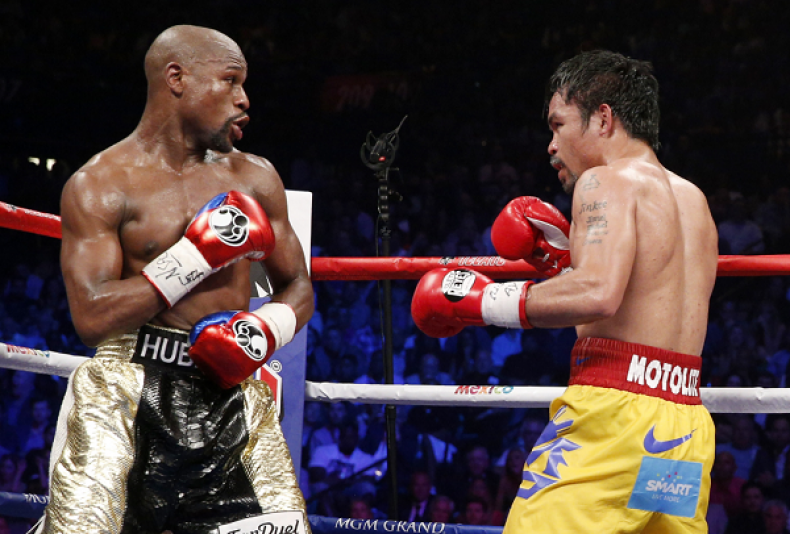 Roach went on to say Pacquiao and his entire team were ready to see the Filipino boxer compete against his biggest rival and potentially bring Mayweather's winning streak to an end. "[Mayweather] would be a fight we'd want," Roach explained.
"I'd like to get that one back one more time. I know we can do much better. We had an injury in that fight, but regardless, we lost a close decision. I know Manny can do much better than that," he continued.
After years of fan anticipation, Mayweather and Pacquiao finally had their first fight, going toe-to-toe at the MGM Grand Garden Arena in May 2015. A record 4.6 million people tuned into the pay-per-view match, which resulted in a Mayweather win scored at 118-110. While Pacquiao managed to land 81 punches during the match, a shoulder injury incurred roughly three weeks before the fight ultimately resulted in him performing below his regular average.
Now that Pacquiao is back to full health with a 12-round win over Thurman, Roach claimed the 40-year-old was ready to take another swing at Mayweather, 42, noting the champion's last few fights weren't with competitors that could give him a real run for his money.
"Floyd's last couple of fights against a kickboxer and whatever the other guy was [MMA fighter Conor McGregor], he wasn't too impressive. I think it's a good time to catch him right now," Roach said.
The trainer's comments only fueled speculation the men may actually box in a rematch. Not to mention, Roach's statements come following Pacquiao and Mayweather's latest round of words on social media.
Following Pacquiao's latest fight, Mayweather took to Instagram to diss his former opponent. "I find it real ironic how every time Pacquiao's name is brought up in the media, my name is always attached to it," he wrote on Tuesday. "This man's entire legacy and career has been built off its association with my name and it's about time you all stop using my brand for clout chasing and clickbait and let that man's name hold weight of its own."
Pacquiao issued a prompt response on Twitter, writing: "You come to my fight and then use my name in a post but I'm the one that is trying to stay relevant?"
Mayweather retired from professional boxing in August 2017, and while Roach believed it wasn't completely off the table to see the men compete once again, he noted it likely wouldn't happen anytime soon.
"I do think it could happen, yes. Probably not until next year," he said. "But the thing is, it's a big fight out there. And again, a fresh Manny with no injuries. I love that fight."