Manny Pacquiao seemed to suggest he would be open to a rematch against Floyd Mayweather Jr. as the two boxers traded barbs on social media.
The Filipino won the WBA welterweight title on Saturday night, defeating Keith Thurman by split decision to bring his record to 62-7-2.
Mayweather, however, took exception to the coverage of the fight, accusing the 42-year-old of "clout chasing" and dismissing Pacquiao's career.
"I find it real ironic how every time Pacquiao's name is brought up in the media, my name is always attached to it," the 42-year-old wrote in a post on Instagram on Tuesday.
"This man's entire legacy and career has been built off its association with my name and it's about time you all stop using my brand for clout chasing and clickbait and let that man's name hold weight of its own."
It did not take long for Pacquiao to respond with a tweet, in which he hinted if Mayweather wanted to remain relevant he would have to prove himself in the ring again.
Mayweather beat Pacquiao by unanimous decision when the two collided in a much-anticipated fight in May 2015. The fight racked up a record 4.6 million pay-per-view buys but was vehemently criticized by boxing fans.
Pacquiao landed just 81 punches in the fight, which he put down to an injury to his right shoulder.
Mayweather retired for a third time after beating UFC star Conor McGregor by TKO in August 2017, but in September last year announced he was coming back to fight Pacquiao for a "nine-figure pay day." The bout never materialized.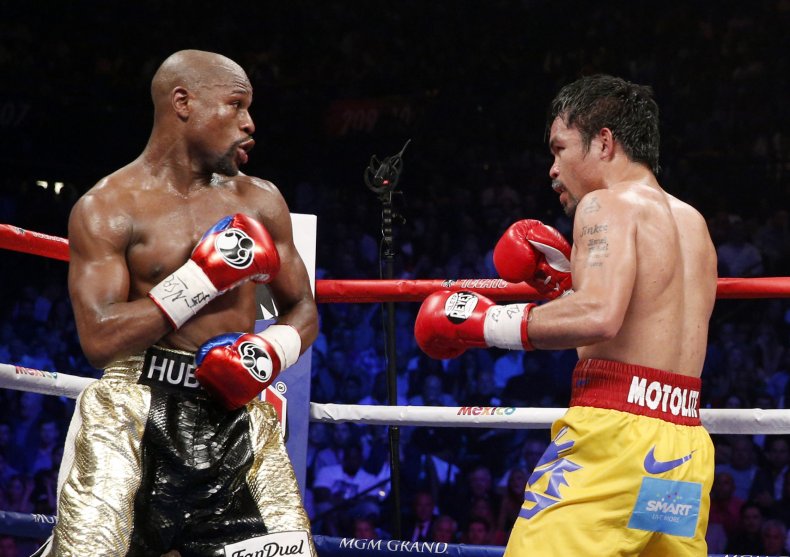 In his Instagram post, however, the American seemed to suggest he was unlikely to grant his rival a rematch even though he had heard "every excuse in the world" to do so.
"For years, all you heard was that 'Floyd is afraid of Manny Pacquiao,'" he wrote. "But what's funny is, when we finally fought, I won so easily that everyone had to eat their words! All of the so called boxing experts, critics and jealous American 'fan base' either went mute and ran for cover or made every excuse in the world as to why I should give Manny Pacquiao a rematch."
By beating McGregor, Mayweather took his professional record to 50-0, overtaking Rocky Marciano's 49-0 record that had stood since the heavyweight's last fight in 1955.
While Mayweather is statistically better than Marciano, the former has won 27 of his bouts by KO, while the latter stopped his opponents in 43 of his 49 career fights.
Uncommon Knowledge
Newsweek is committed to challenging conventional wisdom and finding connections in the search for common ground.
Newsweek is committed to challenging conventional wisdom and finding connections in the search for common ground.
About the writer
Dan Cancian is currently a reporter for Newsweek based in London, England. Prior to joining Newsweek in January 2018, he was a news and business reporter at International Business Times UK. Dan has also written for The Guardian and The Observer.