Floyd Mayweather Takes On Steve Harvey In First Sit-Down Interview After Conor McGregor TKO Victory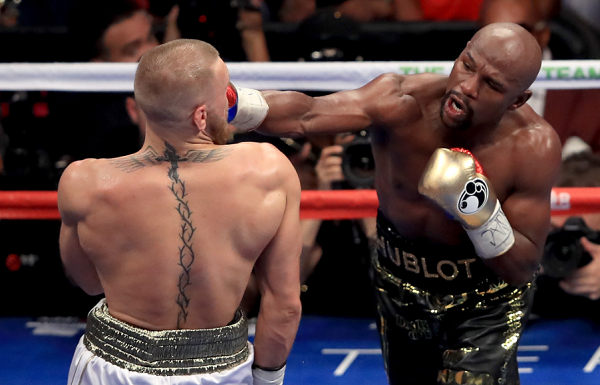 For the first time since his TKO win over UFC fighter Conor McGregor in August, boxing champion Floyd Mayweather will sit down for an extended interview. Mayweather, who improved to 50-0 when he stopped McGregor in the 10th round of their August 26 fight, will appear on Steve Harvey on Monday.
Ahead of his fight with McGregor, Mayweather had already matched legendary boxer Rocky Marciano's record of 49-0. However, he made history twice in one fight while contending against McGregor, the first UFC lightweight champion ever to go head-to-head with a traditionally trained boxer—even more remarkably, the undefeated junior middleweight Mayweather.
The fight was the 40-year-old Mayweather's third since coming out of retirement in 2015. And though he had long enjoyed being considered the best pound-for-pound boxer in the world, the fighter admitted to ESPN before the match that the 29-year-old McGregor could have had a step on him.
"He's a lot younger. When you look at myself and Conor McGregor on paper, he's taller, has a longer reach, he's a bigger man from top to bottom. He's a lot younger, so youth is on his side," Mayweather said in August. "And I've been off a couple of years. And I'm in my 40s. So if you look at everything on paper, it leans toward Conor McGregor."
When the fighters finally laced up their boxing gloves for the showdown, it became clear by the sixth round that McGregor's youth was no match for the precision of Mayweather's punches. McGregor started out strong, throwing blows nonstop, but by the end of the third round, it was evident that the UFC champion had worn himself out.
Following the match, Mayweather praised McGregor for his sportsmanship but said that after studying MMA fights, he knew McGregor would tire out.
"Our game plan was to take our time, go to him, let him shoot his shots early and then take him out down the stretch," Mayweather told reporters after the fight. "We know in MMA he fights for 25 minutes. After 25 minutes, he started to slow down. I guaranteed to everybody that this wouldn't go the distance."
Mayweather ended up out-landing McGregor in rounds six through 10 and connected on 53 percent of his total punches to McGregor's 26 percent tally.
Mayweather will appear in his first sit-down interview on the Steve Harvey show at 2 p.m. ET on NBC.