Floyd Mayweather vs Logan Paul Boxing Match to Become Reality, the Champ Says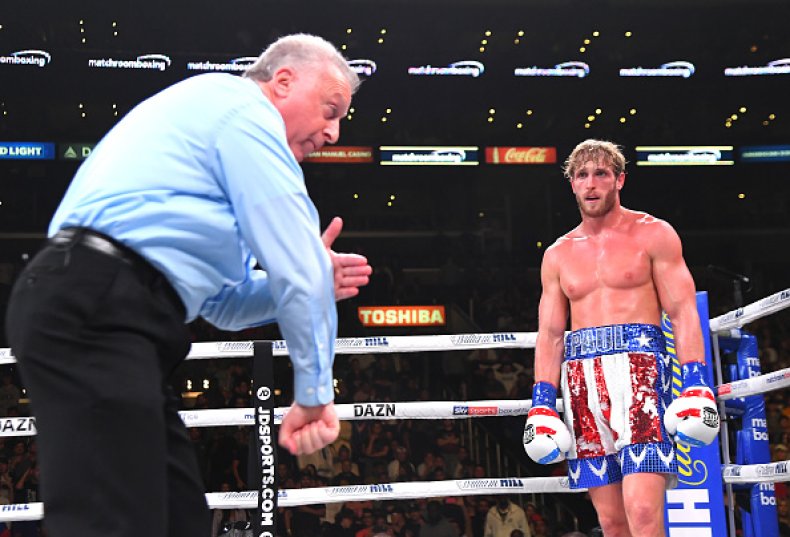 Boxing legend Floyd Mayweather Jr. said Sunday he intends to fight YouTube star Logan Paul, answering a call issued by Paul in 2019. It appeared the fight would be done before the end of this year, but it never became official. Mayweather stated Sunday on Instagram that the two will fight an exhibition match in early 2021.
Mayweather posted a photo of him and Paul, with this text: "Super Exhibition Feb. 20, 2021 !!!!
Early Bird Special On Sale NOW!!!! @fanmio ... More Details Soon. Link in BIO."
Mayweather, 43, retired from his professional career undefeated in 50 fights, with 27 knockouts in his 50 wins across five weight classes. He won 15 major world championships in his career.
Paul, 25, has more than 22.5 million subscribers on his YouTube channel.
The Athletic's boxing writer, Mike Coppinger, said the fight will draw tons of money and drive the fans wild during its two-month buildup.
"Floyd Mayweather announces on Instagram that he'll be involved in a boxing exhibition against Logan Paul on Feb. 20. Seriously. This has been in the works for a while. And yes, it's going to make these guys a lot of money. The lead-up is going to drive a lot of people nuts," Coppinger tweeted Sunday.
Mike Feinberg of the Fighting News channel on YouTube said earlier this fall that a contract had already been signed between Mayweather and Paul.
"I've got some breaking news for you. Floyd Mayweather Jr. is coming out of retirement and has just officially signed a contract to fight in an exhibition match against Logan Paul—YouTube sensation Logan Paul," Feinberg said. "I don't understand the fight. Logan Paul has tried his hand at professional boxing—couldn't the other nobody [that] nobody's ever heard of before. [Paul's] now zero and one. He's going to be fighting one of the best in Floyd Mayweather. It's going to be a joke of a fight, but it's signed. It's official. I heard it from a reputable source today and even saw the signed picture of the signed contract where Floyd signed on the dotted line for this exhibition match."
Feinberg also said, "It's going to be a walk in the park for Floyd. It's going to be very simple. But apparently there's some kind of money in it because it's going to be on YouTube and Logan Paul's got a lot of followers."
Paul isn't new to the ring. He fought British YouTube star Olajide Olatunji—also known as KSI. Paul lost that 2018 fight that was streamed on YouTube, and he also lost the rematch in November 2019.
Before Mayweather was a professional, he was a bronze medalist at the 1996 Summer Olympics in Atlanta.