The Flu Has Reached Epidemic Levels, CDC Says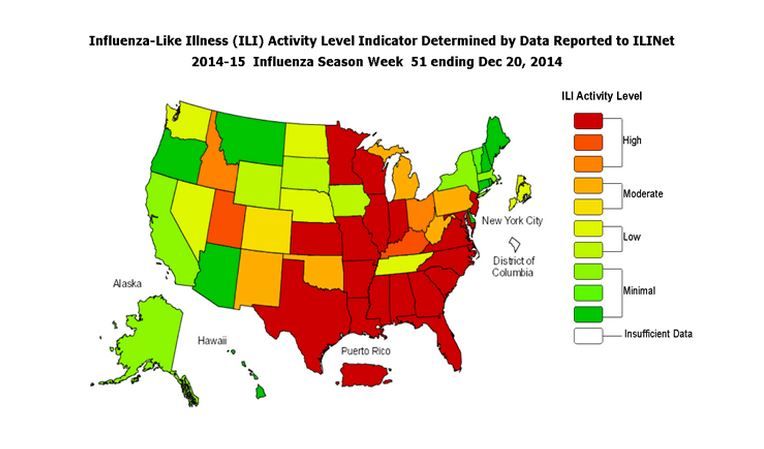 The U.S. Centers for Disease Control and Prediction (CDC) warned earlier this month that the country was in for a severe flu season, and its prediction looks to be panning out. So far, 15 children around the country have died from the influenza virus. And the CDC now says influenza has reached epidemic levels.
In a recent update on the flu season, the CDC said that for the week of December 14-20, 6.8 percent of deaths nationwide could be attributed to pneumonia and influenza, a percentage that crosses the epidemic threshold.
So far, the hospitalization rates for people 65 and older during the most recent week available was 38.2 per 100,000 people. That's 35 percent higher than the rate for the same week in the 2012-2013 season, the CDC said, and a cause for concern.
Also concerning is that the particular type of flu strain present this year typically causes more severe outbreaks than others. It is called influenza A, or H3N2, and seasons where this variety predominates "tend to have more hospitalizations and more deaths," CDC Director Tom Frieden said in early December. The agency has found H3N2 making the rounds in most states.
This year's seasonal vaccine doesn't perfectly match the particular H3N2 subtype that's infecting people. Thus far, half of the circulating viruses don't match the H3N2 strain used to make vaccines, Frieden said.
"They are different enough that we're concerned that protection from vaccinations against these drifted H3N2 viruses may be lower than we usually see," Frieden says. However, he still urged people to get flu shots, as they may offer some cross-protection.
There are now high levels of the influenza virus in 22 states and Puerto Rico, a jump from 13 states a week before, the CDC reports. "Flu activity is expected to continue in the coming weeks, with increases occurring especially in those states that have not yet had significant activity," the agency notes.
Between 35 and 171 children have died from flu-related causes in previous years' outbreaks, according to The Washington Post. The flu reached pandemic levels in 2009, when 348 children died from flu-related causes.
But health experts caution against panic. Reaching the "epidemic" threshold isn't actually that unusual, and it's too early yet to predict how bad the entire influenza season will be, CDC health communications specialist Erin Burns tells the Post.