Flu activity across much of the country has reached at least widespread or regional activity and people are on high alert looking to avoid getting infected. As of December 22, only Tennessee was reporting no flu activity, every other state along with Guam and the U.S. Virgin Islands was reporting activity of the virus.
The Centers for Disease Control estimates the flu activity in every state and the territories and updates a map of the activity each week. As the weeks of flu season from 2018 into 2019 progress, the map is updated and more information about the estimates is added.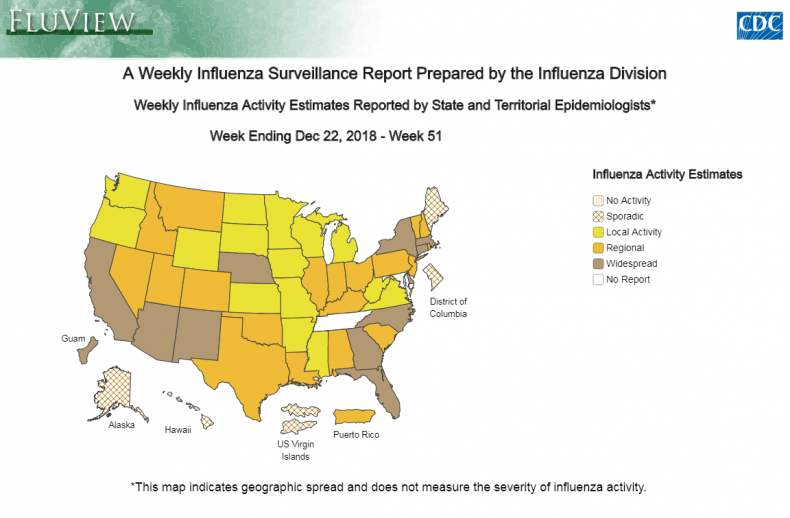 In the United States, flu activity historically peaks in February, though different seasons have different peaks and the flu virus actually circulates year-round, according to the CDC.
So far during the 2018-2019 season, there have been a total of 11 pediatric deaths. Only the pediatric deaths are recorded when they're due to the flu, flu deaths in those over the age of 18 are difficult to track and flu is rarely recorded as the cause of the death. The last flu season from 2017 to 2018 had 185 deaths reported by the end of the season.
So far for the season, the most common virus that patients have been found to have is the A(H1N1)pdm09 strain of the flu with the A(H3N2) virus as the second most popular.
There are certain groups of people who are more susceptible to the flu virus. Those groups include children, especially those under the age of two and adults who are 65 years or older, along with pregnant women, American Indians and Alaska Natives, according to the CDC.
People with certain medical conditions like asthma, heart disease, blood disorders and anything that weakens the immune system are also more at risk of getting the flu virus and for the case to be higher risk.
The CDC recommends that everyone six months of age and older get the flu vaccine every year, with an emphasis on those who are considered at a higher risk for developing the flu. The ideal time for people to get the vaccine is before the flu starts to spread because it takes about two weeks for the vaccine to take effect in the body and produce antibodies.
"CDC recommends that people get a flu vaccine by the end of October. Getting vaccinated later, however, can still be beneficial and vaccination should continue to be offered throughout the flu season, even into January or later," according to the CDC site.