Flu Season 2018–2019 Update: Tips for Avoiding Spreading Virus, Church Leaders Urge Not Hugging, Shaking Hands
Millions of people have had the flu so far this year, according to new information from the Centers for Disease Control and Prevention, and the season is in its peak. Estimates for the total number of cases are somewhere between six and seven million cases so far.
The flu was active in every state as well as in Washington, D.C., the U.S. Virgin Islands and Puerto Rico a map of flu activity showed. Though the season was still in full swing the CDC was recommending the flu vaccine to those who hadn't gotten it yet because the activity was expected to continue for weeks said the Friday update on the flu.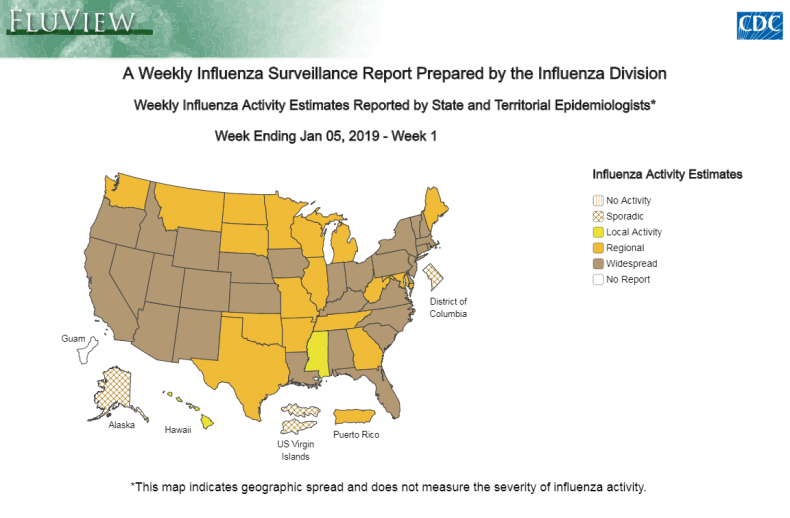 Though the CDC estimates that the severity this year is lower than it was last year, the flu should still be taken seriously and those in the more at-risk groups should take extra caution in trying to prevent flu.
In some parts of the country, steps are being taken to prevent the spread of the virus in private settings as well. The Archdiocese of Santa Fe was recommending that church-goers alter their behaviors during services to help reduce the risk of spreading the flu. Those recommendations included nodding instead of shaking hands or nodding during the Sign of Peace, not holding hands during prayer and receiving the consecrated communion bread in the hand rather than directly on the tongue.
Reminders to wash hands, cover sneezes and coughs and stay home in the event that someone has symptoms are popping up in offices and places of business across the country. The CDC has recommendations online for school and childcare providers, businesses and employers, and travelers for staying flu-free this season. The recommendations include how to keep those shared spaces clean and best practices for staying healthy.
Those with compromised immune systems, heart disease and those over the age of 65 and children should be even more careful because they're some of the most vulnerable to the flu and to complications from the flu, which can be deadly.
Symptoms of the flu shouldn't go ignored and anyone who's feeling under the weather should rest and try not to spread their germs. The symptoms come on very suddenly usually and they include cough, sore throat, congestion, headaches, tiredness and sometimes a fever as well.​