Insanely Fluffy 'Distinguished' Cat Wearing Tie Delights the Internet
We all like to think of ourselves as the center of our own stories, but one feline TikTok star has got taking the spotlight down to a fine art.
Posted on Sunday, a TikTok video from @cloud.meoww now has over 1.3 million views. In the video, Cloud the cat's owner Windy is seen stretching for the day before the fluffy kitten strolls in to sit directly in front of the camera.
With over 245,000 followers on TikTok, super fluffy cat Cloud makes it clear he knows who the star is as he sits pretty, showing off an adorable tie around his neck. He even has his own Instagram account with a further 19,000 followers.
Cloud and Windy live in Chicago, Illinois. She adopted him in 2021 from a breeder that no longer needed him. She told Newsweek: "He just turned 4 and is the sweetest and most affectionate cat I have ever seen
"He is the king of the house, he sleeps on our bed all night and always wants to cuddle!"
Showered with thousands of comments from his adoring fans, Cloud's confidence is a hit. "He knows he's the main character," wrote one commenter. "What a distinguished gentleman," said another.
Cloud's lustrous coat is thanks to his breed. Siberian cats originate in Russia, and were first introduced to the U.S. in 1990, according to an American Society for the Prevention of Cruelty to Animals article. Their glorious fur is made up of a triple-layered coat—creating a super fluffy appearance and perfect for adapting to harsh Russian winters! They are also said to be very personable and fond of staying close to their owners.
Fluffy as he may be, Cloud still has ways to go to take the crown of the largest domestic cat. This distinction goes to Maine Coon cat Barivel who lives with his owners in Vigevano, Pavia, in Italy. He was crowned the longest domestic cat by the Guinness World Records in 2018 at a huge 120 cm (3 ft 11.2 in).
One TikTok user commented: "His majesty has entered the room! I love this so much." And although Cloud may not have an official Royal title just yet, he may not be wrong in thinking he's the boss of the house.
According to the 2021-2022 APPA National Pet Owners Survey, Americans spend on average $254 on food for their feline companion, and a further $144 or more on toys, treats and grooming equipment every year.
And there's more evidence that our pets really are the main character in our lives, with a 2020 survey conducted by furniture brand Joybird revealing just how much we spoil our pets.
Some 83 percent of pet owners say they have thrown a birthday party for their pet, while a huge 63 percent of people say they would break up with their significant other if their pet did not like them.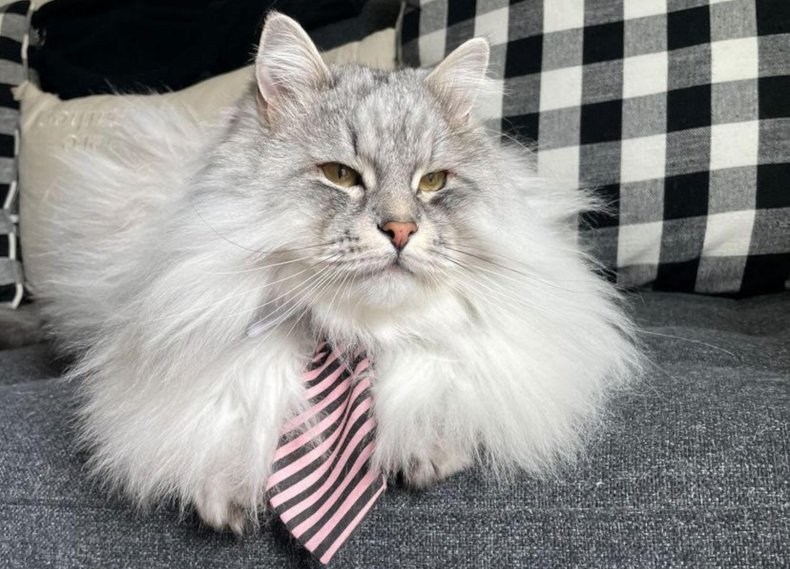 So how much maintenance does an internet-famous fluffy cat require? In the comments, Windy mentioned that she brushes him with different brushes everyday (including her own!). He doesn't just like wearing ties either, as another video shows he looks fabulous in a pair of sunglasses too.
One thing is for sure, this cat's TikTok fame is only growing, with fans around the world commenting on his antics, and one even tipping him for presidential success.
"He has the strut and I will be expecting to see open statements for his 2024 election! Absolutely beautiful," wrote a commenter.
Update 02/16/22, 4:46 a.m. ET: This article was updated to include a video.
Update 02/17/22, 4:30 a.m. ET: This article was updated to include comment from Cloud's owner.