Flupyradifurone: 'Bee Safe' Pesticide May Not Actually Be Very Safe for Bees After All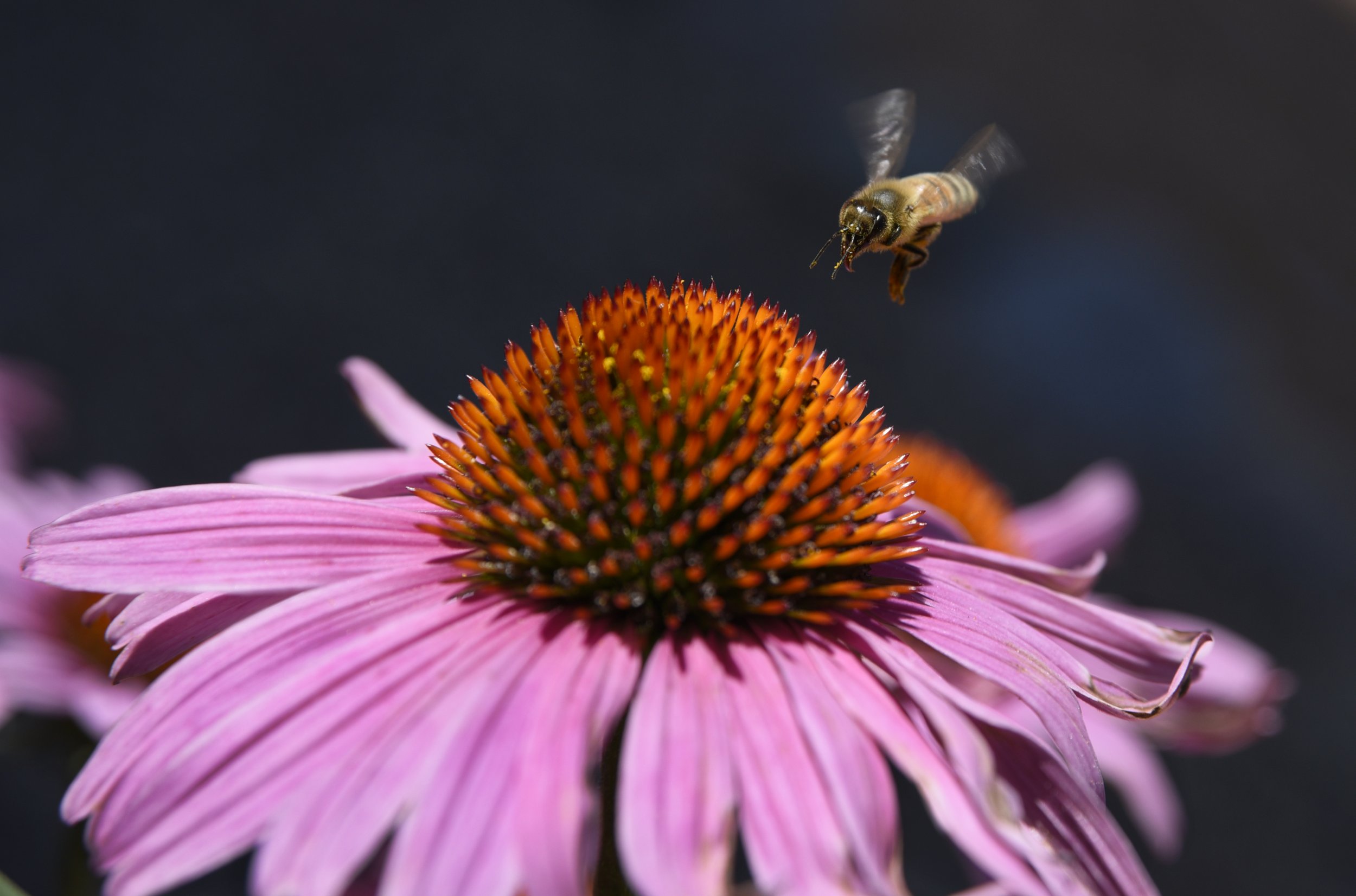 In recent years, concern has grown about the effects of agricultural pesticides on the health of bees, with much of the attention focused on so-called "neonicotinoids," or "neonics" for short.
As the use of neonics has become more and more restricted, manufacturers have developed pesticides that are considered "bee safe." However, one of these substances, flupyradifurone (FPF)—sold under the name Sivanto—may cause harm to bees when a common fungicide is also present. That's according to a study published in the journal Proceedings of the Royal Society B: Biological Sciences.
FPF works in a similar way to neonics. However, because it is marked as "bee safe," it can be used while the insects are actively foraging.
"The process that leads to defining the safety of a pesticide take into consideration a series of specific tests, which are aimed at testing the effects of the chemical on honeybees," Simone Tosi, lead author of the study from the University of California, San Diego, told Newsweek. "The results of these trials will lead to the approval or not of this pesticide for certain uses in the field."
The authors of the study say that their new findings bring into question the safety of approved pesticides because risk assessments do not currently take into account how toxicity is influenced by combinations between different chemicals.
"Bees can be exposed to multiple pesticides that may interact synergistically, amplifying their side effects," the authors wrote in the paper.
To date, the impacts of FPF have not been thoroughly investigated. Accordingly, for their study, the researchers decided to test the lethal and sub-lethal toxic effects of the chemical on honeybees over different seasons and for different worker types, as well as the substance's interactions with a common fungicide known as propiconazole (PRO.) They used FPF doses designed to mimic the quantities that the insects are exposed to in real-life situations.
"We realized there is an important data gap on what is tested to assess the risk of pesticides, and the actual effects that pesticides could pose: for a long time, we have underestimated the extent of pesticide effects on bees," Tosi said. "Thus, we decided to explore the role pesticides have on bee health more thoroughly, assessing their effects with a more holistic approach that takes into consideration how pesticide toxicity changes in relation to the complex environment bees live in."
The scientists found that bees exposed to FPF, in combination with the fungicide demonstrated poor coordination, hyperactivity and apathy, potentially affecting their chances of survival.
Furthermore, they found that these effects were significantly influenced by worker type and season: forager bees were four times more affected than in-hive bees, and both groups were more affected in the summer months compared to the spring. These findings are concerning given that both chemicals are often found together in the environment, the researchers say.
"Although the product label prohibits flupyradifurone from being mixed in an application tank with certain fungicides including PRO, bees can be simultaneously exposed to FPF and other chemicals—forming pesticide "cocktails"—that are commonly used in adjacent crops or that persist over time," Tosi said. "FPF and PRO could be used on the same crops and ornamentals, including fruits, oilseeds and cereals."
"These pesticides can also be used multiple times over a year—and over different seasons—and applied in multiple ways," Tosi said. "In addition, bees can also be exposed to pesticides that drift from different crops or are stored in the same hive. FPF and PRO are easily taken up by plants and thus contaminated soil and water may lead to unintended absorption. This could result in prolonged, multi-year contamination."
The graphic below, provided by Statista, illustrates the global decline of different insect populations.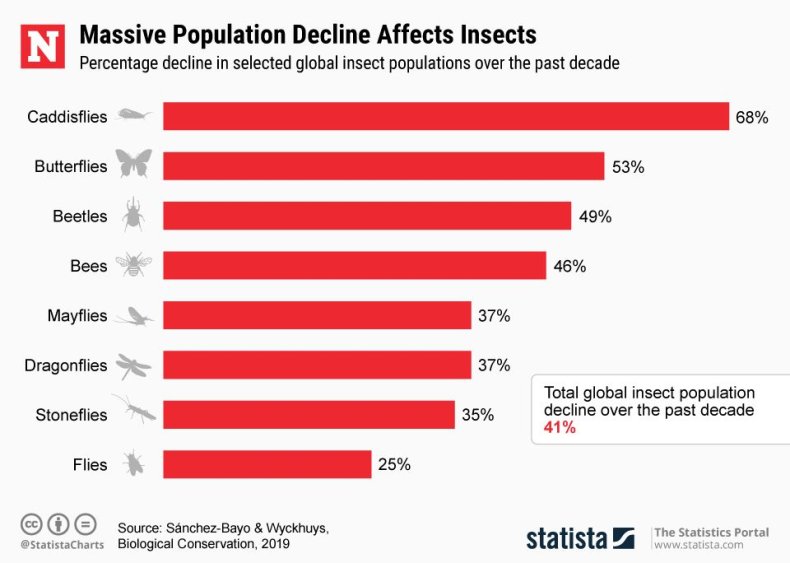 The authors say that their latest findings could have significant implications for how certain pesticides are approved for use.
"This work is a step forward toward a better understanding of the risks that pesticides could pose to bees and the environment," Tosi said. "We provide the first demonstration that the combination of two pesticides can synergistically increase the frequency of pollinators with abnormal behaviours, and suggest methodologies that could be implemented for assessing the risks caused by pesticides."
"Our results highlight the importance of assessing the effects pesticides have on the behaviour of animals, and demonstrate that synergism, seasonality and bee age are key factors that subtly change pesticide toxicity," he said.
Though research into FPF has been limited, one previous study found that the chemical impaired bee taste and cognition when exposed to high, non-field-realistic doses. Another paper found that chronic exposure had an impact on the animals' olfactory system.
This article was updated to include an infographic and additional comments from Simone Tosi​.