Flurry of 'White Male' Shooter Tweets Spark Backlash After Boulder Suspect's Identity Released
A flurry of tweets about the Boulder shooter being a "white male" is sparking backlash after law enforcement officials released the suspect's identity on Tuesday.
After a gunman opened fire in a grocery store in Boulder, Colorado, and killed 10 people on Monday, a series of tweets about the shooting preemptively assumed the suspect to be a white male, connecting him to a trend found among mass shootings in America.
However, Boulder police identified the suspect as Ahmad Al Aliwi Alissa, a 21-year-old from a nearby Denver suburb, who is not white.
Some Twitter users were quick to comment on the fact that the shooter was taken into police custody unharmed, arguing that the suspect would not have received the same treatment if he were a person of color. Others suggested that the motive from the shooting stemmed from entitlement.
Among these users was Meena Harris, niece of Vice President Kamala Harris. Shortly after news of the Boulder shooting broke, Harris wrote in a now-deleted tweet, "The Atlanta shooting was not even a week ago. Violent white men are the greatest terrorist threat to our country."
Harris addressed her mistake on Tuesday, tweeting, "I deleted a previous tweet about the suspect in the Boulder shooting. I made an assumption based on his being taken into custody alive and the fact that the majority of mass shootings in the U.S. are carried out by white men."
A recent analysis by Statista found that whites accounted for more than half of the suspects in the 121 mass shootings that occurred between 1982 and this year. However, the suspect from Monday's tragedy was not white.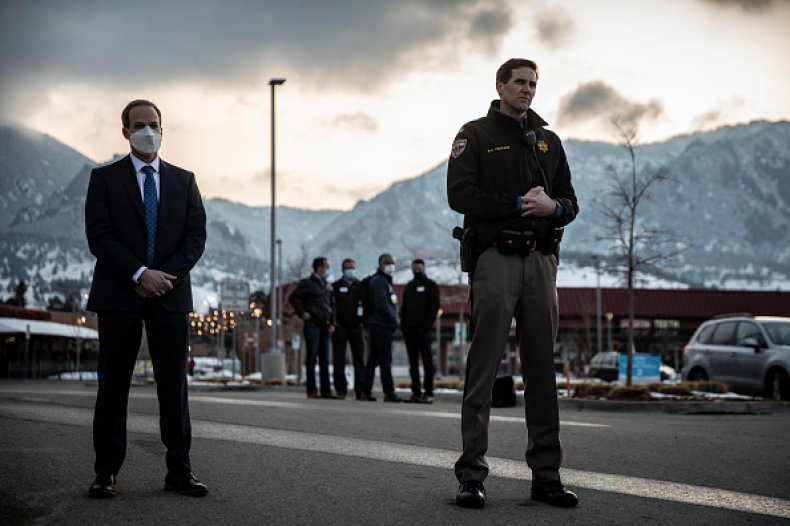 Some Twitter users also compared the police's handling of Alissa to a number of young Black men who have died during encounters with law enforcement officials.
"A white man walked into a grocery store in Boulder, killed 10 people, and was apprehended by the police and walked out of the building completely unharmed," one user wrote. "Right down the road, police killed Elijah McClain while he apologized for not doing anything wrong. Two different Americas."
"Tamir Rice was a 12-year-old black child. Police shot him in 1.7 sec & let him suffer in agonizing pain for 4 min & die," another tweeted. "Colorado terrorist is a grown white man who killed 10 people including a cop. Cops arrested him alive & helped him to a stretcher for immediate medical care."
Officials said on Monday that Alissa was wounded in the leg during "an exchange of gunfire" and that he was taken into custody about 3:30 p.m. before being transported to a hospital, where he was in stable condition.
Alissa is expected to be transported to Boulder County Jail sometime Tuesday. He has been charged with 10 counts of first-degree murder.
Law enforcement officials said the suspect's identity was known to the FBI because he was linked to another individual under investigation by the bureau. Boulder police said they had two encounters with Alissa in 2018—one on a report of third-degree assault and one about criminal mischief. Officials did not say if he was convicted of a crime in those cases.
Newsweek reached out to Twitter for comment but did not hear back before publication.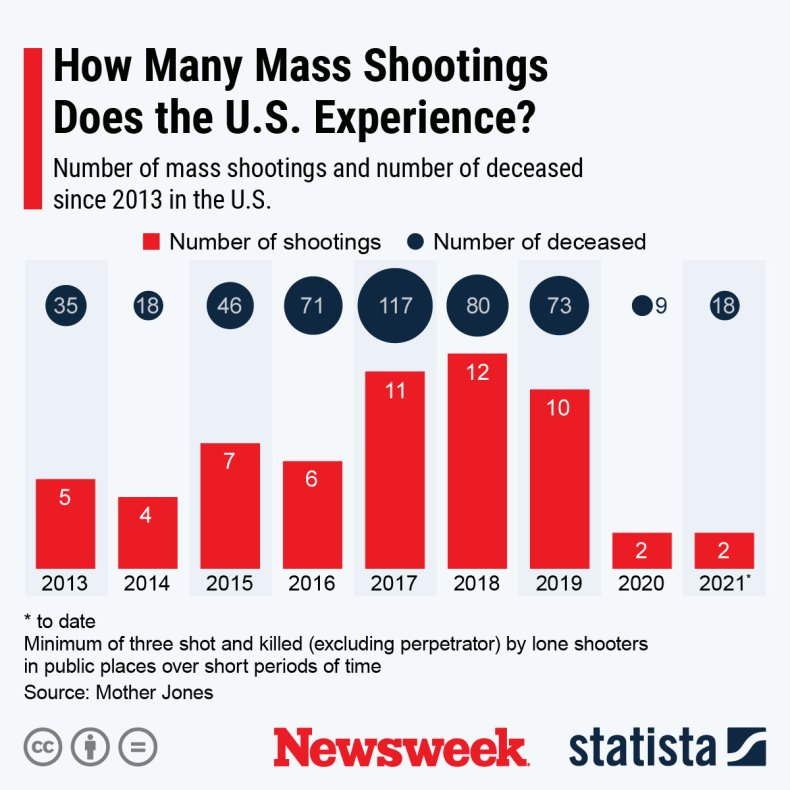 Statista: https://www.statista.com/chartoftheday/