Fly Jamaica Airways Crew Member Found with $160,000 of Cocaine Strapped to Legs at JFK Airport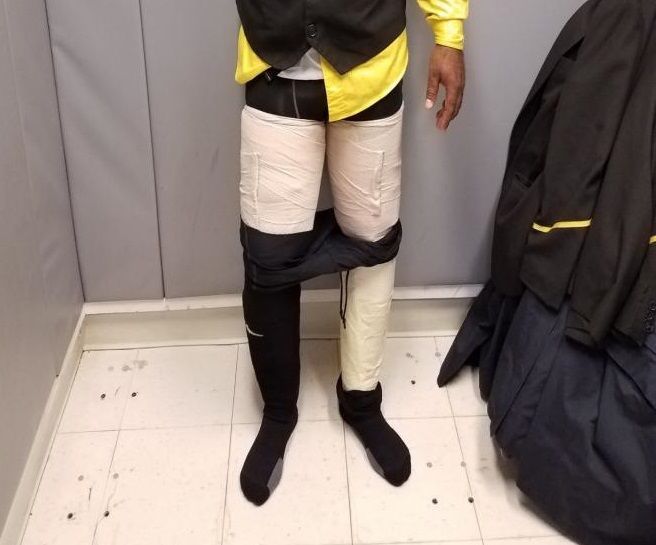 An airline crewmember has been arrested after allegedly trying to smuggle in 9 pounds of cocaine through New York's John F Kennedy Airport by strapping it to his legs.
Hugh Hall, crew member for Fly Jamaica Airways, arrived at the airport after flying in from Montego Bay, Jamaica, on March 17.
The Jamaican citizen presented himself to U.S. Customs and Border Protection (CBP) officers for inspection. Hall was then taken to a private room where he was searched further by CBP officers, where they discovered four packets of cocaine taped to his legs.
Authorities estimate the street value of the cocaine seized from Hall is approximately $160,000.
Hall was arrested on suspicion of the importation of a controlled substance and was turned over to Homeland Security Investigations.
The CBP said Hall was detained after he realized he "could not get a leg up" on their officers.
"This seizure is another example of our CBP officers being ever vigilant in protecting the United States from the distribution of illicit drugs," said Leon Hayward, Acting Director of CBP's New York Field Operations.
Hall faces federal narcotics smuggling charges and will be prosecuted by the U.S. Attorney's Office in the U.S. Eastern District Court of New York.
Fly Jamaica Airways have yet to comment on Hall's arrest.
Almost a year ago to the day, CBP officers stopped a would-be smuggler at JFK Airport who had also taped cocaine to his legs. On March 16, 2017, Mayobanex Ruiz Gomez, a citizen of the Dominican Republic, flew in from Santo Domingo, displaying "numerous signs of nervousness," according to CBP.
When he was searched, he was found to have strapped 5 pounds of cocaine to his legs, with an estimated street value of more than $83,000. He was also subsequently arrested and turned over to Homeland Security Investigations.