Flying Lava Bombs From Hawaii's Kilauea Volcano Could Spark Mass Evacuation
Hawaii's erupting Kilauea volcano has been spouting lava "bombs" and threatening escape routes for the people living on Big Island.
The eruption, which has already destroyed dozens of homes, has caused 19 new fissures so far, all spewing noxious gases and lava. Officials fear the unpredictability of the volcano, and how long the eruption will last is unclear. A major concern for emergency services is lava devastating roads that could lead locals away from danger.
"There's a lot of worst-case scenarios and roads getting blocked is one of them," Jeff Hickman, spokesman for the Hawaii National Guard, told Reuters. If either of the nearby highways—137 and 132—are hit by lava, authorities are likely to call a mass evacuation, said Hickman.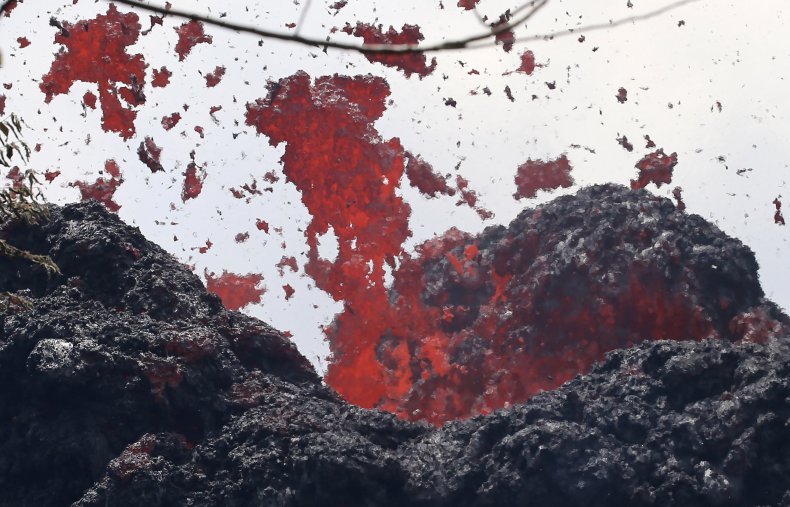 So far, around 2,000 people in Big Island's lower Puna district have been ordered to evacuate but thousands more from the region's 187,000 residents could follow, if authorities decide that evacuation routes are under threat.
Lava explosions, known as "spatter bombs," have launched hundreds of feet into the air over the past two days according to the U.S. Geological Survey, as observers documented the opening of the two newest fissures.
Related: Strongest earthquake in 43 years shakes Big Island as lava consumes homes
"It's optimistic to think that this is the last fissure we're going to see," Steve Brantley, Deputy Scientist-In-Charge for the Hawaiian Volcano Observatory said. "The appearance of the fissures in the past couple of days does not change the overall picture or concern," he told the Associated Press.
What would represent a new threat is if water entered the volcanic crater, launching heavy debris high in the air. Experts warned last week that this was a possibility around the middle of the month, if steam and gas build inside the volcano, pushing heavy boulders out with great force.
"So far those explosions have not occurred and I think the key here is that the vent system is an open one, therefore pressure is not being built or developed down at the top of the lava column," Brantley said.