'Flying Swastika': German Amusement Park Forced to Close New Ride in Shape of Two Giant Nazi Symbols
A German amusement park in Löffingen closed down one of their new rides this week after visitors complained that it's appearance resembled two rotating swastikas.
The owners of Tatzmania amusement park in the Black Forest closed down the ride "Adlerflug," German for "eagle flight," pending a complete design after social media users uploaded videos and photos to Reddit that likened its appearance to two giant Nazi symbols. The ride opened late last month.
"Ahh the flying swastika," one reddit user wrote after watching the footage. "This is in Germany?! How did Tatzmania not notice that shape?!" another added.
Tatzmania's managers claimed they didn't notice the resemblance until footage of ride was released on social media. When they became aware of its offending shape they quickly moved to shut the ride down.
"We didn't notice the gondolas are in the form of a swastika. It wasn't obvious from the manufacturer's sketches," Rüdiger Braun, the location's 62-year-old managing director, told Bild Newspaper.
In discussing the redesign, Braun revealed that the costs to rebuild the ride will fall on the Italian manufacturer. "There will be only three instead of four two-person gondalar per axle," he said.
"I would like to emphasize that I would like to apologize with all form to all persons who feel disturbed and insulted by our design," Braun later told the European Broadcasting Union (EBU). "We will have this problem under control."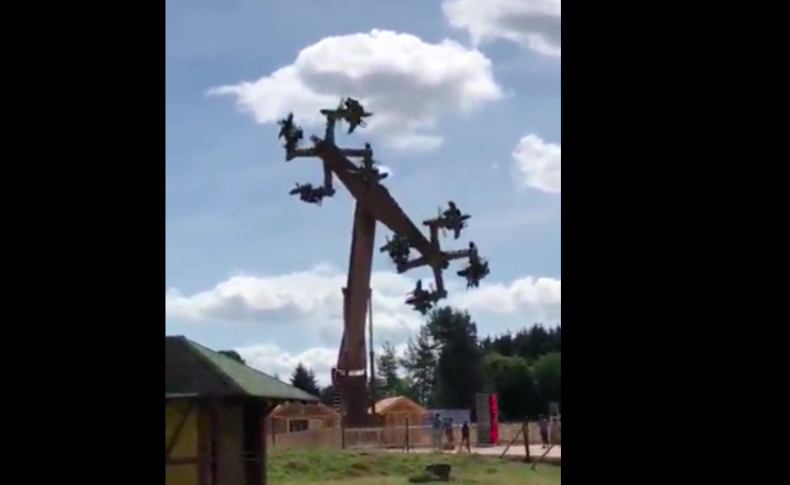 Germany prohibits the public display of Swastikas and other Nazi imagery under the German Criminal Code section 86a. Offenders could be punished with up to three years in prison.
Michael Wehner of the regional government agency for political education praised Tatzmania for moving so quickly to address the unfortunate blunder. "It was wise of the operator to react so quickly," he said. "Displaying prohibited symbols is an offense and sooner or later someone would have filed a complaint."
However, one park customer said the ride's appearance was not an issue for him. "I'm not bothered. Because I didn't even notice that it looked like swastikas. And the children, they think nothing of it," the visitor said, according to DW.com.
The closure of Adlerflug comes roughly two weeks after a British tourist found souvenirs featuring Adolf Hitler's face and Nazi slogans in a shop during a visit to Italy. "Wtf! Just arrived in Italy on holiday and I knew fascism was on the rise here but still shocked to see these in the local supermarket," Angela Thompson tweeted, alongside images of mugs and wine bottles emblazoned with pictures of Hitler and fascist symbols.