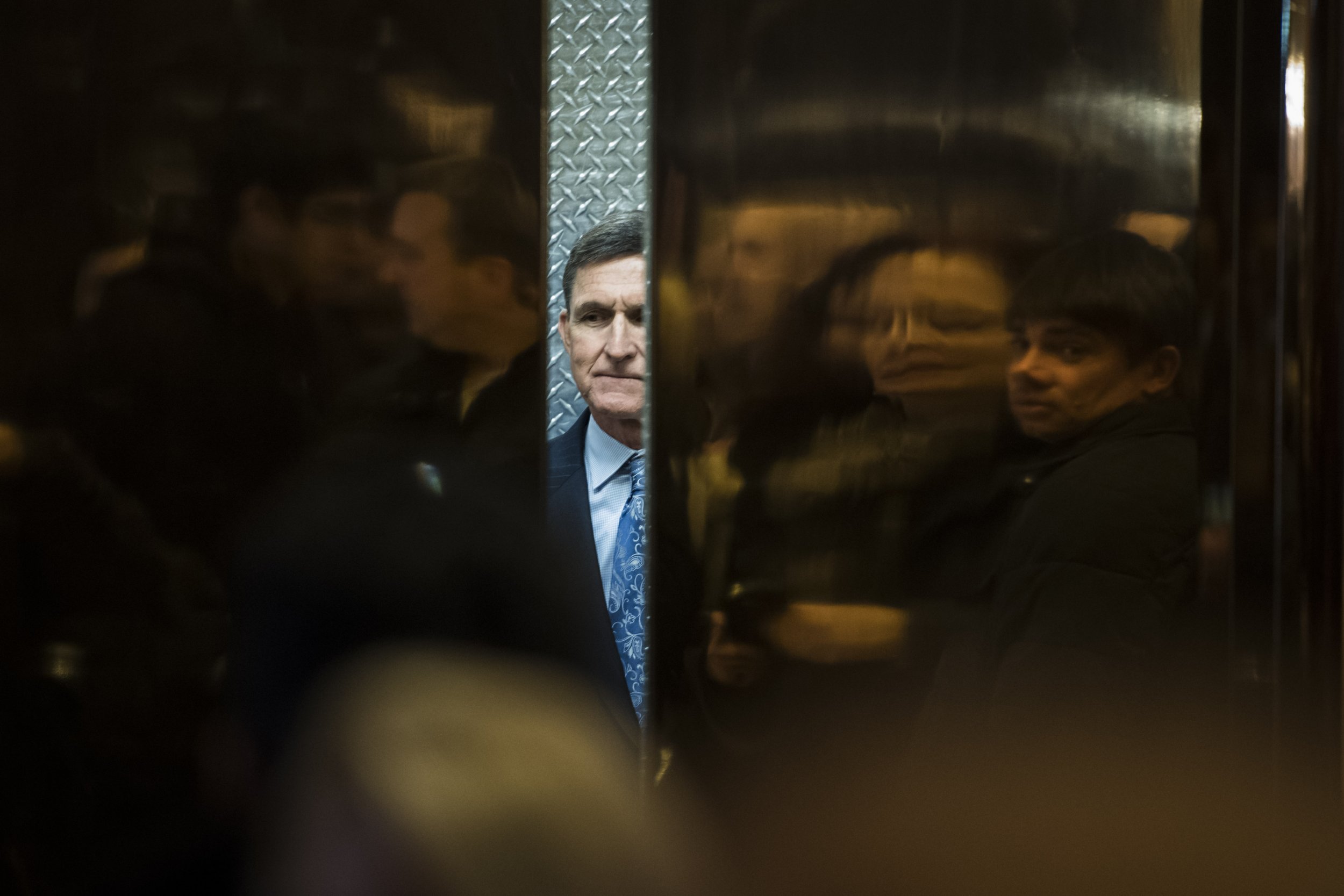 Congress is not through with Michael Flynn, the former Trump White House national security adviser who was forced out in February over his dealings with Russian ambassador Sergey Kislyak. On Tuesday, Democrats chairing two powerful House committees sent a joint letter to the former army general and some of his erstwhile business associates demanding new answers about his involvement in a private project to build nuclear power plants in the Middle East.
The letter, signed by Representatives Elijah Cummings of Maryland, the ranking Democrat on the House Oversight and Government Reform Committee, and Eliot Engel of New York, his counterpart on the Foreign Affairs Committee, said that information supplied by Flynn's business associates over the summer confirmed that he had met with Middle East officials on behalf of the nuclear energy project—information he had failed to disclose while applying for a renewal of his security clearance last year.
Related: Michael Flynn and a grand scheme to build nuclear power plants in the Arab world
"The American people deserve to know whether General Flynn was secretly promoting the private interests of these businesses while he was a campaign advisor, a transition official, or President Trump's national security advisor," Cummings and Engel wrote.
When contacted by Newsweek, Flynn's lawyer, Robert Kelner, declined to comment.
Cummings had initially inquired about the trip in June, days after Newsweek reported that Flynn, a former head of the Defense Intelligence Agency (DIA), had lobbied Egyptian and Israeli officials on the project in 2015. In the initial financial disclosure form he filed in preparation for joining the Trump administration, Flynn reported only that he had done unpaid work for X-Co Dynamics Inc./Iron Bridge Group, a partnership formed to pursue a joint U.S.-Russian project to build and operate nuclear energy plants in the Middle East. According to an internal memo by ACU Strategic Partners, one of the lead companies involved, Flynn's role was to help X-Co/Iron Bridge design and implement a vast security network for the enterprise.
Flynn met with officials in Egypt and Israel in June 2015 to discuss the project but failed to report or name those contacts or any income from his work, either in his initial financial disclosure form in February 2017 or an amended report on March 31. "To the best of my knowledge," Thomas Cochran, a prominent scientist and nuclear nonproliferation proponent involved with the project, told Newsweek back in June, Flynn was not paid for his expertise beyond travel expenses, estimated at between $10,000 and $15,000.
The Newsweek report prompted Cummings and Engle to pursue further answers about Flynn's dealings in the Middle East from his former Washington, D.C.-area business associates, Alex Copson, the managing director X-Co Dynamics Inc./ACU Strategic Partners, and retired U.S. Navy Rear Admiral Michael Hewitt, formerly the chairman of X-Co Dynamics Inc./IronBridge Group Inc.
Copson, a British-American businessman who was previously involved with a failed project to store nuclear waste on Pacific Ocean islands, responded on June 27 with new and surprising information about Flynn's role and financial compensation in the Middle East project. ACU had not just covered his travel expenses, he wrote; it "also wrote him a check for $25,000 to compensate him for the loss of income and business opportunities resulting from this trip." Copson told the congressmen that "General Flynn apparently did not cash the check for $25,000, but did not explain why."
On August 3, five weeks after Copson's response to the committees, "General Flynn finally disclosed that he had been paid in excess of $5,000 by ACU Strategic Partners," Cummings and Engle wrote on Tuesday.
Meanwhile, as with so many endeavors by Donald Trump associates, a Russian state entity was apparently in the thick of their Middle East nuclear power project. As Cummings and Engel note in their letters to Flynn and company, an internal slide presentation promoting the project states that "Total Regional Security" would be provided by Rosoboronexport, "a Russian state-owned weapons exporter that is currently subject to U.S. sanctions." Copson also disclosed in his letter that "recently, ACU has further scoped the potential for geopolitical stabilization of the Middle East by inviting China to participate."
Copson did not immediately return a call asking for comment. Hewitt could not immediately be reached for comment. In late May, he told Newsweek that he had no relationship with ACU. He now leads another group pursuing a Middle East nuclear energy project under the banner of IP3 ("Peace, Power, Prosperity").
"Like the others who responded to our request," Cummings and Engel wrote, "Rear Admiral Hewitt did not disclose the scope of communications that he or others may have had with General Flynn about this project before or after President Trump named him as national security advisor, nor did he disclose the identities of other transition officials or administration employees with whom he or his associates have communicated."
The principal idea driving the project, according to Cochran, the nuclear physicist long involved in the endeavor, was to remove the potential for nuclear weapons proliferation by Middle East governments by putting their plants and fuel cycle operations in the hands of an international consortium that would guarantee their security.
"A primary purpose" of Flynn's meetings in Egypt, Cochran told the congressmen, "was to convince the government at least to postpone accepting the Russian offer to finance and build four reactors in order to carefully consider the ACU alternative." He said that "the primary purpose" of Flynn's meetings with Israeli officials "was to ensure that the ACU project architecture would be in the best interests of Israel."
The committee has also obtained an "email chain" showing that in April 2016, seven months before GOP candidate Trump named him his national security adviser, Flynn, Copson and Hewitt "were in communication" about the nuclear project with a senior Jordanian official, Major General G. Omar Al Khaldi, chief executive officer of the King Abdullah II Design and Development Bureau.
In June, attorneys for Flynn declined "to provide any explanation or documents" for his Middle East dealings, Cummings and Engel wrote Tuesday, "but their response did not deny allegations that General Flynn omitted this foreign trip and these foreign contacts from his security clearance renewal application in 2016 and concealed them from background check investigators."
The congressmen are also pursuing evidence that Copson and Flynn were in touch about the project after the former DIA chief entered the White House in January.
Cummings and Engel have given Flynn, Copson and Hewitt an October 4 deadline to produce more documents about the former national security adviser's foreign contacts on behalf of the project before, during or after his service on Trump's team. They also requested that the three, plus Cochran, "appear for transcribed interviews with our committee staffs."