Flynn Ruling an Aircraft Carrier-Sized Legal U-Turn, Dissenting Judge Says
A federal appeals court has ordered a judge to dismiss the case against former national security adviser Michael Flynn—a decision a dissenting juror on the panel deemed "akin to turning around an aircraft carrier."
In a 2-1 vote, a panel of the U.S. Court of Appeals for the D.C. Circuit denied a request from U.S. District Judge Emmet Sullivan to further examine whether the Justice Department's motion to drop the charges was part of a corrupt effort from allies of President Donald Trump. His request, they said, intruded on the agency's "charging authority."
But Judge Robert Wilkins issued a scathing dissent of his colleague's decision, calling it ironic and premature given Judge Sullivan had yet to issue his own ruling on the Flynn matter.
"It is a great irony that, in finding the District Court to have exceeded its jurisdiction, this Court so grievously oversteps its own," Wilkins wrote.
He added, "This is no mere about-face; it is more akin to turning around an aircraft carrier."
Wednesday's decision is the latest development in Flynn's two-year legal saga, which began when he pleaded guilty to lying to prosecutors about his communication with then-Russian Ambassador Sergey Kislyak during the presidential transition. His prosecution, which President Trump frequently criticized as unjust, was a result of former special counsel Robert Mueller's probe into Russian interference in the 2016 election.
Then in May, the Justice Department moved to drop the charges based on a review assigned by Attorney General William Barr. The review found that Flynn's false statements weren't "material" to the Russia investigation and therefore weren't considered a crime.
But Judge Sullivan didn't act immediately on the Justice Department's request. Instead, he asked for a review of the decision and invited third parties to submit briefs on Flynn's case. He also appointed former federal judge John Gleeson to argue against the government's position. Gleeson characterized the move to drop the charges a "gross abuse of prosecutorial power" and "highly irregular conduct to benefit a political ally of the President."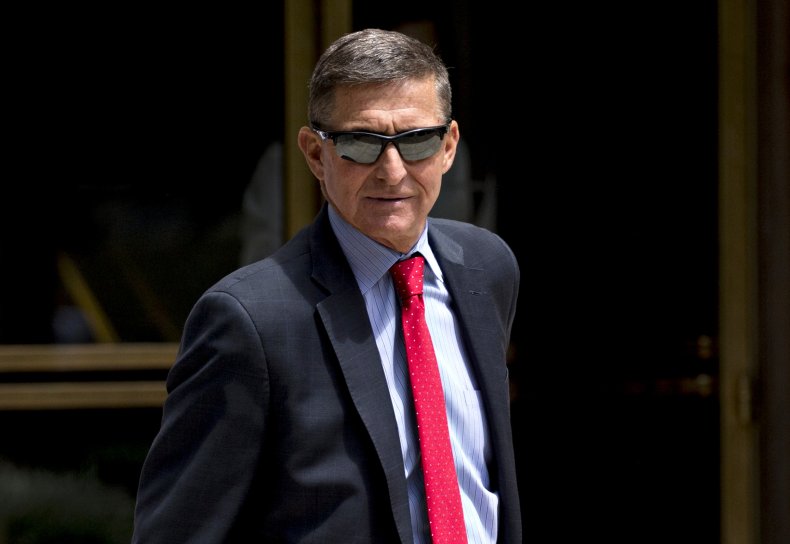 Sullivan's inquiry was swiftly met with backlash from Flynn's legal team, which argued that "no further delay should be tolerated" in the case. They then asked the appeals court to step in to remove him from the case and have the charges dropped immediately.
On Wednesday, the appeals court ruled in favor of Flynn's motion. It's unclear whether Judge Sullivan can challenge the decision but if he doesn't, Flynn's case is expected to be dropped.
"This is not the unusual case where a more searching inquiry is justified," wrote Judge Neomi Rao in the appeals court's decision Wednesday. Judge Rao was joined in the decision by Judge Karen LeCraft Henderson, while Judge Wilkins dissented.
Newsweek has reached out to Flynn's attorney for comment on the court's decision but has yet to receive a response.