Michael Flynn, Trump's Ex-National Security Adviser, is Target of New House Inquiry Related to His Dealings in Saudi Arabia and the Middle East
Updated | First it was Russia and Turkey. Now congressional investigators are zeroing in on the previously undisclosed business dealings of former White House national security adviser Michael Flynn in the Middle East.
On Monday, the ranking Democrats on two House committees looking into the foreign connections of the Donald Trump campaign expanded their probes by requesting documents from Flynn's consulting firm and two other companies regarding a trip Flynn took to Saudi Arabia in June 2015. Flynn failed to report the trip during his request to renew his security clearance, they say. He did report a later trip to Saudi Arabia on his security form, but left out important details, says the joint letter from Representatives Elijah E. Cummings and Eliot L. Engel, the ranking Democrats on the House Government Oversight and Foreign Affairs committees, respectively.
Newsweek reported on June 9 that Flynn had traveled to Egypt and Israel in the summer of 2015 as an adviser on a project to pursue a joint U.S.-Russian-Saudi business venture to develop nuclear facilities located in—and financed by—Saudi Arabia. He did not report that trip, but in his June 2015 testimony before the House Foreign Affairs subcommittee on the Middle East and North Africa, Flynn said he had "just came from a trip—fairly extensive trip to the Middle East," during which nuclear power "was one of the big issues that came up."
Related: Michael Flynn, Russia and a grand scheme to build nuclear power plants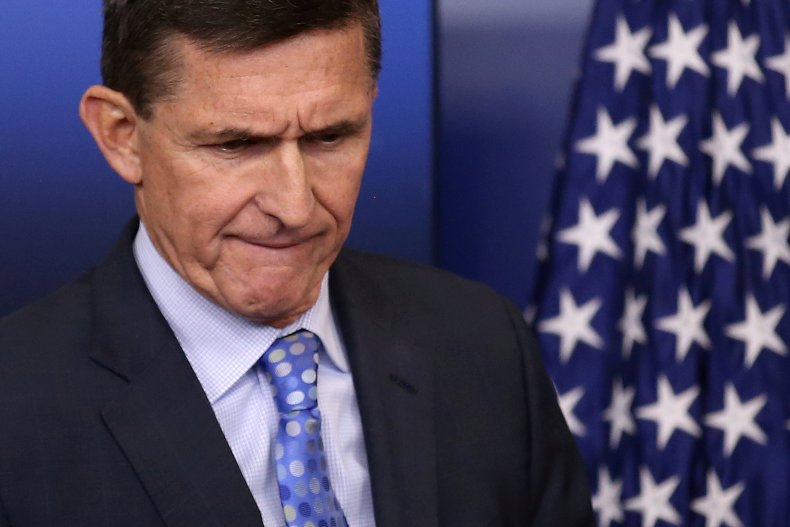 Investigators determined that Flynn did not report the trip "as part of his security clearance renewal process" six months later, according to the letter from Cummings and Engel. They also noted that "[s]oon after he took this trip, Saudi Arabia announced an agreement with Russia's state nuclear corporation, Rosatom, that resulted in a $100 billion deal in 2016 to build 16 nuclear power units."
No evidence has emerged that there is any connection between the Flynn trip and the Rosatom deal. To the contrary, the project Flynn was involved in at the time was expressly designed to put such deals in the hands of a U.S.-led international consortium under strict safety and security controls.
Flynn was a private businessman between August 2014, when he was forced out as head of the Defense Intelligence Agency, and January 2017, when Trump appointed him national security adviser. He soon lined up a number of consulting ventures through his firm, Flynn Intel Group, based in Alexandria, Virginia. One was with X-Co Dynamics Inc./IronBridge Group, led by former Navy Admiral Michael Hewitt and other high ranking former defense officials involved in the Middle East nuclear energy project. At the time, X-Co Dynamics Inc./IronBridge was working with ACU Strategic Partners, headed by Alex Copson, a British-American businessman based in Washington, D.C. Hewitt's group and Copson have since split.
The congressmen have requested documents relating to Flynn from all three companies. Flynn, Hewitt and Copson did not immediately respond to emailed requests for comment.
As the Cummings-Engel letter on Monday noted, "According to a financial disclosure form that General Flynn submitted after he was fired as National Security Advisor, he did not begin advising X-Co Dynamics Inc./IronBridge Group until August 2015," two months after his trip to Israel and Egypt.
"I met him in Israel on the end of a two-stop trip," Thomas Cochran, a physicist advising the ACU group, told Newsweek. "This project makes no sense unless it has the complete support of the Israeli government…"
"This was the year before the campaign and there was nothing there to question his involvement…" Cochran added. "We paid for his travels. Whether he was compensated for his time while he was traveling that I can't answer. I don't deal with the finances." Flynn was also involved in talks "with [Egyptian President Abdel Fattah] el-Sissi's government," Cochran said.
Flynn did report his October visit to Saudi Arabia, but "omitted key details regarding this trip," Cummings and Engel wrote, including who paid for it. When Defense Department Investigators questioned Flynn about the trip he said he went there with "a friend" for six days "to speak at a conference" that was paid for by "a work sponsor." He further said he was "working on developing business with another country."
"Unfortunately," Cummings and Engel wrote, Flynn failed to disclose the identity of his "friend" or his "work sponsor" or describe the conference he attended. Committee investigators also found that none of the three speakers bureaus Flynn worked with "reported any involvement with General Flynn's trip to Saudi Arabia or any conference there." Nor could they find any record of a "King Khaled International Hotel in Saudi Arabia," where Flynn reported staying, "although this name is similar to the name of the airport in Riyadh."
Just days after submitting his security renewal application in January 2016, investigators found, Flynn gave a speech saying that he had "talked to many of these leaders" in the Middle East, including Saudi Arabia. "I'm actually talking to a lot of folks in that country," he told to the right-wing, pro-Israel Endowment for Middle East Truth.
Investigators now want to know why Flynn failed to report meetings with those "leaders" or whether there is other Middle East income he omitted from his disclosure form. In accordance with his June 2015 testimony, they noted, Flynn reported that "neither he nor his organization had received any payments from a foreign government related to the subject of the hearing or his representational capacity at the hearing."
Correction: A previous version of this story mistakenly referred to Representatives Elijah E. Cummings and Eliot L. Engel​ as the chairmen of the House Government Oversight and Foreign Affairs committees, respectively. They are the ranking Democrats on those committees.