Court-Appointed Retired Judge Calls Government Decision to Drop Flynn Case 'Gross Abuse' of Power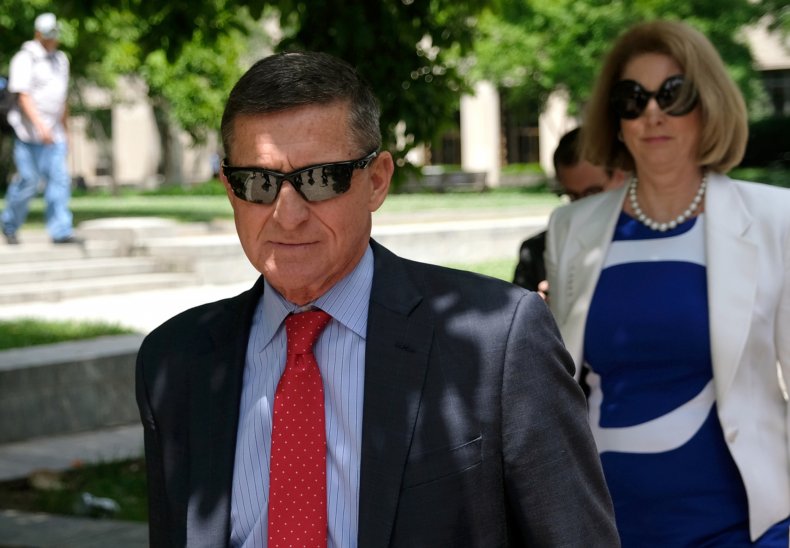 A retired federal judge appointed by the court ahead of Michael Flynn's sentencing argued that the Department of Justice was committing "a gross abuse of prosecutorial power" by seeking to dismiss the case against President Donald Trump's former national security adviser.
In an 82-page brief submitted to U.S. District Court Judge Emmet G. Sullivan on Wednesday, John Gleeson advised that federal rules governing criminal proceedings require the government to seek the court's permission before dismissing a case it had previously brought. Gleeson rejected claims made by the team representing Flynn that this requirement was little more than a formality.
Flynn pleaded guilty in December 2017 to a charge of lying to FBI agents about his contacts with a Russian official. That admission stemmed from former Special Counsel Robert Mueller's interviews with Trump associates in his probe of Russian interference in the 2016 election.
After shaking up his legal team and adopting a new, confrontational posture, Flynn sought to withdraw his guilty plea earlier this year.
Gleeson wrote that the procedural guardrails preventing the government from unilaterally dropping cases were devised to protect against undue influence.
These rules allow courts to safeguard "the integrity of their own proceedings from prosecutors who undertake corrupt, politically motivated dismissals," he said.
In response to a request for comment, Sidney Powell, a high-profile legal commentator often appearing on Fox News and member of Flynn's legal team, called Gleeson's claims "predictable and wrong."
Flynn's team is asking a federal appeals court to intervene in the case and force Sullivan's hand by requiring him to accept the government's request for a dismissal. Oral arguments in those proceedings are scheduled for Friday.
The Department of Justice's decision in May to attempt to dismiss the charge against Flynn stunned the legal community, with many remarking that such a move—following multiple admissions of guilt and a plea agreement—appeared unprecedented.
The top federal prosecutor in charge of Flynn's case personally signed the motion asking Sullivan to sign off on the dismissal. Timothy Shea, then the interim United States Attorney for the District of Columbia, argued that Flynn's omissions were "untethered to" the FBI's counterintelligence probe and therefore unable to sustain charges.
This determination was made "after a considered review of all the facts and circumstances of this case, including newly discovered and disclosed information," according to Shea.
But Gleeson found the government's about-face to be inconsistent and suggestive of something more deeply troubling about how it has handled the case. He said prosecutors' filings were "riddled with inexplicable and elementary errors" and that their newfound arguments in favor of Flynn's freedom were largely "pretextual."
"The Government's ostensible grounds for seeking dismissal are conclusively disproven by its own briefs filed earlier in this very proceeding," he wrote. "They contradict and ignore this Court's prior orders, which constitute law of the case."
The Department of Justice did not immediately return a request for comment.
This story has been updated to include additional material from Wednesday's filing.