Following Kim Davis Battle Over Same Sex Marriage Licenses, Kentucky Governor Strips Clerk Names From Form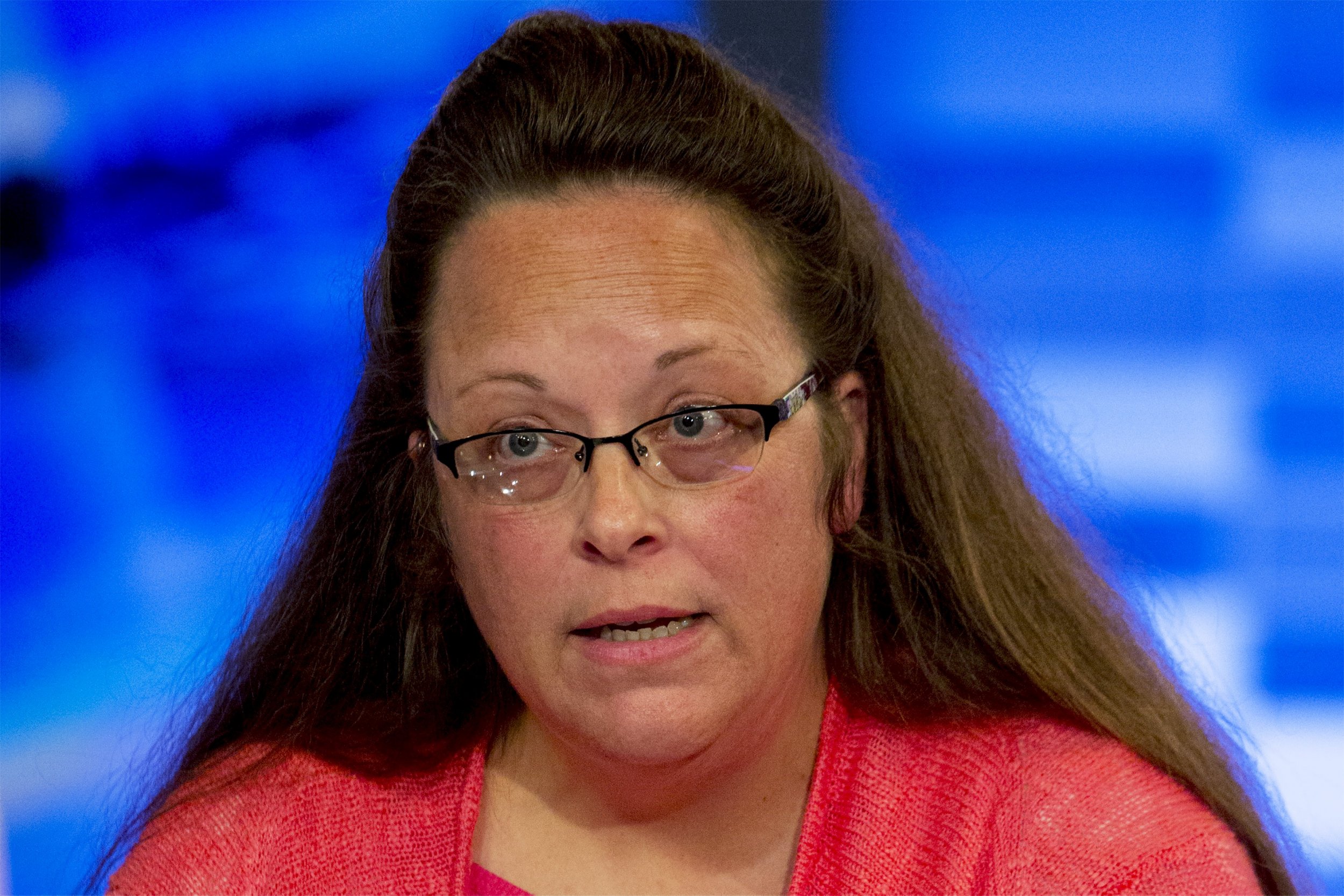 Updated | Kentucky Governor Matt Bevin issued an executive order removing county clerk's names from marriage licenses on Tuesday.
Bevin's decision comes in light of a lengthy legal battle surrounding Kim Davis, a Rowan County clerk, who declined to issue same-sex marriage licenses for religious reasons after the Supreme Court effectively legalized such partnerships with a ruling in June.
The American Civil Liberties Union of Kentucky (ACLU) filed a motion against Davis over the summer for her refusal to uphold the new law. Despite a court order, Davis continued refusing to issue same-sex marriage licenses. As a result, she spent almost a week in jail.
Davis has long advocated for her name to be removed from the licenses: "I can't put my name on a license that doesn't represent what God ordained marriage to be," she said earlier this year.
Judge David Bunning released Davis from jail in early September after marriage licenses in Rowan County were altered to remove her name and replace it with the county's name. Though the removal of her name was a quick fix, controversy arose about whether or not the licenses would be legal without her name.
Bevin's executive order resolves this matter, as the nameless licenses are now the standard statewide. His statement reads as such:
To ensure that the sincerely held religious beliefs of all Kentuckians are honored, Executive Order 2015-048 directs the Kentucky Department for Libraries and Archives to issue a revised marriage license form to the offices of all Kentucky County Clerks. The name of the County Clerk is no longer required to appear on the form.
In late September, Newsweek obtained a copy of the license altered by Davis' office, showing the space for her name crossed out. It remains unclear if this altered form will be used or if the state will issue a new, altogether different form.
The ACLU offered this statement on the governor's decision:
"Governor Bevin's executive action has added to the cloud of uncertainty that hangs over marriage licensing in Kentucky. The requirement that the county clerk's name appear on marriage licenses is prescribed by Kentucky law and is not subject to unilateral change by the governor — conceded by the previous administration in court filings. Today, however, a new administration claims to have that authority. The ACLU continues to work with loving couples who hold marriage licenses of questionable validity and for those who are waiting to legalize their unions until this is resolved. And the ACLU will continue to challenge government officials who disregard the law in favor of promoting their own personal beliefs to the detriment of the rights of others. Government officials, from the highest to the lowest, have a duty and responsibility to impartially administer the laws that exist, not the laws as they wish them to be."
When Davis' office first altered the licenses to remove her name earlier this year, the ACLU took the matter to court. The organization asked a Kentucky court to enforce Rowan County clerks to "issue marriage licenses in the same form and manner as those that were issued on or before September 8, 2015," before the name was removed.
There was also debate as to whether Davis should resign or be fired. Davis made clear she had no plans to quit, adding "I'm good at my job" during an interview earlier this year. Firing Davis would be a lengthy process requiring an impeachment by the state legislature, as she is an elected official.
Former Kentucky Governor Steve Beshear, a Democrat, urged Davis to do her job when the controversy first began in July. "While there are certainly strongly held views on both sides of this issue, the fact remains that each clerk vowed to uphold the law regardless of his or her personal beliefs," the former governor said at the time.
By contrast, Bevin, a Republican, invited Davis to his inaugural events. Davis applauded Bevin's campaign goals, her attorney, Mat Staver, said in a statement. "I absolutely support her willingness to stand on her First Amendment rights," Bevin said while campaigning. "Without any question I support her."
This story has been updated to include more information about Kentucky's governor and Kim Davis.