Following 'Misogynistic' Kamala Harris Comments, Nathan Dahm Faces Calls to Resign
Oklahoma state Senator Nathan Dahm is facing calls to resign after he made "misogynistic" comments about Vice President Kamala Harris in a news release announcing a bill that would ban paper straws.
"Hatred of paper straws is universal," the Republican senator from Broken Arrow said in the press release issued on Earth Day. "They fall apart and turn to mush quicker than Joe Biden trying to string together a coherent sentence. They collapse like Mitt Romney under the slightest amount of pressure, and even with Kamala Harris...well, never mind."
In a interview with local station KTUL, Dahm took his comments about Harris a step further, saying, "One thing that could be said is you can't use a paper straw for a milkshake, but maybe Kamala Harris could because of her vast experience. Maybe she would be able to get that accomplished."
When the reporter asked him to clarify what that statement meant, Dahm said that people can "do their research...to figure out how she got trajection into politics."
Dahm's statement to KUTL seemed to imply that Harris made her successful career in politics through sexual favors. Backlash and calls for Dahm's resignation immediately ensued.
"Nathan Dahm needs to apologize and resign," Democratic Coalition co-founder and executive director Scott Dworkin wrote in a tweet. "This is unacceptable and gross."
"I do not want Senator Dahm to apologize to me, Vice President Harris, women or our communities of color," said Oklahoma State Rep. Ajay Pittman in a statement released Friday. "Dahm has made it abundantly clear that he was intentional with his words...the justification for sexism given by Senator Dahm in and of itself is grounds for censure."
In response to critics, Dahm excused his statement as jest, tweeting "I've been assured my jokes are hilarious."
Besides being the first woman, first Black woman and first woman of Asian-American descent to become U.S. vice president, Harris has a lengthy resume. Early in her political career in California, she served with the Alameda County district attorney's office. She was then elected as district attorney for San Francisco before serving as the state's attorney general and later as a U.S. senator. She attended Howard University for her undergraduate degree and earned her JD at the University of California at Hastings.
Dahm is "one of the few home-school graduates to ever serve in the Senate," his biography on the Oklahoma State Senate website reads.
The comments brought rebuke from within the state senate, too, including from Republicans. GOP Senate President Pro Tempore Greg Treat said in a statement issued Friday that he was "disappointed" in Dahm's comments, which were "misogynistic, disrespectful, immature and undermine the good work of the staff and other members of the Oklahoma Senate."
He added that Dahm "completely failed" to live up to the "high standard of conduct and decorum" expected of all state senators. Treat did not mention calls for Dahm's resignation in his statement.
Dahm's Earth Day press release argues that "plastics and petrochemicals have changed our planet for the better," and his proposed ban would make it illegal for any food establishment in the state to provide consumers with straws made of "non-plastic materials."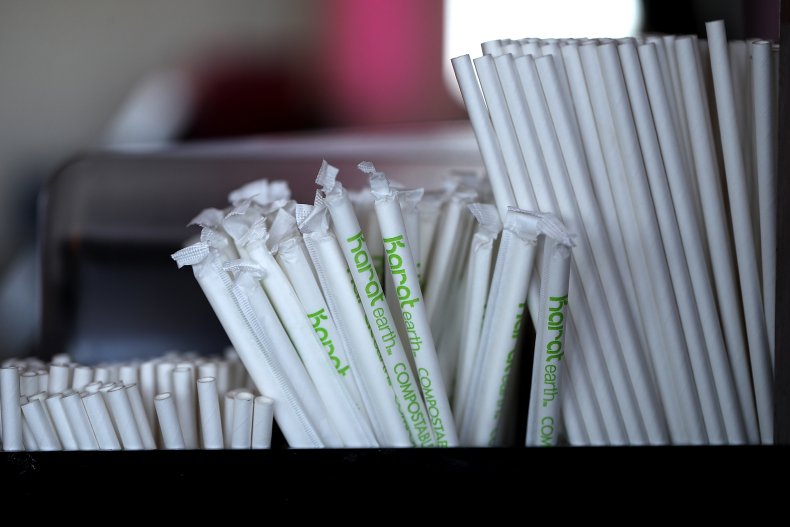 Newsweek has reached out to Treat and Dahm for comments, but did not receive a reply by publication time.