Following President Donald Trump's comments earlier this week that he would be willing to accept information about his political opponents even if were provided to his campaign by a foreign government, the chair of the Federal Election Commission (FEC) has publicly released a statement reminding everyone that doing so would be "illegal."
"I would not have thought that I needed to say this," wrote FEC Chair Ellen L. Weintraub on Twitter Thursday afternoon.
Her tweet included an image of her full statement, which reads:
"Let me make something 100% clear to the American public and anyone running for public office: It is illegal for any person to solicit, accept, or receive anything of value from a foreign national in connection with a U.S. election. This is not a novel concept. Electoral intervention from foreign governments has been considered unacceptable since the beginnings of our nation. Our Founding Fathers sounded the alarm about 'foreign Interference, Intrigue, and Influence.' They knew that when foreign governments seek to influence American politics, it is always to advance their own interests, not America's. Anyone who solicits or accepts foreign assistance risks being on the wrong end of a federal investigation. Any political campaign that receives an offer of a prohibited donation from a foreign source should report that offer to the Federal Bureau of Investigation."
The law Weintraub cites in her in her statement is 52 U.S.C. Section 30121 (a)(2), which reads: "It shall be unlawful for a person to solicit, accept, or receive a contribution or donation... from a foreign national."
While Weintraub did not name Trump or any other politician specifically in her tweet, she was most likely addressing the president's remarks aired Wednesday evening in an ABC News interview with George Stephanopolous.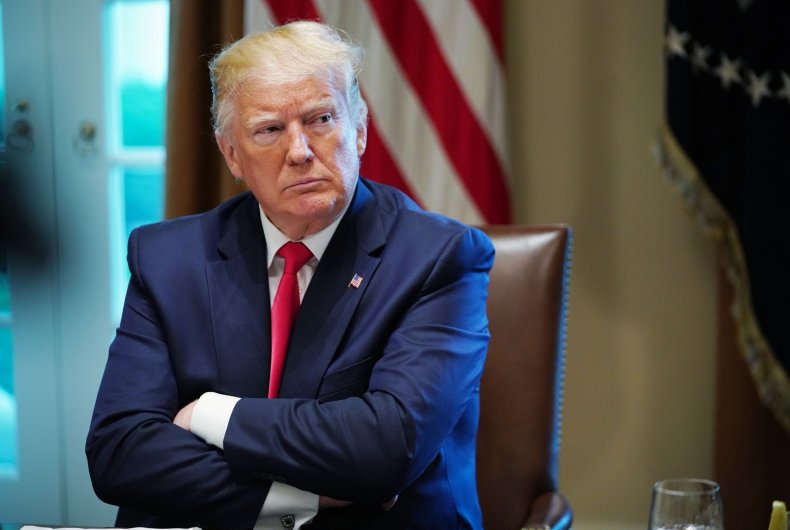 In a rambling statement about whether or not he'd accept research on his political opponents provided by a foreign government, Trump claimed "it's not an interference, they have information—I think I'd take it... If I thought there was something wrong, I'd go maybe to the FBI—if I thought there was something wrong. But when somebody comes up with oppo research, right, they come up with oppo research, 'Oh let's call the FBI.' The FBI doesn't have enough agents to take care of it. When you go and talk, honestly, to congressmen, they all do it, they always have, and that's the way it is. It's called oppo research."
The president's comments have been widely criticized by his critics, and defended by some of his Republican allies.
"I have not met a Congressman, Democrat or Republican, who's said that they've ever done this," Democratic Representative Raja Krishnamoorthi told CNN about the president's claim that "they all do it."
"No member of Congress with any integrity and who wants to uphold our oath of office would ever take that information," said Congresswoman Katherine Clark.
Former Republican Congressman Joe Scarborough said Thursday morning during his MSNBC show that, "I never once heard from a single congressman, or congresswoman or U.S. senator, and I've known a lot over the past 25 years, that ever took any information from foreign sources, nor would they."
Meanwhile, Trump ally Senator Lindsey Graham attempted to deflect the criticism away from the president, by arguing that Democrats were equally guilty of seeking opposition research from foreigners when they purchased the dossier of Trump-related scuttlebutt from former British intelligence officer Christopher Steele in 2016.
However, a 2018 report from Republican-led House Permanent Select Committee on Intelligence appeared to state that hiring Steele or other non-citizens to do opposition research was within the bounds of existing law, so long as they were being properly paid for their work.
"Under current federal election law, foreigners are prohibited from making contributions or donations in connection with any campaign in the United States. However, it is not illegal to contract with a foreign person or foreign entity for services, including conducting opposition research on a U.S. campaign, so long as the service was paid for at the market rate," reads the report.
Assuming Thursday's tweet was directed at Trump, it would not be the first time that Weintraub — who was elevated to the FEC's lead position for a second time by Trump in 2017 — had publicly challenged the president.
In February 2017, Weintraub called on the White House to "immediately share" any evidence it had of widespread voter fraud in New Hampshire.