Foo Fighters Pull Out of MN Show Hours After Announcing Tour Due to Lack of COVID Measures
Hours after announcing their 2022 tour dates, the Foo Fighters pulled out of the band's show in Minneapolis, citing the venue's failure to implement COVID-19 safety measures.
"Due to Huntington Bank Stadium's refusal to agree to the band's Covid safety measures, Foo Fighters are unable to perform at that venue," the band wrote in a Tuesday statement. "We apologize for any inconvenience and are working on finding a suitable replacement—one that will prioritize the health and safety of everyone working and attending the show."
The show scheduled for August 3, 2022, at Huntington Bank Stadium was the Foo Fighters' only tour stop in Minnesota.
The band has been requiring concert-goers to provide proof of vaccination or proof of a negative test in order to attend their shows.
Huntington Bank Stadium, located on the campus of the University of Minnesota, has not required patrons to wear masks, provide proof of vaccination or a negative COVID test in order to attend events at the venue, including the school's Gophers' football games this season.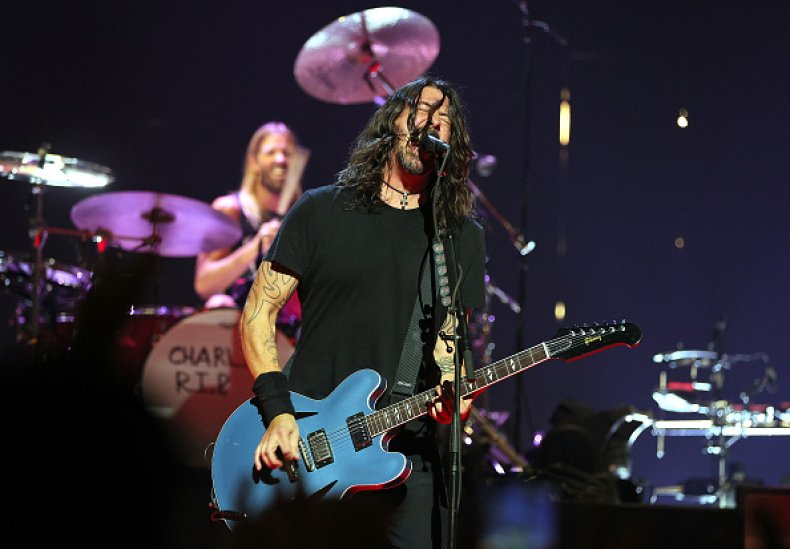 Since October, the college has required all students, except those with medical or religious exemptions, to be vaccinated. According to a university spokesman, more than 95 percent of the campus population is vaccinated.
"Our on-campus policies related to vaccines, mask wearing, personal hygiene and other precautions are aligned with state and federal guidance," spokesman Jake Ricker said in a statement sent to Newsweek.
"Huntington Bank Stadium has successfully hosted Gopher Football since August while fully complying with state and federal COVID guidance," he added. "All who attend events at our public institution, whether football fans, concert goers, or others, are treated equally and encouraged to take steps to protect themselves and others."
On Tuesday, the Foo Fighters announced 17 dates across North America, including two in Canada, as part of their 27th anniversary tour. The tour kicks off in May and general tickets were set to go on sale beginning Friday at 10 a.m.
The band's show at the Minneapolis stadium was to be the first major concert held at the venue in five years. The open-air venue has a capacity of 50,000 people.
The last time the Foo Fighters played in Minnesota was in 2018 as part of their Concrete and Gold tour, when they performed at the Xcel Energy Center in St. Paul.
In September, the Xcel Energy Center hosted the sold-out Minnesota show of Harry Styles' tour and, at the request of the British pop star, instituted a vaccine and test requirement as well as a mask mandate.