Food 'Angel' Hands Cash to Freezing Texans Waiting for Food, Then Disappears
Food, water, heat and electricity are scarce throughout many parts of the greater Houston area as the winter storm of a lifetime grips the nation's fourth-largest city. Finding a store that has basic necessities is one thing, and finding one that can take credit and debit cards is another, especially when the store's power goes out.
The Foodarama near 18th Street and Ella Boulevard in the city's Houston Heights sector was open Tuesday night. The store was busy and cashiers rang up items, but then the power went out, so then they could only accept cash. The store stayed open, and customers could only buy essential items during the winter storm.
Some potential customers began leaving at that point, but others in the long line to get into the store noticed a man with a stack of cash in his hand, and he was appearing to give $20 bills to whichever customers would accept his offer. Among the people in the crowd was a 69-year-old diabetic man who was accompanied by his dog named Trouble.
The friendly Black man started near the front of the line, walking by each customer and talking to them. Some took his offer of $20, and others refused.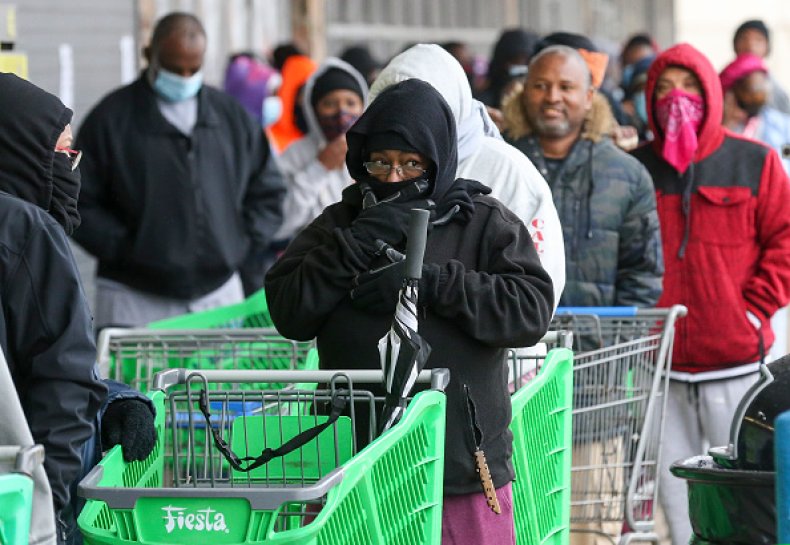 Jason Spencer, the public affairs officer for the Harris County Sheriff's Office, happened to be part of that line of customers as he needed water. Spencer said he guessed that the man gave away about $500 or so. The man didn't want photos, he didn't want fanfare, he didn't care to be thanked and he didn't want notoriety.
Spencer said the man eventually hopped into a pickup truck and drove off into the freezing night.
Here are some of the things Spencer tweeted on Wednesday about the quick chain of events:
"The line of customers wrapped around the entire inside of the store as two cashiers worked their tails off to ring everyone up. ... I'd made it about 1/4 of the way when the power went out," Spencer wrote.
"Everyone in line was worried the store would close. But they didn't. Instead, employees told us they'd stay open, but it would be cash only. Please limit yourselves to essentials. ... I had a little cash. But many didn't and they prepared to leave. Then, something cool happened.
"We spotted a Black man making his way up the line, stopping to interact with everyone. He handed something to many of them, but I couldn't tell what it was from so far back. ... When he got to us, he held up a stack of $20 bills and asked if anyone needed cash."
Something cool happened, indeed.
The entire state of Texas has endured one winter storm after another that began last weekend. There have been record-setting low temperatures all over the state. Snow, sleet and ice have pelted Texas from Amarillo to Brownsville, El Paso to Texarkana and from the Piney Woods to New Mexico.
By Tuesday night, more than 4 million residents had lost power and many people around the state were on a boil-water notice.
The state's elected leaders have wrangled over who's responsible for the ongoing power outage. There have been deaths, traffic pileups, zoo animals freezing to death, more school cancellations and people simply looking for any help they can find.
Then there are people like a man dubbed the "Foodarama Angel." He wanted no limelight, but to apparently just help a fellow man in need. The "angel" seemed to appear from nowhere, and then whisked away once his chore was done.
Who was he? Did he visit another store? Maybe time will tell.
The Foodarama Angel in Houston Heights might never be publicly known, but he certainly helped a few people in need, just when they needed it most.