Food Bank Destroyed in Alleged Arson Days After Delivery of Thanksgiving Turkeys
An alleged arson has destroyed a food bank in Kentucky, and a suspect has already been arrested.
According to food bank operator Gregory Cash, the Garrard County Food Pantry has deemed a total loss by authorities less than two weeks before Thanksgiving. Two hundred turkeys, which arrived at the bank only one day before, set aside for Thanksgiving were among the food items destroyed in the blaze. Local news station Lex 18 reported that Christmas gifts for children were also casualties.
Lancaster City Fire and Rescue said that the fire began right before 10 a.m. on November 14. Surveillance tape of the property before the fire started showed a woman rummaging through cardboard boxes and paper stacked against the building. Authorities said that the woman placed a lit cigarette on the boxes and paper, which started the fire that eventually burned down the pantry.
The woman was identified as Debra Smalling, who admitted to setting down the cigarette. Smalling faces charges of second-degree arson and first-degree criminal mischief as a result of the fire. No one was inside the food pantry during the fire, and no injuries were reported.
Many in the community are helping the employees of the Garrard County Food Pantry continue their mission. One such resident is Father Jim Sichko, who told Lex 18 that he is willing to help the pantry in any way he can.
"If it means rounding up those meals, then I'll do it," he said. "If it means helping them with the financial donation, I will do it. If it means going out and purchasing those meals, I will do it."
Residents are encouraged to donate turkeys and other food items to the First Southern Bank in downtown Lancaster.
For more reporting from the Associated Press, see below: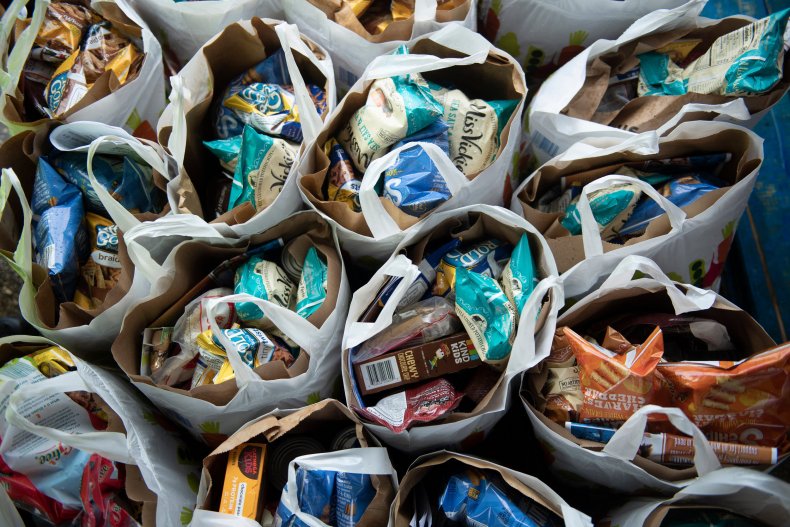 "We hand out about a million pounds of food here a year. Feed about 400 seniors and 800 families a month. It's not sunk in yet really what happened," Cash told WKYT-TV.
"I don't know where we'll go, but if we have to, we'll do it off of the back of my truck and trailer, that's fine until we get something built. We're not going to stop," Cash said.
Lex 18 reported that the Garrard County Food Pantry is hoping to rebuild after the devastating fire.
"We're going to try and continue on as normal as we can, but it's going to take a lot of prayers and a lot of work, cause as you can see, we lost everything. It's a mess right now. I'm still in shock. I don't know how to take it or what to say," said Cash.