'I'm a Food Bank Worker in Iowa. Without Us, I Don't Know Where People Would Turn'
I didn't know coming out of college that I wanted to work in food security, or in a food bank, but as soon as I found my current position, and I got in here, I thought—this feels right.
I work as the pantry services manager at Cedar Valley Food Pantry (CVFP), which is one of eight programs of the Northeast Iowa Food Bank based in Waterloo, Iowa. It's where people in Black Hawk County, Iowa, can get their groceries, but the Food Bank as a whole works with 16 counties, distributing food and grocery products to member agencies—that includes food pantries, community meal sites and day cares—and programs.
Since COVID-19 hit, the Food Bank as a whole has seen an increase of about 20 percent more people coming to get food at the CVFP and the Mobile Food Pantry program in the outlying counties. In the Cedar Valley Food Pantry here in Waterloo, we normally serve around 750 households each week. Now, during the COVID-19 pandemic, that's increased to 871 households.
Back in the middle of March, there was a bit of panic because that's when grocery store shelves started looking kind of empty—people were rushing to CVFP because that was the option.
Normally, the clients would come inside the CVFP to get their food from us, but we've had to shift that significantly so we don't have close interactions with people. We're now boxing up all of our food and bringing those boxes out to the clients in their cars.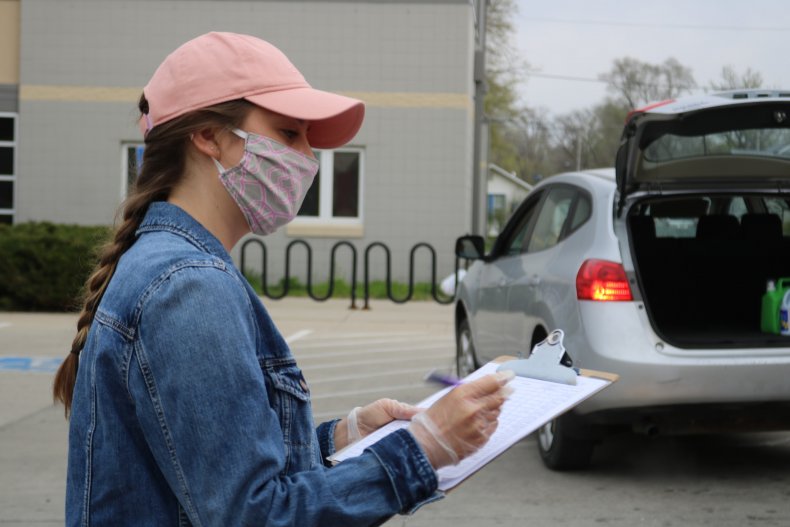 Our clients receive canned goods and non perishable items in one box, and frozen goods in another. It's made it a lot faster for our clients, but for us, obviously it takes more time to pack every box. It's taken a lot more man power and a lot more from our community—both volunteers and financial support. It is estimated that we need to raise $500,000 over three months to meet the need.
Our Food Bank is taking every precaution to keep all of the staff, volunteers, and food safe. Staff members take our temperature each morning at home before we come in, to make sure we don't have a fever. When we come into the pantry—both regular workers and volunteers—we wash up and put on gloves and a mask. We have been using the homemade masks that people from the community have been sewing and bringing in to us.
On top of those precautions, we're also making sure that we are social distancing, staying six feet away from one another. When we check clients in, we try to stay six feet away when getting the information we need. And we have people loading the boxes of food, so people can just stay in their cars.
Before the pandemic and change in operations, I sat down with people, checked them in, chatted with them, and helped to get them used to the pantry environment. But now, since a lot more food is going out the door, myself and one of my co-workers Leo are bringing food up to the pantry the whole day long, pallets and pallets of food. For me, it's got a lot more physically demanding—but I like that, it keeps me busy.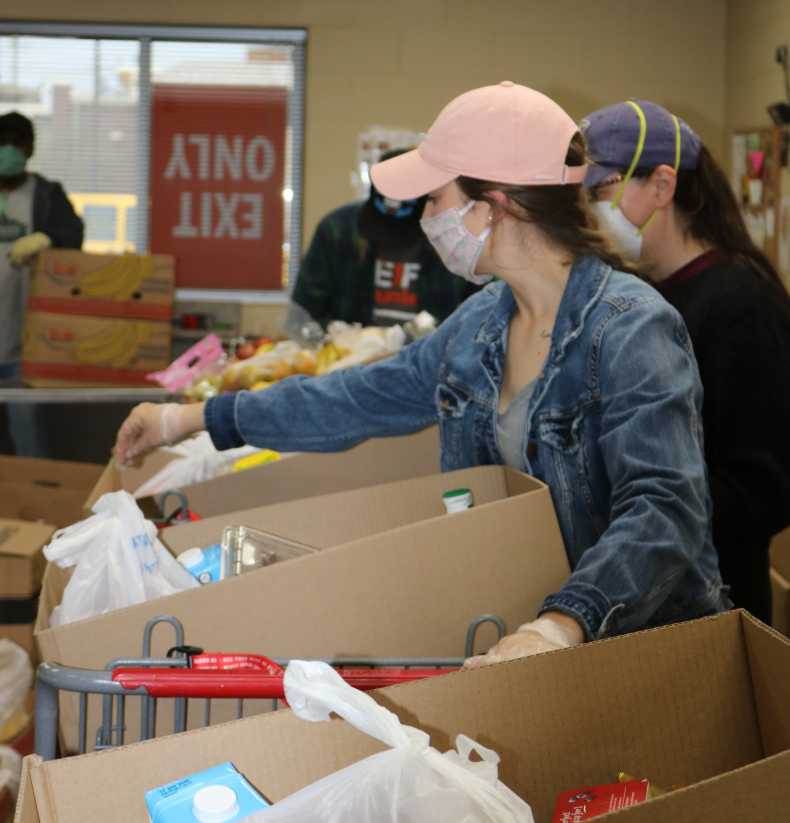 Pretty much as soon as COVID-19 hit, the donations started coming in. It was such a blessing. We didn't even put out a request saying we were serving more people and asking for more support. I think people just knew that more people were going to need the Food Bank.
We have seen a huge response from the community in support of our efforts. Regular donors have stepped up with additional donations above what they regularly donate, and we have had new donors noticing our impact and partnering with us.
We have received COVID-19 grants from places like Alliant Energy, Community Foundation of Northeast Iowa, Waverly-Shell Rock Area United Way, and other local businesses—like Hy-Vee, Winnebago Industries and MidAmerican Energy—have supported us through donations.
It makes me so happy to see the community supporting each other, the Food Bank and the CVFP, we're not just doing this to get a pay check, we're here to serve the people that are the most vulnerable.
We have clients from all walks of life who make up the people who received food from the CVFP. Some of our clients are elderly—they may be living alone, and only getting social security, so they have very limited income. We have young families coming in, because financially they can't make all the ends meet, and we have grandparents who just received custody of their grandkids and now have to provide for more than they planned.
Right now, more people are falling into that "vulnerable" category. That 20 percent increase we're seeing is people who are now unemployed because of the pandemic, or because they can't work from home and their hours are cut.
What I've been hearing from clients is, "I don't know what I would have done this month." If we didn't provide this food, I honestly don't know where they would turn.
A few times people who need groceries have driven up and said to me, "I've heard you're looking for donations, I have $5 with me, here you go." It means so much. I know it's just $5, but to see people who don't have much still giving—it's just beautiful and it makes me emotional.
Every day we'll hear stories of somebody who has called in saying "I don't know what I would have done, thank you so much for what I've gotten," or, "I got home and I opened the box and it felt like Christmas!" It feels so good to be part of that.
Sometimes you don't see it during the day to day operations because you're just worrying about getting everything done. But then when you see the bigger picture, you're like, wow, this is why we do it. It makes a huge difference, even if it's just for one person. And what we're doing is making a difference to so many people.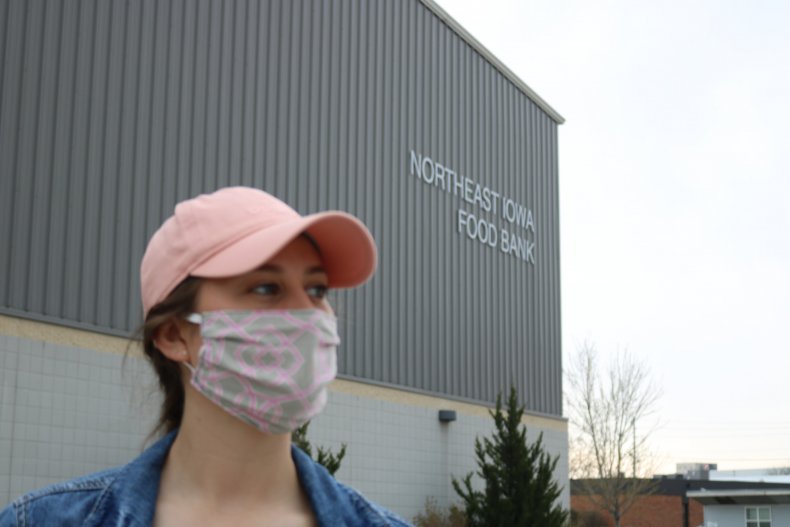 There's this one gentleman, he's elderly and he doesn't have a lot of people in his life, and before the pandemic, he would come by on his way to the bank. He'd stop in to say good morning, and he'd tell me, "it makes me happy to see your smile." We'd have a little chat and then he'd go on with his day.
Hopefully our paths will cross again, if not now, then when we reopen like normal.
But that won't be for a few months at least. When things are opening up in general, we're still going to have to remain doing things the way we are for a bit longer. Because we have to be able to make sure that we can get food to people safely—if we had any kind of outbreak here it would just shut us down, and we have to stay open.
During a time like this, sometimes it's so hectic and a little bit chaotic for those of us who are providing an essential service, and sometimes people can butt heads. Our management and staff have managed to think quickly, and get plans out on the floor. And everyone has been supporting each other.
We knew it wouldn't be perfect when we first rolled out this new way of working, but it's been really cool to see how the staff have joined together, especially since we have to be putting out more and have to give more of ourselves. I think the team as a whole has been doing a really good job of working together.
I can't speak on behalf of everybody, but for me personally, a big part of it is my faith, and my belief that you serve others as you would want to be served.
If I was going through a hard time, and I needed a place like the Food Bank, I'd want to know that people were showing up there and working hard. And so that's what I do. I come to work, and I work hard. I'm just one person here but I'm trying to do my part in serving my neighbours and my community.
I think that God put me in this situation to help my community in the best way I can. I don't do this so I can feel good about myself, but because it actually means something. It means something to me to be able to live out my faith.
What people want is food, but I'm going to give them more with my actions. And that's why I come to work with a good attitude and I try to bring a smile every day.
Like for the older gentleman who comes and tells me that a smile makes a difference to him. I want to make a difference.
Mara Warnke is the Pantry Services Manager at the Northeast Iowa Food Bank, where she has worked since 2018. She graduated from the University of Northern Iowa with a degree in Leisure Youth and Human Services, before accepting her first job out of college at The Northeast Iowa Food Bank.
The views expressed are the writer's own.
As told to Jenny Haward