Food Bank Workers Beg for Stimulus Package Before Thanksgiving As COVID Cases Spike
Food bank volunteers and local officials are begging the federal government to pass a second stimulus package before Thanksgiving Day as covid-19 cases continue to spike in most parts of the country.
Workers at the First Unitarian Church in Los Angeles prepared for about 1,000 people to arrive at their food bank on Saturday. Organizer Trinity Tran urged the federal government to address the economic fallout of the pandemic to prevent low-income individuals from going without food on Thanksgiving.
"These are unprecedented times, and whether it's a holiday or whether it's another Saturday, it's now up to volunteers to feed the people," she told CNN. "This is an essential service ... that's being handled by volunteers because the federal government is failing to address basic safety nets for people."
At a local food drive in Georgia's DeKalb County, people were lining up at 5:30 a.m. ET to gather food for their families despite the service starting at 10 a.m.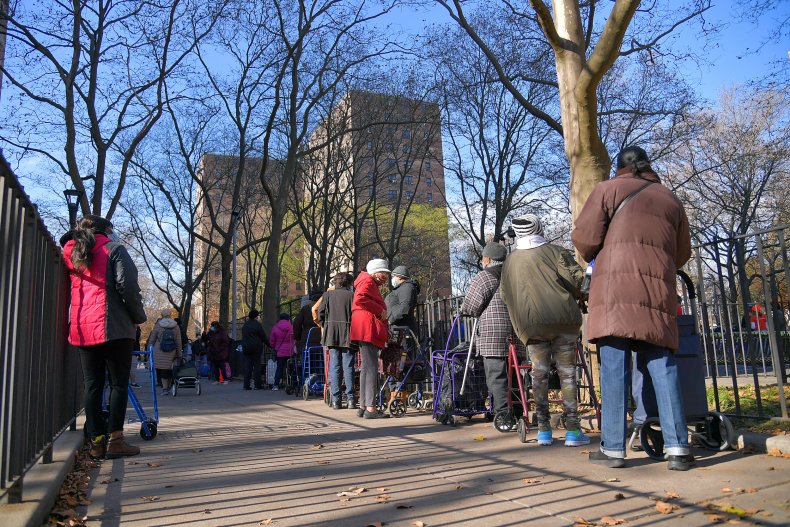 County CEO Michael Thurmond begged Congress to pass another round of relief or extend the deadline for the funding of unemployment benefits in the state. "I'm pleading to our leaders in Washington—Republicans and Democrats—to really look around and see and understand the amount of pain and distress that is spreading across this nation," Thurmond said, according to CNN.
"I'm pleading with them to come together to either extend the deadline for these funds," he added, "or to send out a second stimulus package that will help families who are in need, begging them to rise above the discord and the rancor and do what's right for the people of this nation."
It has been about eight months since President Donald Trump signed The Coronavirus Aid, Relief, and Economic Security (CARES) Act, and negotiations for another deal has been ongoing for five months.
As the delay continues, both sides of the political aisle have blamed each other for their inability to bring additional financial relief to Americans struggling to pay for rent and necessities amid the ongoing pandemic.
Democrats have criticized the GOP for refusing to agree to sufficient funding, while Republicans have accused House Speaker Nancy Pelosi of using the pandemic to advance her political agenda.
Meanwhile, the U.S. on Saturday surpassed 12 million positive coronavirus cases as a third wave in most parts of the country caused the Centers for Disease Control and Prevention (CDC) to ask citizens to skip Thanksgiving travels this year to limit the virus' spread.
Newsweek reached out to the Treasury Department for comment.