Food: Bone Marrow's Peculiar Appeal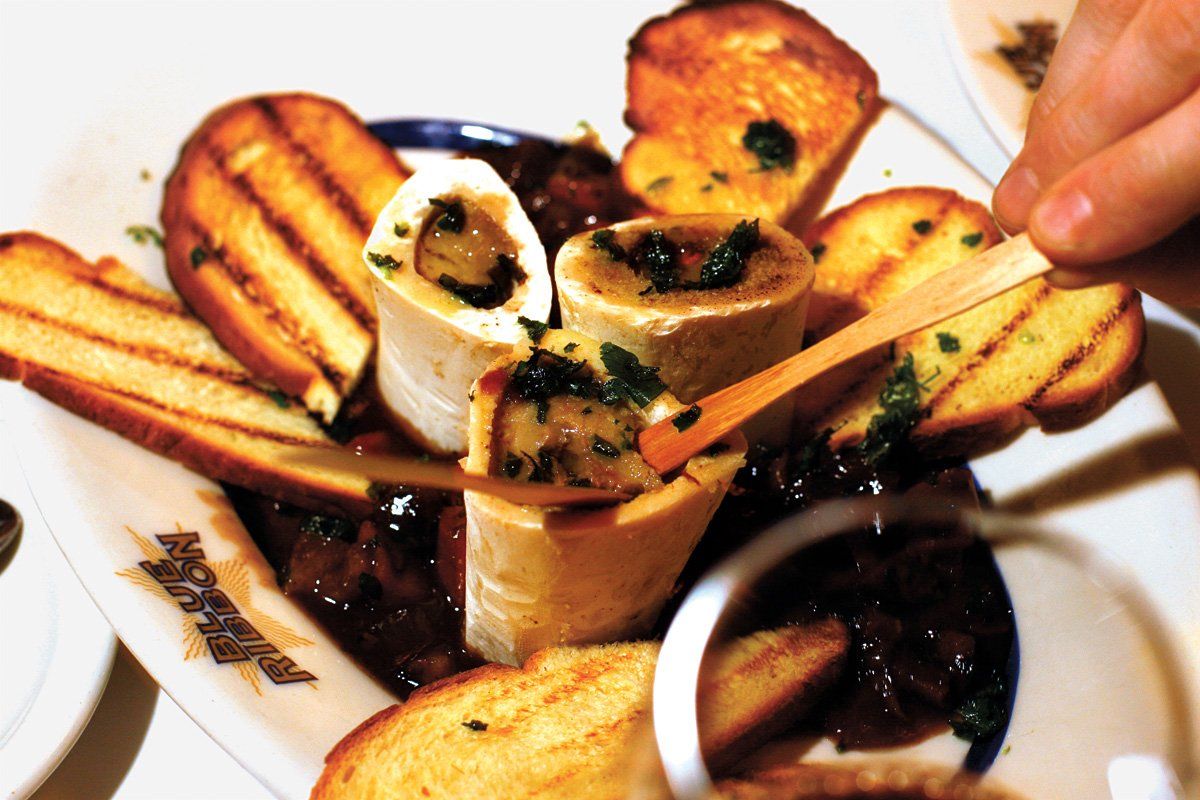 The food industry's latest fad keeps Peter Molinari busy in the basement with a huge, buzzing band saw, cross-cutting animal bones. "Some people are freaked out by it," says Molinari, manager of the meat department at New York's cavernous food department store, Eataly. "But there are definitely more people asking for marrow bone. A couple of years ago, they would buy it for their dogs. Now they buy it for themselves."
Marrow is the rich, spongy, bloody gelatin found inside animal (and human) bones. Densely flavored, chefs are increasingly using it as an ingredient in cooking and are also serving bones, split open and roasted, tableside. What does marrow taste like? "It's buttery, there's a hint of sweetness, slightly mineral," says superstar chef Eric Ripert, of New York's Le Bernardin. Eat it "with rock salt on toasted bread, and you are in heaven."
It's rare for such a grisly delicacy to go mainstream, but chalk it up to the trend-obsessed foodie's desire for the next new thing. "We had the pork belly phase, the sea urchin phase; we went through the bacon fad," explains Lee Brian Schrager, who, as founder and director of the New York and South Beach Wine and Food festivals, sees foods come and go. (Five chefs at last month's New York festival listed bone marrow on their menus, while others used it in the taco and burger competitions.)
It helps that marrow rolls up a few current dining trends into one package: it's served at of-the-moment gastropubs, endorsed by the popular farm-to-table movement, and it's a politically correct, but equally rich, alternative to foie gras. Some bars even encourage "marrow luging," or pouring liquor down the emptied bone, which ties it into the cocktail craze. Blame Anthony Bourdain, too. The TV host and sarcastically outspoken chef publicized the dish when he said he would choose it as his "death-row meal" in the cookbook The Last Supper. The endorsement got even more attention because Bourdain posed in the book naked, with a freakishly huge animal bone placed strategically over his anatomy.
A bit of culinary history is provided by chef Jean-Georges Vongerichten. "The people who made it popular are the Blue Ribbon people," he says. Twenty years ago, two brothers named Eric and Bruce Bromberg opened a restaurant in New York that served dinner until 4 a.m.; it quickly became a food-industry after-work hangout. The menu included dishes like omelets and fried rice flavored with bone marrow. "Chefs really enjoy it—and where chefs go, people follow," says Vongerichten.
But the secret of bone marrow's renaissance may be economic. "It's cheap," and useful, notes Schrager. "You get to use it three ways: the prime rib, marrow, and the bone to make a stock or soup." At Eataly, marrow bones are $3 a pound, versus about $15 for some cuts of meat.
Ironically, the low-cost (to chefs) dish has a reputation for old-money, lush decadence. Le Cirque has served marrow, in multiple forms, for years, at both its New York and Las Vegas iterations, sometimes adding a tiny spoon to scoop out the interior. What's new is how many eateries across America are saucing that bandwagon.
"When you think about it, bone marrow is kind of, well, icky," says chef Eric Patterson, who nonetheless added both bone marrow mashed potatoes and roasted bones with parsley to the menu at The Cooks' House in Traverse City, Mich., last year. "But people love it," he says, with the mash becoming one of their most popular dishes. Cleveland, Kansas City, Kan., and Arlington, Va., are just a few examples of cities that now have multiple restaurants serving marrow. Hoboken, N.J.'s Bin 14 put roasted bone marrow on the menu a year ago, says head chef Matt Arlington, out of a desire to "stay current." He's been surprised that women order it as much as men.
Of course, people don't always know they're eating it. Sometimes, "you're getting bone marrow but you don't know you're getting bone marrow," says Brian Massie, executive chef of The Light Group, which has restaurants in Miami and Las Vegas. He put osso buco ravioli on the menu at the new restaurant Bianca at Miami's Delano Hotel when it opened in January. (Osso buco is Italian for "bone with a hole," although that dish in restaurants usually includes braised veal.) The pasta has a veal, lamb, and cheese filling and features bacon-and-bone-marrow bread crumbs and a marrow sauce. But the words "bone marrow" do not appear, which, he says, may help explain the great popularity of the $29 dish.
Alexandra Peers writes on food and culture in New York.