FDA Warns Two Websites Against Marketing Zinc, Herbal Remedies as COVID-19 Treatments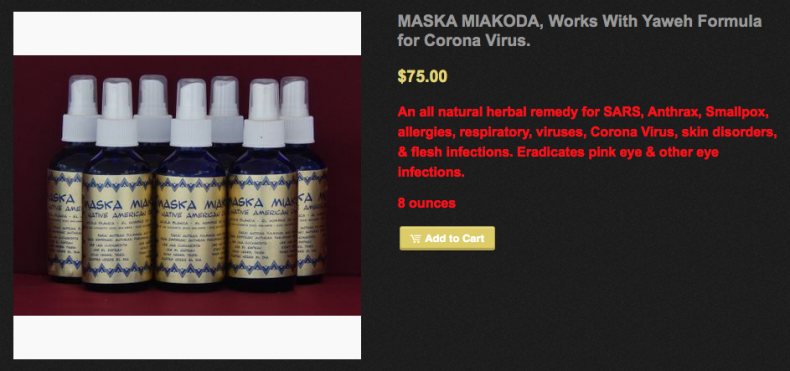 The U.S. Food and Drug Administration (FDA) is continuing its crackdown on products marketed as COVID-19 cures or treatments.
On Thursday, the agency sent letters to two websites involved in the sale or marketing of such products, instructing them to remove claims about the false efficacy of any compound against COVID-19.
There are "no drugs or other therapeutics presently approved" to combat COVID-19, the disease caused by the novel coronavirus, according to the Centers for Disease Control and Prevention.
One of the warning letters was addressed to Benjamin McEvoy, who the FDA says participates in Amazon's associates program. The program allows participants to earn commissions by embedding links to Amazon products on their websites.
According to the FDA, McEvoy promoted zinc supplements on his website through the associates program, suggesting that purchasing them would be "extremely wise, especially in these coronavirus times" because of their "immune-boosting efforts."
McEvoy's site also recommended adding "a vitamin C supplement to your arsenal" in these "COVID-19 times." He claimed these were his "personal supplement recommendations" based on "years of supplementation for improved immune response."
The link indicated by the FDA as containing false COVID-19 claims is no longer accessible.
In another letter on Thursday, the FDA instructed Mark White Eagle of Fort Davis, Texas, to remove claims from a website he allegedly operates promoting the use of herbal remedies against COVID-19.
A formulation called "Yahweh" was said to work "for almost every disease," including the "Corona Virus." Another product called Kolon Kleen was recommended "for the Corona Virus and any other reparatory viruses or flu."
As of Saturday morning, claims cited by the FDA were still up on White Eagle's website. On a biographical page, he claims to have cured conditions such as blindness, flesh eating bacterial disease, seizures, cancer and the plague.
Neither McEvoy nor White Eagle responded to requests for comment on Saturday.
The Federal Food, Drug, and Cosmetic Act of 1938 and subsequent regulations prevent the introduction of unapproved drugs onto the marketplace, including previously known substances marketed for an unapproved purpose, such as for treatment of COVID-19.
Thursday's letters are just the latest in a series of actions the FDA has taken since the pandemic took root to clamp down on hoaxes and false claims about the coronavirus.
The FDA has sent at least 54 coronavirus-related warning letters to various producers, marketers and distributors during the course of the disease.
False claims the agency has attempted to remedy relate to a variety of homeopathic and industrial products, including elderberry tincture, bleach, colloidal silver and essential oils.