'Food Fantasy' Sakurajima Recipes: Every Recipe from Tamagoyaki to Beef Tartare
Does a "Food Fantasy" recipe have you stumped? Check out our guide to every Sakurajima recipe including Tamagoyaki and Beef Tartare.
Developing delicious recipes for customers is an important part of improving your restaurant in Food Fantasy, but sometimes figuring out the ingredients for a particular recipe can be tricky. Below we've put together a list of every Food Fantasy recipe for the Sakurajima region. These include difficult recipes like Beef Tartare and Tamagoyaki. If you are looking for a recipe from another region, you can check out all our Food Fantasy guides, here.
'Food Fantasy' Sakurajima Recipes: Every Recipe from Tamagoyaki to Beef Tartare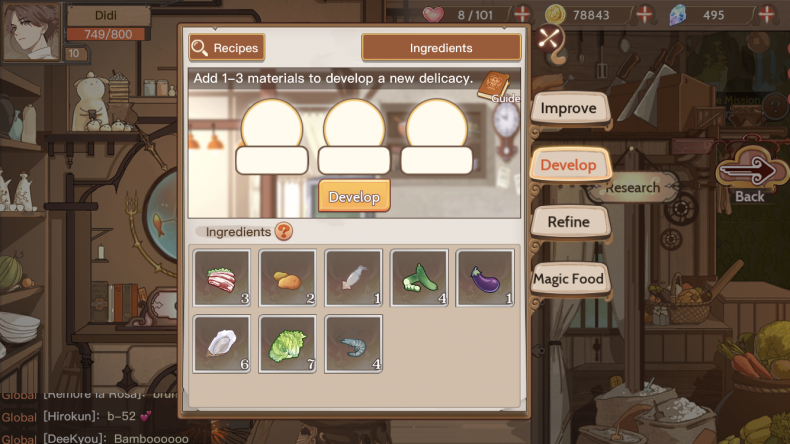 Recipe #1: Baked Potato

Ingredients Needed: one Potato (Stage 1-3)

Recipe #2: Grilled Pork Belly

Ingredients Needed: one Pork Belly (Stage 1-6)

Recipe #3: Cucumber Salad

Ingredients Needed: one Cucumber (Stage 2-2)

Recipe #4: Boiled Lettuce

Ingredients Needed: one Lettuce (Stage 3-1)

Recipe #5: Mushroom Yaki

Ingredients Needed: one Mushroom (Stage 7-3), one Butter (Stage 7-8)

Recipe #6: Beef Tartare

Ingredients Needed: one Egg (Stage 5-3), one Beef Tenderloin (Stage 5-6)

Recipe #7: Tamagoyaki

Ingredients Needed: one Carrot (Stage 3-1), one Egg (Stage 5-2), one Shiitake (Stage 6-8)

Recipe #8: Omurice

Ingredients Needed: Egg (Stage 5-2), Rice (Stage 8-2)

Recipe #9: Shogayki

Ingredients Needed: one Pork Loin(Stage 9-2), one Onion (Stage 9-5)

Recipe #10: Bacon Bites

Ingredients Needed: one Bread (Stage 4-4), one Cheese (Stage 6-2). one Bacon (Stage 10-3)

Recipe #11: Cold Tofu

Ingredients Needed: one Tofu (Stage 10-6)

Recipe #12: Grilled Corn

Ingredients Needed: one Corn(Stage 11-2), one Cream (Stage 11-7),

Recipe #13: Vegetable Tempura

Ingredients Needed: one Eggplant (Stage 2-7), one Shiitake(Stage 6-8), Flour (Stage 12-2)

Recipe #14: Takoyaki

Ingredients Needed: one Octopus (Stage 11-4), one Flour (Stage 12-2), one Cabbage (Stage 3-5)

Recipe #15: Creamed Spinach

Ingredients Needed: one Cream (Stage 11-7), one Spinach (Stage 13-6)

Recipe #16: Apples and Cream

Ingredients Needed: one Cream (Stage 11-7), one Apple (Stage 15-1)

Recipe #17: Chicken Skewer

Ingredients Needed: one Green Pepper (Stage 6-6), one Diced Chicken (Stage 16-5)

Recipe #18: Fried Chicken

Ingredients Needed: one Egg (Stage 5-2), one Flour (Stage 12-2), Whole Chicken (Stage 16-6)

Recipe #19: Mango Smoothie

Ingredients Needed: one Cream (Stage 11-7), one Mango (Stage 17-3)

Recipe #20: Strawberry Smoothie

Ingredients Needed: one Cream (Stage 11-7), one Milk (Stage 12-5), one Strawberry (Stage 18-2)

Recipe #21: Peanut Butter Crisp

Ingredients Needed: one Milk (Stage 12-5), one Flour (Stage 12-2), one Peanut (Stage 19-3)

Recipe #22: Cod Fillet

Ingredients Needed: one Butter (Stage 7-8), one Starch (Stage 13-9), one Cod (Stage 22-2)

Recipe #23: Piglet Daifuku

Ingredients Needed: one Egg (Stage 5-2), one Flour (12-2), one Red Beans (Stage 19-5)

Recipe #24: Pumpkin Muffin

Ingredients Needed: one Honey (Stage 14-6), one Red Beans (Stage 19-5), one Pumpkin (Stage 20-5)

Recipe #25: Yam Dumplings

Ingredients Needed: one Rice Flour (Stage 20-7), one Purple Yam (Stage 21-3)

Recipe #26: Unagi Don

Ingredients Needed: one Rice (Stage 8-2), one Eel(Stage 22-5)

Recipe #27: Lobster Sashimi

Ingredients Needed: one Rock Lobster (Stage 23-5)

Recipe #28: Crab Sashimi

Ingredients Needed: one King Crab (Stage 24-2)