'Food Fantasy' Gloriville Recipes: How to Make Eggplant Roll, Salad and More
Does a "Food Fantasy" recipe have you stumped? Check out our guide to every Gloriville recipe, including Eggplant Roll and Salad.
If you've spent any time with Food Fantasy, the new mobile mashup of restaurant management and JRPG elements, you'll discover that serving your customers delicious new treats plays an important role in increasing your restaurant's fame and, in turn, its level. If you've started the game in the Gloriville region and are having trouble developing all the local delicacies, we've put together a guide with every Gloriville recipe, from Eggplant Roll to Salad, and the ingredients you'll need to make each one. If you are looking for a recipe from another region, or want to know how to unlock the Lost Recipes, you can check out all our Food Fantasy guides, here.
'Food Fantasy' Gloriville Recipes: Every Recipe from Salad to Eggplant Roll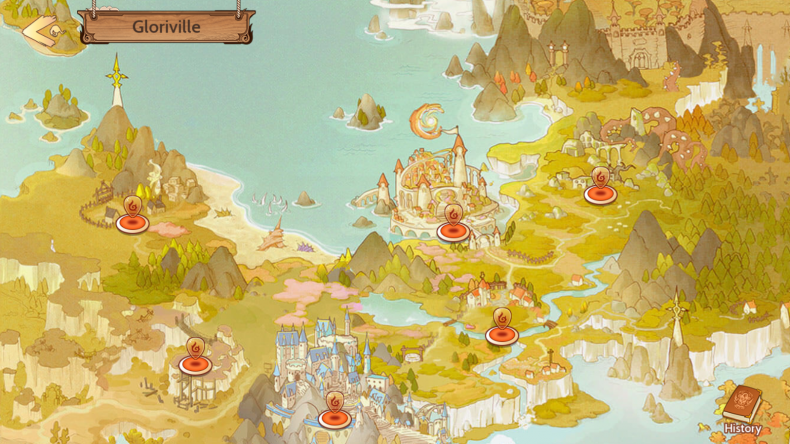 Recipe #1: French Fries

Ingredients Needed: Potato (Stage 1-3)

Recipe #2: Crispy Pork

Ingredients Needed: Pork Belly (Stage 1-6)

Recipe #3: Salad

Ingredients Needed: Cucumber (Stage 2-2), Lettuce (Stage 3-1), Carrot (Stage 3-5)

Recipe #4: Eggplant Roll

Ingredients Needed: Potato (Stage 1-3), Eggplant (Stage 2-7)

Recipe #4: Smoked Salmon

Ingredients Needed: Salmon (Stage 4-2)

Recipe #5: Roast Beef

Ingredients Needed: Beef Tenderloin (Stage 5-6)

Recipe #6: Cheese Soup

Ingredients Needed: Bread (Stage 4-4), Cheese (Stage 6-2)

Recipe #7: Mushroom Soup

Ingredients Needed: Shiitake (Stage 6-8), Mushroom (Stage 7-3), Butter (Stage 7-8)

Recipe #8: Fried Rice Cake

Ingredients Needed: Egg (Stage 5-2), Rice (Stage 8-2)

Recipe #9: Pork Burger

Ingredients Needed: Lettuce (Stage 3-1), Bread (Stage 4-4), Pork Loin (9-2)

Recipe #10: Bacon Tofu Wraps

Ingredients Needed: Bacon (Stage 10-3), Tofu (Stage 10-6)

Recipe #11: Grilled Calamari

Ingredients Needed: Green Pepper (Stage 6-6), Onion (Stage 9-5), Octopus (Stage 11-4)

Recipe #12: Popcorn

Ingredients Needed: Butter (Stage 7-8), Corn (Stage 11-2)

Recipe #13: Shortbread

Ingredients Needed: Flour (Stage 12-2), Butter (Stage 7-8) Milk (Stage 12-5)

Recipe #14: Minestrone

Ingredients Needed: Cabbage (Stage 13-5), Spinach (Stage 13-6), Starch (Stage 13-9)

Recipe #15: Pineapple Juice

Ingredients Needed: Pineapple (Stage 14-3), Honey (Stage 14-6)

Recipe #16: Apples Crisp

Ingredients Needed: Flour (Stage 12-2), Apple Stage 15-1)

Recipe #17: Chicken Pizza

Ingredients Needed: Diced Chicken (Stage 16-5), Cheese (Stage 6-2), Apple (Stage 15-1)

Recipe #18: Roast Chicken

Ingredients Needed: Whole Chicken (Stage 16-6)

Recipe #19: Mango Wrap

Ingredients Needed: Cream (Stage 11-7), Flour (Stage 12-2), Mango (Stage 17-3)

Recipe #20: Fruit Salad

Ingredients Needed: Pineapple (Stage 14-3), Strawberry (Stage 18-2)

Recipe #21: Peanut Pie

Ingredients Needed: Egg (Stage 5-2), Flour (Stage 12-2), Peanut (Stage 19-3)

Recipe #22: Pumpkin Soup

Ingredients Needed: Milk (Stage 12-5), Pumpkin (Stage 20-5),

Recipe #23: Hotteok

Ingredients Needed: Milk (Stage 12-5), Red Beans (Stage 19-5), Rice Flour (Stage 20-7)

Recipe #24: Cheesy Yam

Ingredients Needed: Cheese (Stage 6-2), Purple Yam (Stage 21-3)

Recipe #25: Fried Cod

Ingredients Needed: Egg (Stage 5-2), Flour (Stage 12-2) Cod (Stage 22-2)

Recipe #26: Fried Unagi

Ingredients Needed: Egg (Stage 5-2), Four (Stage 12-2), Eel (Stage 22-5)

Recipe #27: Baked Lobster

Ingredients Needed: Cheese (Stage 6-2), Rock Lobster (Stage 23-5)

Recipe #28: Crab Salad

Ingredients Needed: Lettuce (Stage 3-1), King Crab (Stage 24-2)