Chicken Nugget Recall: Rubber Pieces Found in Products in Four States
Pilgrim's Pride is recalling 59,800 pounds of fully cooked chicken breast nugget products as they may be contaminated with rubber. The potentially contaminated chicken nuggets were shipped to retail locations in Arizona, Idaho, Oregon, and Texas.
The U.S. Department of Agriculture's Food Safety and Inspection Service (FSIS) announced on Sunday that the frozen ready-to-eat chicken nuggets that were produced on May 6, 2020, are subject to recall.
The recalled product is the 4-lb bag of "Pilgrim's Fully Cooked Chicken Breast Nuggets," with a best before date of May 6, 2021, and a lot code of 0127. Product cases contain lot codes 0127105009, 0127105010, 0127105011, 0127105012, 0127105013, 0127105014, 0127105015, or 0127105016 printed on the box. The establishment number "P-20728" is also printed on individual retail packages.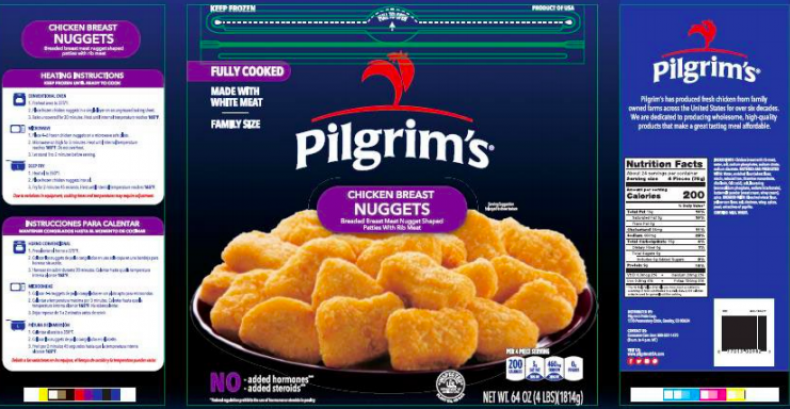 A consumer complained about finding pieces of rubber in the chicken nugget product and alerted the company to the problem. However, there have been no confirmed reports of adverse reactions related to the product.
This is a Class II recall with a low health risk, which according to the USDA recall classifications means: "This is a health hazard situation where there is a remote probability of adverse health consequences from the use of the product."
FSIS is concerned that some products may be in consumers' freezers and people who have purchased the products are urged not to consume them. The recalled product should be thrown away or returned to the store where they were purchased.
Pilgrim's Pride was recently in the news when it was reported that its chief executive officer was charged with conspiring to fix prices by U.S. prosecutors.
On June 4, It was announced that a shareholder rights law firm was investigating potential claims against Pilgrim's Pride Corporation on behalf of Pilgrim's Pride stockholders.
Then on June 14, it was reported that Pilgrim's Pride CEO Jayson Penn began a paid leave of absence to focus on legal matters.
Gilberto Tomazoni, chairman of Pilgrim's board of directors said in a statement: "Pilgrim's operates with the highest standards of integrity and is committed to free and open competition that benefits both customers and consumers.
"The board takes the recent allegations very seriously and believes it is in the best interests of both Jayson and the company that he is given the opportunity to focus on his legal defense during this time."
Tomazoni said: "Jayson has built a strong leadership team at Pilgrim's. The board has complete confidence in the ability of Fabio and the team to continue to implement Pilgrim's strategy and successfully run day-to-day operations."