Food Supplies at Risk as Brexit Border Issues Hit Northern Ireland
Two weeks after New Year celebrations from government that marked the end of the Brexit transition period, bosses of the U.K.'s largest supermarkets are warning of "significant disruption" to food supplies in the coming months because of post-Brexit border arrangements on the island of Ireland.
Already, some products are running short in Northern Ireland as shops come up against new post-Brexit rules for importing food products from Great Britain across the Irish Sea. The chief executives of Tesco, Sainsbury's, Asda, Iceland, Co-Op and Marks & Spencer have written to Cabinet Office Minister Michael Gove warning that "urgent intervention" is needed to prevent supermarkets running out of food. They said that if further new certification requirements are introduced in April the system will become "unworkable".
Since December 31, as part of the Brexit deal, a customs border was imposed in the Irish Sea to allow Northern Ireland to remain a part of the European Union's (EU's) single market for goods while the rest of the U.K. left. This means that food products moving from England, Scotland and Wales into Northern Ireland are subject to extra controls and checks at ports.
A three month "grace period" means that supermarkets currently don't need to comply with all the EU's usual certification requirements. But in their letter, the supermarket chief executives said that if the grace period expires without a long term solution, problems will get worse. Both M&S and Sainsbury's have reported products being unavailable.
In the letter, also signed by the British Retail Consortium, the supermarket bosses said: "All our businesses and suppliers have invested significantly in the last few months to avoid disruption but that will become inevitable if the proposals governing the movement of food from Great Britain to Northern Ireland are adopted.
"We recognize the European Commission needs to see increased compliance to support the concessions it granted through the Northern Ireland protocol but the current proposals, increased bureaucracy and certification in such a short timescale, are unworkable."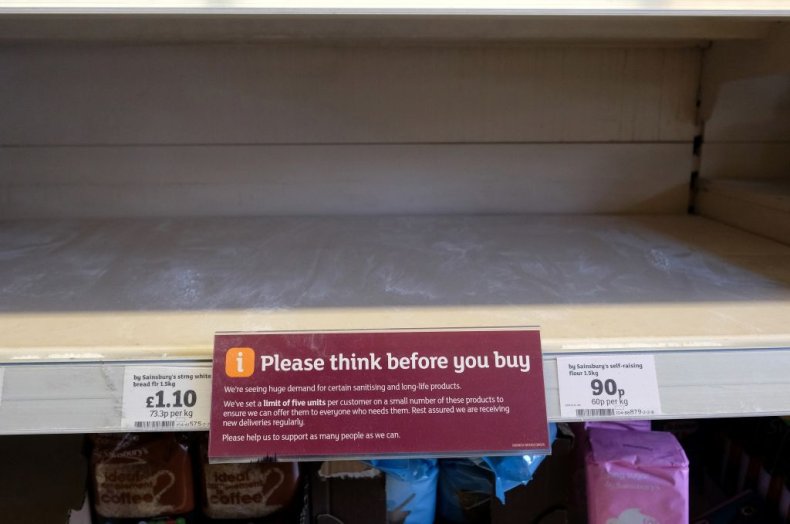 The chief executives are calling for an agreement with the EU for more time to implement a "comprehensive system" for the movement of food. The letter says: "We need an assurance that the current process based on a trusted trader scheme using the attestation process doesn't change until a workable replacement is agreed."
A U.K. government spokesperson said a new team has been set up to work with supermarkets, the food industry and the Northern Ireland Executive to develop ways to "streamline the movement of goods" while still meeting the protocol set out by the Brexit deal for Northern Ireland. The spokesperson said: "The grace period for supermarkets and their suppliers is working well, goods continue to flow effectively between Great Britain and Northern Ireland and we are working intensively with industry as new requirements come in."
Commenting on the disruption, a Sainsbury's spokesperson said: "A small number of our products are temporarily unavailable for our customers in Northern Ireland while border arrangements are confirmed. We were prepared for this and so our customers will find a wide range of alternative products in our stores in the meantime and we are working hard to get back to our full, usual range soon."
Newsweek has approached the supermarkets involved for comment.