Deep-sea explorers trawling the ocean floor southwest of Florida came across an unusual and elusive character they first mistook for a rock.
The fish in question is a Schaefer's Anglerfish (Sladenia shaefersi)—or goosefish—an evasive species assumed to be rare until deep-sea exploration expeditions revealed they were more prevalent than previously thought.
This particular individual was spotted by researchers involved in the Okeanos SE Deep-sea Exploration, a project coordinated by the National Oceanic and Atmospheric (NOAA), in November.
Footage of the fish was posted on the NOAA Office of Ocean Exploration and Research Facebook page Thursday.
"While we do encounter anglerfish in our deep-ocean exploration, this particular species is not as well known," the accompanying caption states, "so catching a glimpse of it and its modified fins that act much like feet, allowing it to "walk" on the seafloor, during Dive 12 of the 2019 Southeastern U.S. Deep-sea Exploration on NOAA Ship Okeanos Explorer was indeed a treat."
According to the project's website, the goosefish was "among the first and favorite animals" from a dive that took place on November 19, 2019.
The dive was the final one off the NOAA Ship Okeanos Explorer this year and took place about 58 miles southwest of the Dry Tortugas, a national park 70 miles or so west of Key West in Florida.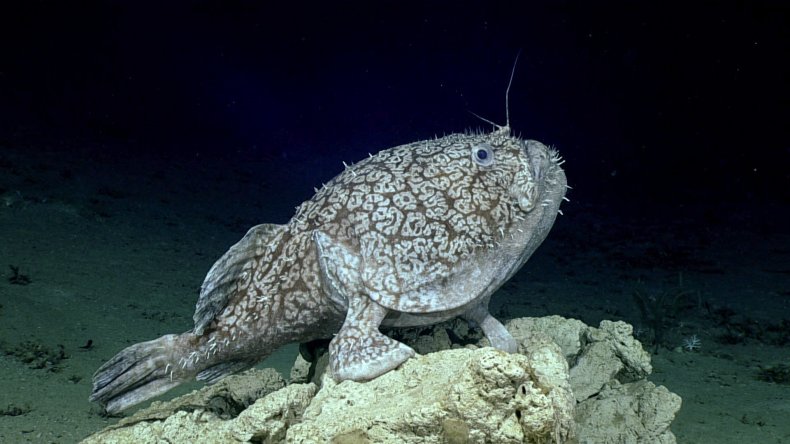 When researchers first came across the goosefish, they mistook it for a rock.
"From a distance, we thought it was a rock and imagine if you were a fish—a small fish—you wouldn't even know," one explains in the video.
The researcher goes on to explain it can eat things almost twice its size and sports a modified "foot-like" fin that enables it to walk across the ocean floor. The video shows it sitting on a rock, still and "striking a pose," as it waits to snatch up any prey that comes its way.
The dive was completed as part of an NOAA Office of Ocean Exploration and Research (OER) enterprise, which sees NOAA Ship Okeanos Explorer complete three regional expeditions between October 2019 and September 2020, the first of which is taking place in the U.S. Southeastern Continental Margin.
"This region has extensive, yet poorly known deep seafloor and midwater habitats, as well as unique geological features," states NOAA.
"Data from this expedition will enable scientists and managers to build a better understanding of the diversity and distribution of deepwater habitats in this region, allowing for informed resource management decisions."
Expeditions like these are delving into a previously unexplored environment, bringing to light many new species of deep-sea dwelling creatures.
As well as the goosefish, researchers involved in the dive encountered a chimera, rattails, squid, sea stars, brittle stars, crabs, shrimps, squat lobsters and sponges 928 to 973 meters (or 3,045 to 3,192 feet) below the surface of the water.
One of the other animals captured on camera during the dive was a species of dumbo octopus (Opisthoteuthis agassizii)—recognizable for their idiosyncratic fins, which bear a striking resemblance to Dumbo the elephant's ears (of Dumbo, the Disney movie). According to Oceana, these animals are the deepest living of all known octopus species.