A new surveillance video shows victims of the recent mass shooting incident in Miami dodging behind cars and ducking for cover.
The video, which was obtained exclusively by WPLG Local 10 News in Miami shows several individuals standing outside the El Mula banquet hall in north Miami just before three gunman arrived and opened fire.
Shortly after the video begins, all of the individuals standing outside the venue can be seen ducking down and running away from the venue and towards parked cars, covering themselves from the gunfire. Several individuals can be seen laying next to one car while others ran farther away from the venue.
The surveillance video footage comes shortly after the Miami-Dade Police Department confirmed that they were investigating a mass shooting incident that occurred on Sunday morning near 7630 NW 186 Street.
According to police, the El Mula banquet hall was holding an event when three suspects were seen exiting a vehicle and opened fire into the crowd.
On Sunday, the Miami-Dade Police Department released a surveillance video showing the three suspects exiting the vehicle, which was described as a white Nissan Pathfinder. While the video did not capture the suspects firing their guns, it shows them running back towards the vehicle after the shooting occurred.
"We are releasing video footage of the vehicle/subjects involved in the shooting that occurred in Northwest Miami-Dade on 5/30/21 that left two deceased and 21 others injured," the Miami-Dade Police Department wrote in a tweet with the video.
In a press release, the Miami-Dade Police Department explained that Miami-Dade Fire Rescue responded to the scene shortly after the shooting and determined that two victims were deceased at the scene. They transported eight other victims to local hospitals while 12 additional victims were self transported to various hospitals.
"At least one victim was transported in critical condition," the Miami-Dade Police Department wrote in the press release.
The victims of the shooting and the three suspects seen in the surveillance video have yet to be identified by police.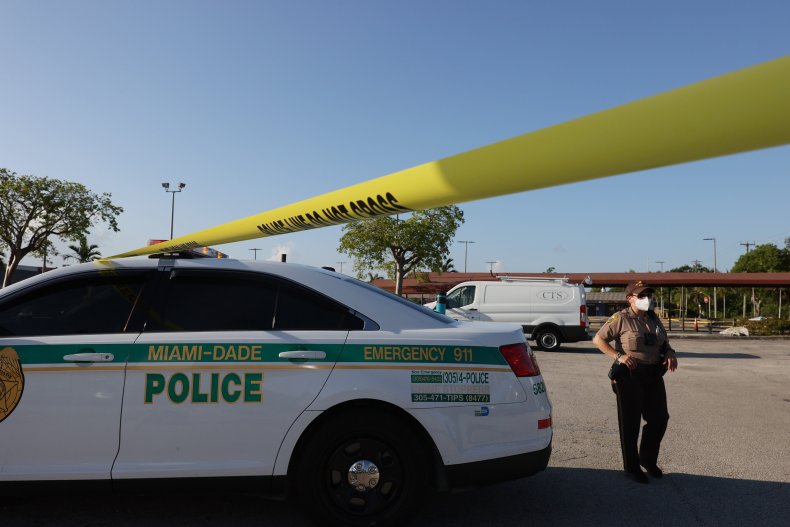 As police continue their investigation into the mass shooting incident, they have urged residents to come forward with any information on the suspects and are currently offering a $30,000 reward.
Camping World CEO Marcus Lemonis also announced on Sunday that he was offering a reward of $100,000 to anyone that comes forward with information that could help police arrest and convict the three suspects.
"I'm offering a $100,000 reward to help authorities in my hometown @MiamiDadePD arrest and convict the suspect/suspects .. pass this on ..," Lemonis wrote in a tweet.
Newsweek reached out to the Miami-Dade Police Department for further comment but did not receive a response in time for publication.