A high school football coach has been asked to leave campus after video surfaced of students performing a dangerous drill at practice.
The video, which was widely circulated on social media, showed a pair of students tackle one student repeatedly in a drill known as the "machine gun." While the video just surfaced on social media after a popular football page tweeted it, students told KABC that the footage was from a practice in 2019.
The incident occurred at El Cerrito High School in El Cerrito, California after the head coach and athletic director, Jacob Rincon, was absent from practice, KNTV reported. Allegedly the assistant coach was present and fired shortly after the drill was practiced.
One parent told KNTV that some of the boys didn't even want to go back to school since their coach was suspended. A coach at the high school also told KNTV that Rincon is a "family man" who "really cares about the kids."
But experts are warning that the drill is not only dangerous, but it could also cause long-term medical concerns and head injury. "Any time you are repetitively hit, your body is falling down, there's a risk of chronic traumatic issues happening so concussion risks, head injury risks," Director at the Center for Sports Medicine for Young Athletes, Nirav Pandya, told KNTV.
According to a 2019 study published in the journal of the American Academy of Pediatrics, about 62 percent of high school sports-related head injuries were due to contact with another student. Researchers also found that catastrophic injury to the head or neck is more common in football than in other sports.
People who suffer from football-related head injuries have reported severe mood changes, headaches, cognitive difficulties, and behavior problems. The study found that continuous blows to the head, such as the drill that was portrayed in the video, can result in severe pathological changes.
"The leading mechanism of injury was player-to-player contact, with tackling/being tackled accounting for nearly half of all injuries," the researchers wrote in the study. "Similar findings have been reported in studies of youth football."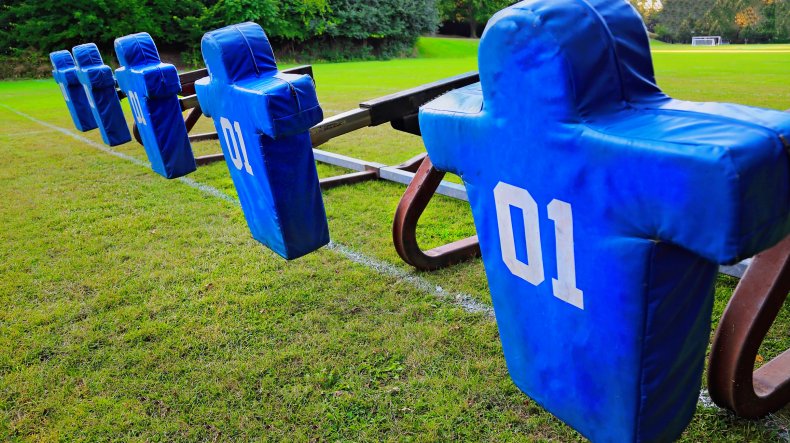 The video currently has over 2.1 million views on Twitter and has sparked outrage from the public, including former NFL coaches and ESPN Analysts.
"This is so far out of line, it's horrible," former NFL Coach Jim Mora Jr. tweeted. "Who can ever justify this? If a coach teaches this, he isn't someone you should EVER allow your kid around. This is horrible."
Retired Detroit Lions quarterback and ESPN analyst, Dan Orlovsky, replied to the tweet "Child abuse," and former 49ers player Adam Snyder tweeted,"fire these coaches on the spot."
The West Contra Costa School District told Newsweek that the district is launching a full investigation. "While the incident is still being investigated, we want you to know that we do not tolerate anything that puts our students' safety at risk," the statement said. "The drills displayed are unacceptable. We have placed the head coach on administrative leave until a full investigation is complete. The district is investigating this matter. We can confirm that the incident occurred in 2019."
Updated 10/14/2021, 12:36 p.m. ET: This story has been updated with a statement from the West Contra Costa School District.
About the writer
Samantha Berlin is a Newsweek reporter based in New York. Her focus is reporting on trends and human-interest stories. Samantha joined Newsweek in 2021. She is a graduate of Syracuse University's S.I. Newhouse School of Public Communications. You can get in touch with Samantha by emailing s.berlin@newsweek.com. Languages: English.