Football Fans Fill Stadiums Despite Dr. Fauci's 'I Don't Think It's Smart' Comment
Things seem back to normal in college life. Alabama is best team in football and students are defying advice from a top government official.
One week after packing college football stadiums for the first week of the season, crowds in the second week were even more impressive. Michigan had more than 108,000 fans for two weeks now, there were 100,000 fans in Ohio who saw their beloved Buckeyes lose, and more than 105,000 Penn State fans saw their Nittany Lions whip the, ahem, Ball State Cardinals.
More than 915,000 fans combined to fill the top 10 stadiums this week, which is more than the previous weekend. The Arkansas Razorbacks on Saturday had an announced attendance of 74,531, which is ninth all-time for the stadium, and 10th-highest last weekend for college games. Those fans who watched Arkansas beat Texas were part of the first sellout in that stadium since 2017.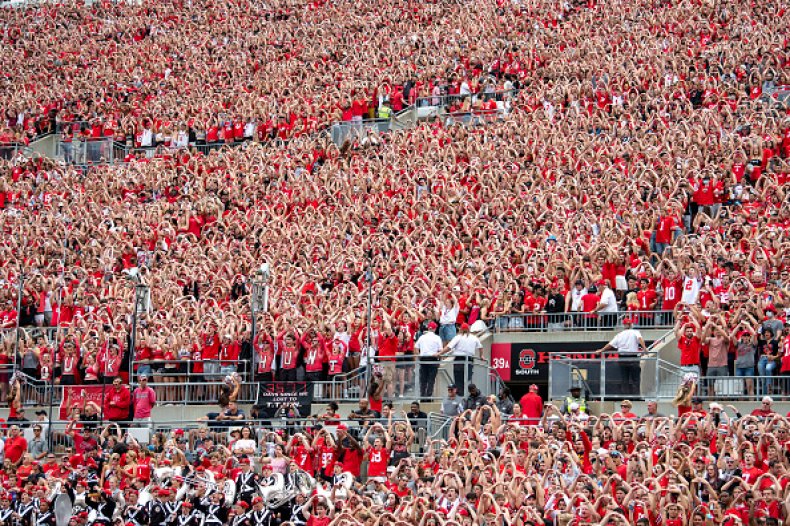 Prior to Saturday's second weekend of the season, Dr. Anthony Fauci said it wasn't intelligent for college kids and alumni to pack stadiums to watch their favorite teams and regain normalcy that was lost from 2020.
Fauci, who's the White House chief medical adviser, was asked last week about football stadiums bursting at the seams with eager fans.
"I don't think it's smart," Fauci told CNN.
Fauci became one of the most-popular figures for medical science in 2020 when COVID-19 began its spread across America. Often in attendance at then-President Donald Trump's daily coronavirus briefings, Fauci became a household name for expert advice. He advised folks to take simple precautions like washing hands for 20 seconds, using disinfectants, social distancing and perhaps even staying at home.
Fauci in March 2020 recommended that Americans stay at home for a "15 days to slow the spread" campaign.
Last week, Fauci said it wasn't smart for stadiums to be full, but that outdoor stadiums were better than indoor stadiums. Then late last week, President Joe Biden urged Americans to get the vaccination for COVID-19 as the Delta and Mu variants are causing another surge, even among those who are vaccinated already. Biden said all federal government employees—sans the United States Post Office— should be vaccinated, as should employees of all private companies with 100 or more employees.
On Saturday, maskless fans flocked to stadiums by the thousands, apparently disregarding the latest advice of Fauci. Here are last week's top college stadiums.
108,345 • Washington at Michigan
105,323 • Ball State at Penn State
100,482 • Oregon at Ohio State
95,396 • Mercer at Alabama
94,220 • McNeese State at LSU
92,746 • UAB at Georgia
83,538 • Western Carolina at Oklahoma
82,203 • Pittsburgh at Tennessee
78,609 • S.C. State at Clemson
74,531 • Texas at Arkansas (1st sellout in 4 years)
The NFL kicked off Thursday night with more than 65,000 fans to see the Dallas Cowboys play the Tampa Bay Buccaneers in Tampa. The full schedule resumed Sunday afternoon, and total attendance numbers for the weekend weren't available at time of publication.