Football Fans Roast NFL After It Unveils Line of Ed Sheeran Merchandise
Ed Sheeran is set to kickoff the NFL season, and football fans aren't exactly excited about it.
Fans roasted the league online after it unveiled a collection of Sheeran-related NFL merchandise a day ahead of his performance at NFL Kickoff Experience before the Thursday's season-opening game between the Dallas Cowboys and Tampa Bay Buccaneers.
The NFL will kick off its season with a Thursday game for the 20th consecutive season, and Sheeran will join a long list of marquee artists—including Bon Jovi, Dave Matthews Band, Usher, Britney Spears and many others—to perform in conjunction with the season-opening event.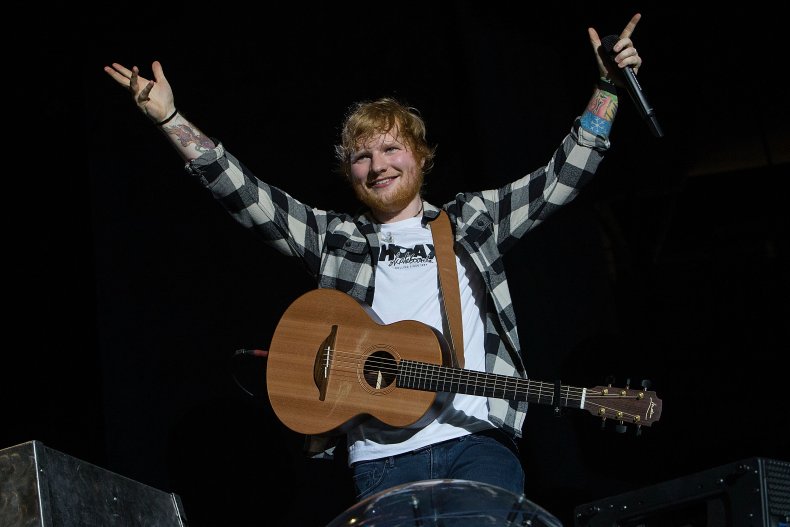 Sheeran will perform a free concert at 7 p.m. ET at Julian B. Lane Riverfront Park on Thursday, about four miles from Raymond James Stadium, where the Bucs will raise their banner as Super Bowl champs. The Grammy Award-winning performer and pop superstar will become the first performer in two years to take the stage at the event after the 2020 concert was canceled due to the COVID-19 pandemic.
Fans have been poking fun at Sheeran performing at the season-opening event since he was announced as the headliner last month.
They also jabbed the league for its Sheeran-centered ad, where he was the focus ahead of Dak Prescott, Tom Brady, the Buccaneers or the wildly popular Cowboys.
But fans went off Wednesday when the league announced a Sheeran-centered clothing line that consisted of a navy hat, t-shirt and satin jacket with the league shield and the musician's name on it.
Some mocked the league for creating the line in the first place.
Others cited the pricing for each item. The unfitted hat costs $29.99, the t-shirt is $49.99 and the jacket will set fans back $249.99.
Many also derided those who would wear the Sheeran-NFL items.
Fans weren't the only ones roasting the campaign. Former NFL offensive lineman George Foster, who played 68 games with the Denver Broncos and Detroit Lions, offered a prediction for where the merch would ultimately end up.
Some fans provided their own theories for whom the line was aimed, namely Rob Lowe. Lowe memorably had his viral moment while wearing an NFL-shield hat at the NFC Championship Game between the Green Bay Packers and San Francisco 49ers in January 2020, and many feel he's the target audience for this merch as well.
Sheeran, who is set to release a new single, "Shivers," on Friday, seems excited about the concert. He promoted the event with an Instagram story Wednesday and starred in an exceptional unveil video posted August 6.