Football Needs America to Heal, Because America Needs Football
American football hasn't always been called "America's game," although it is clearly the most popular sport in the country. Right now, football can still be on track to be played this fall. But for that to happen, football needs America to get past the coronavirus, because football this fall could go a long way to helping America recover from the worldwide pandemic.
Football hasn't been adversely affected by coronavirus, yet, because its season ended before the pandemic. Football season also doesn't officially start until late August, so there are a few months remaining.
If America wants football this fall, Americans will need to do their part in helping stop the spread of the virus that has now infected nearly 2 million people worldwide. There have been more than 125,000 deaths around the globe, with about 25,000 of those in the United States.
So far.
But why is football so important?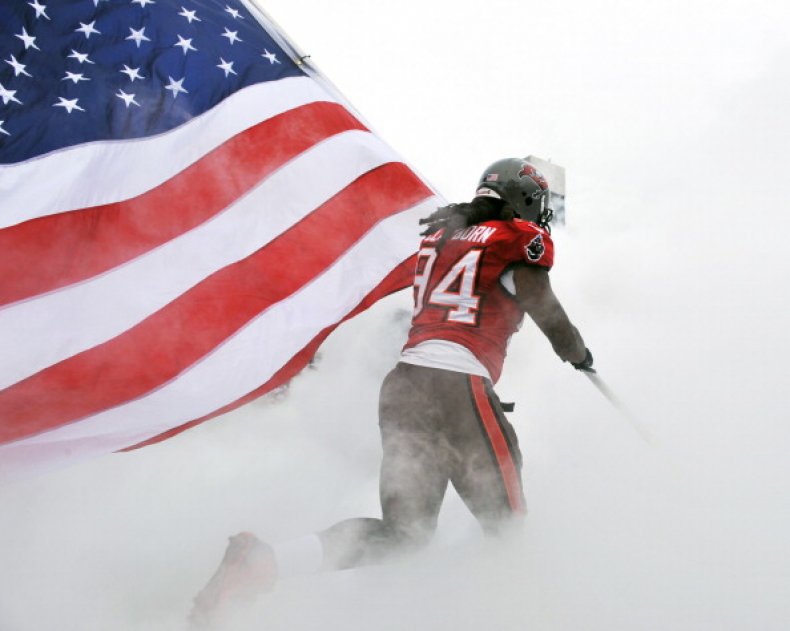 If football is played this fall, it means social distancing guidelines were followed, and that they worked. It also means there are vaccines in circulation, and that cases are dwindling or completely gone. It would mean folks can congregate in large stadiums, small bars, tailgate parties and high school stadiums again.
If football season is played this fall, it means businesses are back open for business. Schools will be open again, teachers can teach again, and parents aren't forced to learn homeschooling on the fly, and they, too, can go back to work.
If football is played this fall, county fairs can be held again and non-profit groups can hold their fundraisers—everything from 5K races, barbecue cookoffs, local festivals and other events to raise money that goes back into their communities.
Sure, football in America means big money for professional athletes, coaches, owners, sponsors and TV networks. It means college games are on TV, and up to 100,000 people can be in one stadium, at one time.
It means much more than that, though.
Football will mean Friday night lights in small towns and big cities across the country. It would mean a week of preparation for that cool, crisp Friday evening. It would mean pep rallies, homecomings and camaraderie.
It's the small mom and pop shops making corsages and big Texas homecoming mums. It's the restaurants feeding kids, fans and parents for road games.
Football is more than just rabid sports fans watching insane amounts of TV on the weekend, and then talking about it the entire next week—or until the next games arrive. Having football back in our lives is more than ESPN and Fox Sports shows talking about the game all during the week.
For college athletic departments, most pay their budget for an entire year because of the revenue it brings in through TV contracts, sponsors and bowl payouts—from football. College football revenue doesn't just provide more than 80 scholarships to football players and handsome salaries for their coaches, it helps fund just about all of the other sports.
College football helps pay for scholarships, travel and coaches for volleyball, softball, soccer, swimming, track and field and countless other NCAA sports. Men's basketball typically makes positive revenue for many colleges and universities, as does baseball and women's basketball at some universities—but only a handful. Sports outside of football need football to fund them, or else most would not exist.
For many small college towns across the country, football weekends help build and sustain those towns with folks staying in hotels, eating at their restaurants, drinking in their bars and shopping at the local stores. Even though there may only be five to seven home games for that town in one season, they're vital to the business and tax bases of places like Ames, Iowa (Iowa State), Oxford, Mississippi (Ole Miss), Blacksburg, Virginia (Virginia Tech) and all the way to Pullman, Washington (Washington State University).
If football is not played, then it means the schools are most likely closed as well. That would mean thousands of students would not be on campus because of distance learning. It means a further cut into local businesses, and many of these small towns would struggle.
So far, coronavirus led to the cancelation of the men's and women's college basketball tournaments and the shutdown of all college sports through the end of the academic year, including no spring football for colleges.
Coronavirus has indefinitely suspended the NBA and NHL regular seasons and subsequent playoffs, and it has indefinitely postponed Major League Baseball. The virus has shut down or canceled many major sports events from Wimbledon to the Tour de France, and it has postponed the major golf tournaments.
Coronavirus forced the NFL to cancel its owners meetings in March and then create a virtual NFL Draft, pulling the live event from Las Vegas, which was scheduled to host it next week.
NFL players can begin holding virtual workouts and classroom sessions with their teams beginning next week. But before any team can get on a practice field, all 32 teams must have the same access to work out together, thus creating an equal playing field.
As of Tuesday, about 80 percent of the states in this country have orders to stay at home, unless they're deemed essential workers. Football facilities have limited access these days because of federal, state and local orders concerning social distancing and standing down. The professional leagues and NCAA have rules of their own as well.
Think of this. Imagine a fall in the United States without:
Texas vs. Oklahoma
Michigan vs. Ohio State
LSU vs. Alabama
The Iron Bowl
Army-Navy Game
College GameDay
Thanksgiving Day NFL
High School Championships
College Football Playoffs
NFL Playoffs
Super Bowl Sunday
It will take more than maintaining social distancing guidelines to help eradicate the virus and open the economy back up. It will take finding a vaccine and narrowing down the virus. It's been an ongoing effort of nurses, doctors, healthcare workers and so many others battling the virus. Those are the real heroes, and it shouldn't take a pandemic to reveal that fact.
For the economy, America needs football. And for football to take place this fall, it will need the help of Americans.
America must return to football—literally, and not virtually—so things would be close to being back to normal in America.