Football Stars Peyton Manning and J.J. Watt in Televised Appearances Pay Tribute to Kobe Bryant
Football stars Peyton Manning and J.J. Watt both paid tribute to the late Kobe Bryant in separate television appearances on Saturday.
On January 26, Bryant, 41, was killed in a helicopter crash in Calabasas, California, along with eight other people, including his 13-year-old daughter, Gianna. Since then, there has been huge outpouring of support for honoring the life of the Los Angeles Lakers player, including a petition for the NBA to adopt his silhouette as its new logo.
Manning, the legendary former quarterback for the Indianapolis Colts and the Denver Broncos, spoke about Bryant's death at the 9th Annual NFL Honors awards ceremony.
"Last weekend, the sports world lost a shining light with the tragic passing of Kobe Bryant," he said. "I was lucky to call Kobe my friend. Our careers overlapped almost identically. We even retired within just a few months of each other. I remember meeting him for the first time in a Lakers locker room in 1999. We immediately recognized mutual appreciation for what it took to do our jobs well. His sport was different, but the way that Kobe prepared, the way he analyzed the game—that was very familiar."
According to Bleacher Report, after Bryant and Manning met, they "dominated their sports over the next two decades" and gained reputations as "fierce competitors." And as Manning alluded to in his speech at the ceremony, they both retired in 2016.
"The NFL joins the country and the world in mourning the loss of nine individuals who left their own indelible imprint on the lives of many, and our heartfelt thoughts and prayers are with their families," Manning concluded in his speech. "May God's peace be with all of them, and I sure do miss my friend, Kobe Bryant."
The NFL shared a video clip of Manning's speech on Twitter.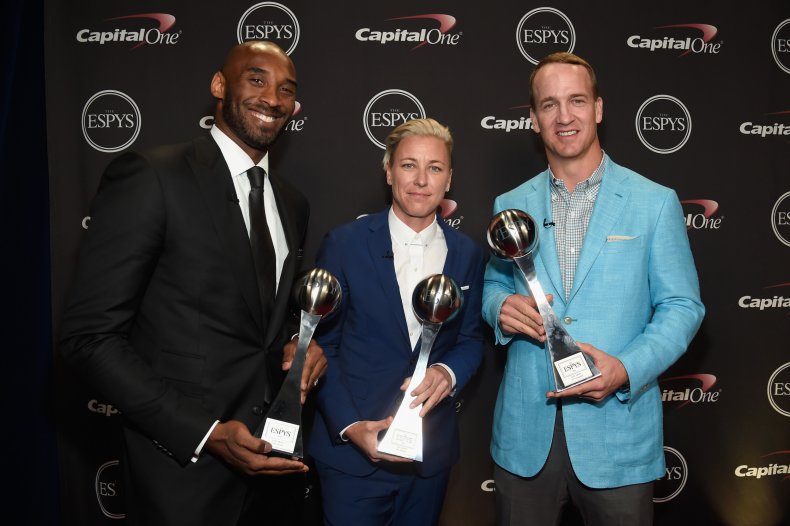 Watt, who plays defensive end for the Houston Texans, acknowledged Bryant on last night's episode of Saturday Night Live, which he guest hosted and appeared in several sketches.
Close to the end of the episode, Watt came onstage wearing a Lakers jersey with Bryant's number 24 on it. After thanking the cast and crew of SNL, he threw a crumpled piece of paper into the audience as if he was making a free throw at a basketball game.
On the day when news of Bryant's death broke, Watt took to Twitter to express his thoughts. In one tweet, he wrote: "Can't be true. Just can't be. Truly truly horrific. Rest In Peace Kobe."
Then later that day, Watt posted another tweet, this time featuring a photo of Bryant and daughter Gianna: "Still can't comprehend or believe it. Devastating. Truly devastating. Rest In Peace."