As fans count down to Super Bowl LV between the Tampa Bay Buccaneers and Kansas City Chiefs on Sunday, they are also gearing up for the Super Bowl commercials.
This year's ads—like the halftime show—will feature a line-up of celebrities, including John Travolta, Will Ferrell, Dan Levy, Ashton Kutcher and Matthew McConaughey.
Several commercials refer to the pandemic. Comedian Mike Myers appears in an ad for Uber Eats, saying: "2020, that was a great year—not." A spot for Bud Light describes 2020 as a "lemon of a year."
Below, we round up some of the ads that will feature in this year's Super Bowl.
John Travolta for Scotts & Miracle-Gro
Travolta and his daughter attempt to upload a dance video to TikTok in a commercial for Scotts & Miracle-Gro. The ad also features Martha Stewart and Leslie David Baker from The Office.
Will Ferrell for GM
Ferrell, joined by Crazy Rich Asians star Awkwafina and Saturday Night Live's Kenan Thompson, "explains why he hates Norway" after finding out that the country sells more electric cars per capita than the U.S. in an ad for GM Trucks.
Dan Levy for M&Ms
Schitt's Creek star and creator Dan Levy talks to a pair of animated M&Ms, saying: "I promise I will not eat any more of your friends", in a commercial where people apologize by offering others a bag of M&Ms.
Mike Myers and Dana Carvey for Uber Eats
Myers and Carvey return as the duo from Wayne's World in an ad for Uber Eats.
Ashton Kutcher and Mila Kunis for Cheetos
Kutcher accuses his wife Kunis of stealing his bag of Cheetos to the tune of Shaggy's "It Wasn't Me" in a commercial that also features the reggae singer.
Matthew McConaughey for Doritos
The Hollywood actor appears in 2D animation form in an ad for Doritos where he notes: "Lately I just haven't been quite feeling like myself."
Jason Alexander for Tide
The Seinfeld actor gets sat on, spat on and stepped over in a commercial for Tide detergent, where an image of his face appears on a hoodie that needs washing.
Amy Schumer for Hellman's
Schumer appears to spread her wings as she steps into a fridge stocked with mayonnaise in an ad for Hellman's.
John Cena for Mountain Dew
The wrestler and actor counts bottles in a commercial telling viewers they could win $1 million if they can count the number of watermelon Dews in the company's Super Bowl commercial.
Don Cheadle and Serena Williams for Michelob
Cheadle comes face to face with a doppelgänger in an ad for Michelob Ultra Organic Seltzer that also features doubles of Megan Fox, Serena Williams, Usher, Sylvester Stallone and Lucy Liu.
In another commercial for Michelob Ultra featuring athletes including Williams, Anthony Davis and Peyton Manning, viewers are asked: "Are you happy because you win, or do you win because you're happy?"
Lenny Kravitz for Stella Artois
The singer says: "We're all born with 2.5 billion heartbeats. That makes you a billionaire. So let's not waste the fortune within us. Invest," in an ad for Stella Artois.
Peyton and Eli Manning for Frito-Lay
The football star brothers don matching pajamas in a commercial for Frito-Lay that tells the story of the "Night Before Super Bowl."
Tony Romo for Skechers
The former football player and his wife Candice talk about "taking everything to the max" in an ad for Skechers Max Cushioning footwear.
Nick Jonas for Dexcom
Viewers get a glimpse of Jonas as a grey-haired senior in a commercial for Dexcom, a glucose-monitoring system.
Other 2021 Super Bowl ads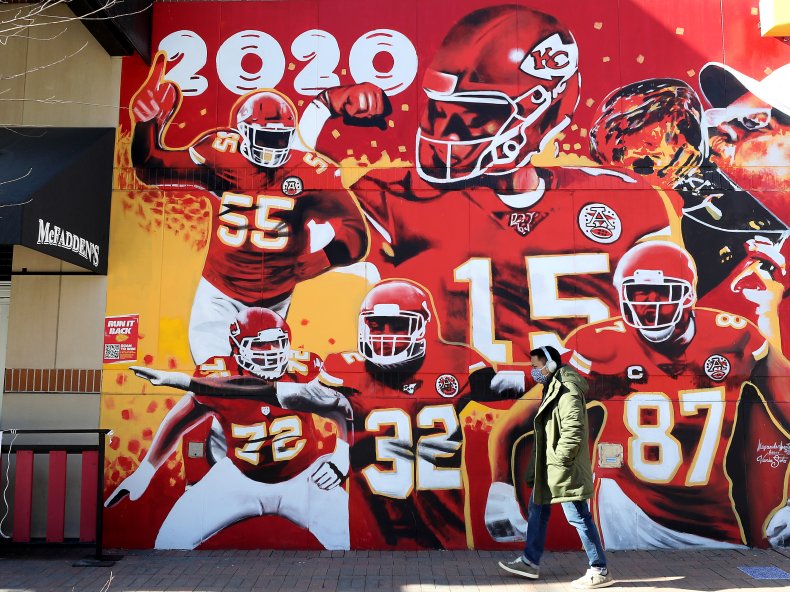 The graphic below, produced by Statista, compares global viewership of the soccer World Cup and the Super Bowl.