The Forbidden Ones: Hell on Wheels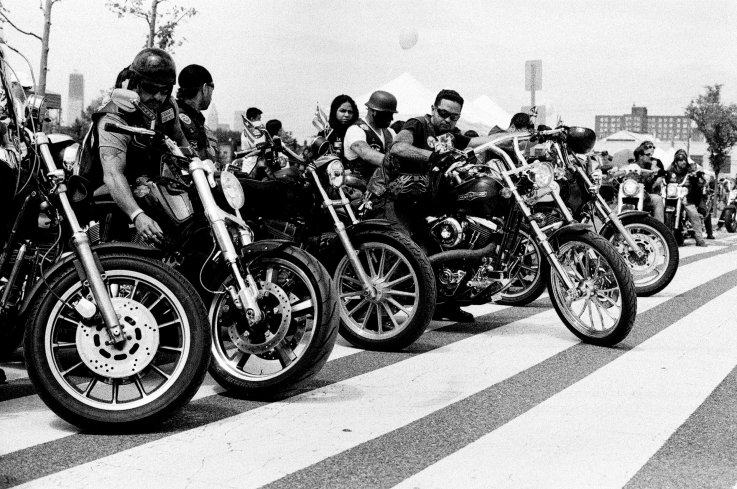 In the four years that I spent photographing the Forbidden Ones Motorcycle Club (FOMC), I was suspected of being a law enforcement agent twice. After the first four or five visits in the summer of 2011, a member confronted me and demanded I prove I wasn't a cop. We walked into a cramped office, and when he closed the door, I realized that if I wanted access to document the club with my camera, there would be no more passes. For confidentiality purposes I can't say what exactly happened in that room, but until the fall of 2012 none of the members ever questioned who I was again.
Over the course of that year, through drinks, birthday parties, christenings, benefit runs and barbecues, I got to know the members of FOMC. It was always unnerving at first to walk up to their building's nondescript steel door and ring the doorbell that was labeled, "RING ONCE... AND ONLY ONCE." But whenever I rang that doorbell I was always greeted with a warm welcome so I guarded this special privilege and grew closer to the people I spent so much time photographing.
[FULL STORY: Down and Out With A Notorious Brooklyn Biker Club]
All of this changed when I opened up The New York Times on October 17, 2012 and learned that federal and New York City law enforcement agencies raided 15 locations in Brooklyn and Queens that were suspected of being stash houses for an arms trafficking ring. Seven members of FOMC were arrested; seven member I personally knew.
To make matters worse Eightball—the FOMC member I had spent the most time with and one of the most trusted and committed members of the club—had abruptly disappeared the night before the raids after months of increasingly erratic behavior.
The club suspected Eightball had been an undercover informant for at least two years; FOMC members insisted they had seen his legal name on search warrants. I was guilty by association, and my explanation that I randomly met Eightball at a gas station before appearing at FOMC hangouts seemed all the more fabricated.
Members were facing serious prison sentences, and gatherings became secretive. What was once open to me as a photographer became off limits, and I was asked to move on. The lives of the club's members were entering another phase as they dealt with the legal and moral ramifications of these arrests. In essence this was what the MC, or Outlaw, lifestyle was all about.