The Force Awakens (Again) With New International Trailer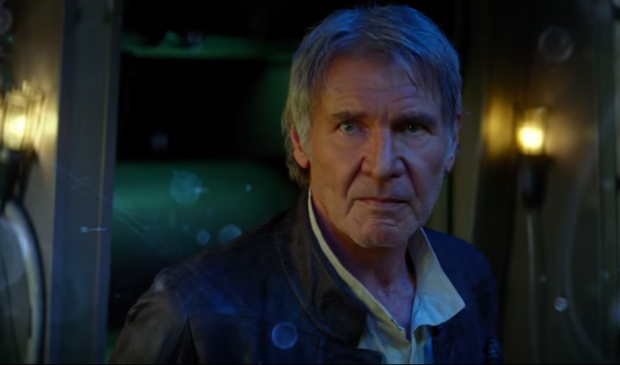 Say what you will about the forthcoming Star Wars: The Force Awakens, sci-fi stans. But the glorious thing about the film emerging right now, in 2015, is that industrious YouTube-philes can compile seamless supercuts of all trailers, as user Science Vs. Cinema did earlier this month with all the currently existing Force Awakens footage.
And now it looks like they'll have more to add to that cut. Today, the movie's international trailer was released, revealing a bevy of new and crucial footage ahead of its release.
For starters, we witness a moment between protagonist Rey (Daisy Ridley) and R2D2, asking the droid where he comes from. In that exchange, we find out that she's waiting for her family—perhaps signaling the impetus for a vendetta? We can hope. We also witness her introducing herself to Finn (John Boyega).
We get a sense of the evil afoot, too. In the new trailer, the lascivious-looking Kylo Ren (Adam Driver), draped in a black robe—and sounding a bit like a certain wheezy villain of Star Wars yesteryear—says in the new footage: "I will fulfill our destiny. I will finish what you started." Oh, and he's wielding that characteristic red lightsaber! And Darth Vader's squashed helmet! Curiouser and curiouser.
The trailer also shows longer glimpses of gripping battle scenes, including one of a Stormtrooper bearing a terrifying-looking, flamethrower-esque weapon, Rey's life being threatened by Kylo Ren's lightsaber, Chewbacca about to probably smack someone with his palm and Rey running from explosions alongside Finn. An older Han Solo (Harrison Ford), Princess Leia (Carrie Fisher) and Luke Skywalker (Mark Hamill) also make appearances, as they did in a previous trailer.
The Force Awakens hits theaters December 18. Have you snagged your ticket yet? Black market sales of tickets are skyrocketing, with some clocking in as high as $10,000, according to Entertainment Weekly. So get 'em while you can.