'Forced Divorce' Laws for Transgender People Undermine Australia's Same-Sex Marriage Legalization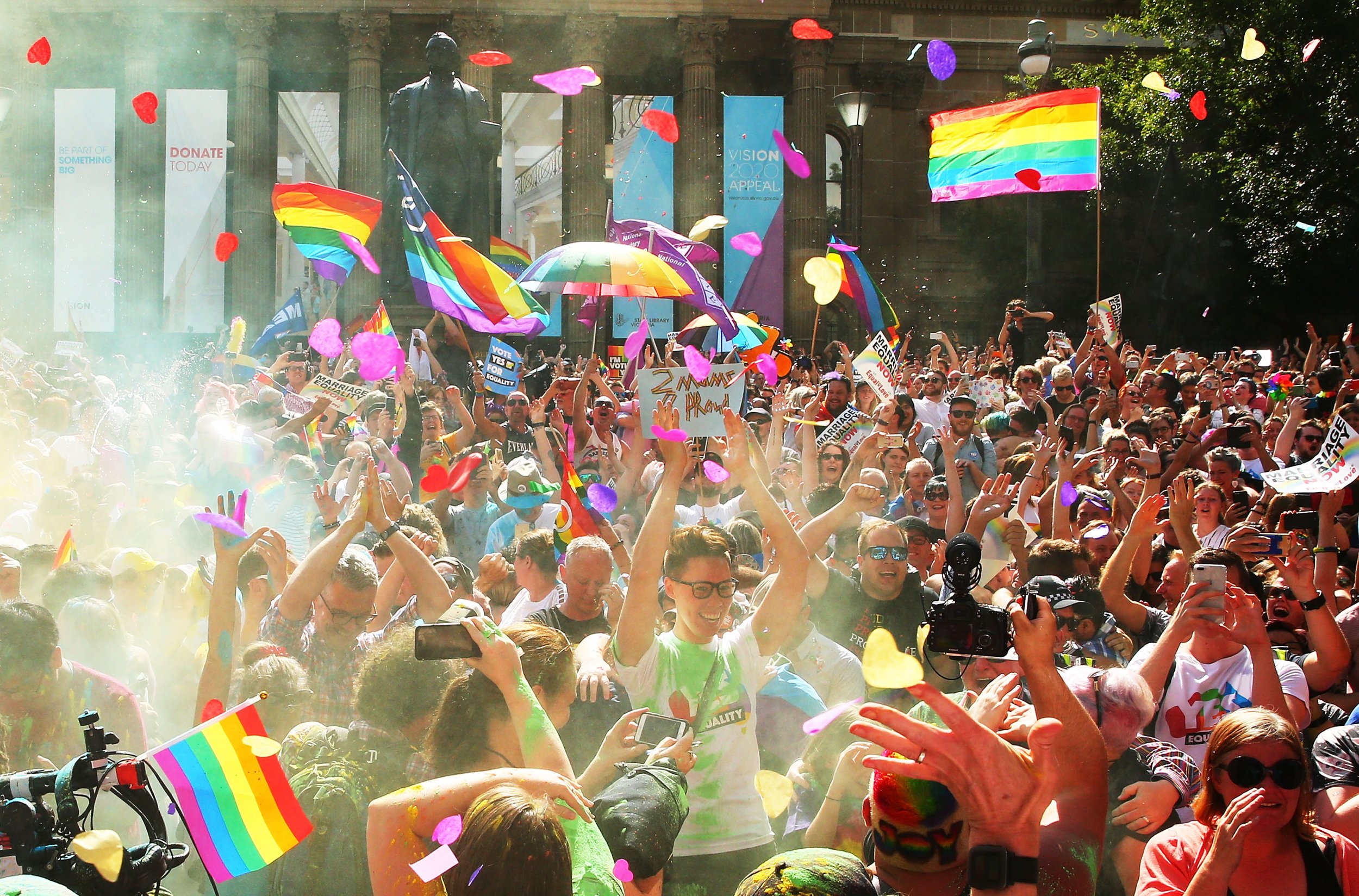 Australia legalized same-sex marriages in December, and on January 9, 2018, same-sex couples began getting married across the country. But there's still one glaring issue with the law that makes marriage for transgender people significantly more difficult—if they want to legally change their sex, they have to get a divorce.
Australians can only legally change their sex on their birth certificate if they meet four qualifications: their original birth certificate is registered, they're over 18 years old or their parents agree, they have had sex reassignment surgery, and they are not currently married.
Read More: Pictures of Same-Sex Weddings in Australia That Show Love Is Love
This law was established to prevent same-sex marriages, which were illegal in Australia before 2018. So, if a man and woman were legally married and one of them underwent a sex change, they wouldn't be legally married in the country anymore. But the Australian law still stands, even though same-sex marriage is legalized.
Advocates from Transgender Health Australia are trying to change that. According to BuzzFeed News, they have written to leaders asking them to repeal the forced divorce laws.
"When I transitioned, I was initially wanting to change my birth certificate to recognize my gender; I was happily married at that time," Zoey Campbell, one of the signatories to the letter, told the news outlet. "I didn't want to be faced with the decision to choose between being married or choose something that was equally important to me in a sense — being recognized as my true self."
The controversial law was sparking conversations well before same-sex marriage was legalized in Australia. On June 15, 2017, the United Nations Human Rights Committee published a paper in favor of a married transgender woman from Australia who had unsuccessfully tried to change her sex on her birth certificate.
While the U.N.'s decision helped that particular couple, it didn't change Australian law. Six of the eight states and territories where transgender people tied the knot must get a divorce in order to change the sex listed on their birth certificate.
No matter what the country chooses to do, it will be illegal to refuse a transgender person the right to change their sex based on marital status by December 9, 2018. When the Parliament passed same-sex marriage legislation, they repealed a subsection of the Sex Discrimination Act that allowed the states to ban married transgender people from changing their birth certificate, according to BuzzFeed News.
But Campbell told the news outlet that the issue is still just as important. She added that keeping the law will result in continued discrimination against transgender people. "It might take months, it might be left to the last minute," she said. "State governments with a particularly difficult parliament, it might fall off. What's the scenario then? Trans people will be forced to make unnecessary anti-discrimination complaints for no good reason."