Leaders of a California church subjected dozens of homeless people to forced labor, according to the U.S. Attorney's Office.
Members of the Imperial Valley Ministries were arrested Tuesday in Californian cities El Centro and San Diego and in Brownsville, Texas, after reportedly coercing homeless people into surrendering their welfare benefits and forcing them to beg for up to nine hours a day, six days a week. The donations they received would then allegedly go to into the pockets of church leaders.
A dozen members of the ministry, including former pastor Victor Gonzalez, have been charged with conspiracy, forced labor, document servitude and benefit fraud. If found guilty, they face up to 20 years each in prison.
"The indictment alleges an appalling abuse of power by church officials who preyed on vulnerable homeless people with promises of a warm bed and meals," said U.S. Attorney Robert Brewer in filings. "These victims were held captive, stripped of their humble financial means, their identification, their freedom and their dignity."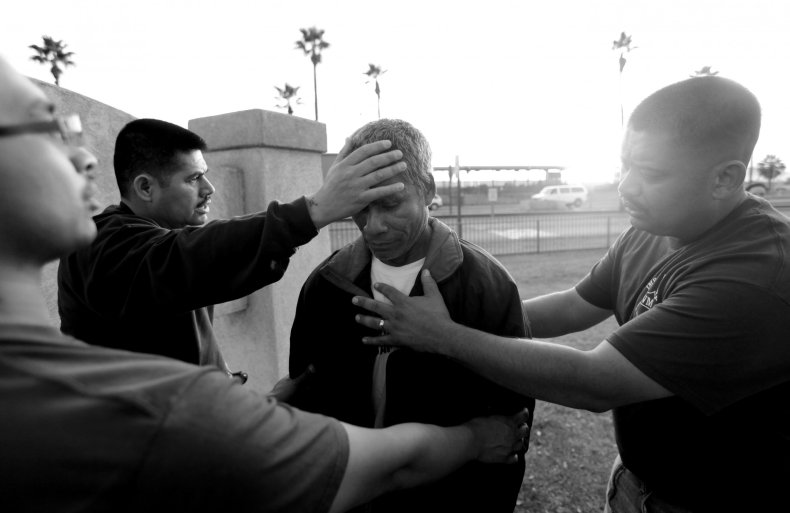 Imperial Valley Ministries (IVM) claims its mission is to "restore" those grappling with drug addiction at free faith-based rehabilitation group homes. It also raise money to open churches and rehab centers in other cities.
Most of the alleged victims were recruited from outside El Centro, including from San Diego and Texas, with offers of free food and shelter. According to prosecutors, IVM also promised new members they would be given resources to eventually return home.
When recruits checked into a group home, they were reportedly required to sign agreements with strict regulations, such such as "you are not to discuss things of the world" and "the only thing to be read is the holy Bible." Phone calls were prohibited and, except on Sundays, recruits were only served two meals a day.
The agreements also allegedly warned that any rule-breaking would be met with "discipline." Punishments reportedly included the withholding of food: In one instance, church leaders allegedly refused to allow a diabetic woman to obtain insulin or food in response to her low blood sugar.
Some former residents, including those who did not require drug rehabilitation services, claim they were being held against their will.
According to the indictments, IVM leaders locked recruits inside the group homes with deadbolts and nailed the windows shut. They also allegedly confiscated driver's licenses, passports and immigration papers to prevent members from leaving. EBT cards were reportedly surrendered and given to other ministry members.
One 17-year-old former recruit claimed he broke a window and ran to a neighboring property to call the police. The teen was brought to a medical center to be treated for lacerations.
Recruits were told not to seek or accept outside work, and warned that their children would be taken away if they left the church. They were also told heir loved ones had rejected them, according to the U.S. Attorney.
All of the identified victims are now free, said Brewer, and have been connected with specialists to provide assistance with shelter, transportation and any necessary support services.
"Human trafficking robs victims of their most basic human rights," said FBI Special Agent-In-Charge Scott Brunner. "Victims of human trafficking are often unseen by society, left pleading in silence."
Beyond its non-denominational church in El Centro, IVM opened approximately 30 affiliate churches throughout the United States and Mexico. It also operates three group homes in the El Centro area.